New Zealand
The Maori: People of the Land
Published in the Fall 2009 Issue of Canadian World Traveller
Text by Tom Koppel © 2009 (koppel@saltspring.com)
Photos by Annie Palovcik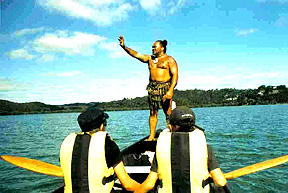 "Are we ready?" asks muscular Hone Mihaka, who stands in the bow of a fifty-foot-long 'waka', or Maori war canoe. His bare chest, shoulders, thighs and buttocks are covered in swirling blue-black tattooing. And he is wearing nothing but a fringed breach cloth, a big white fishhook pendant, and a bone ornament through one earlobe.
"Good," he says, as his nine-year-old grandson Tani calls out a Maori chant. Hone, chief of his local clan, has been training Tani since infancy to be a future chief.
Six of us, all foreign visitors, begin to paddle, shouting out, "hey!" on each stroke. Tani says a prayer for a safe sojourn. The canoe moves slowly upstream on the Waitangi River near Paihia on New Zealand's North Island.
Island Culture
We pass a village along the heavily wooded shore, where rows of cormorants perch like picket fences on high branches.
"The people have changed," Hone says, "but the village remains the same. We are the guardians of this area, and we've been here for many, many centuries. Some call us Maori, but the people here – my grandson and I – are the 'tangata whenua'. It means people of the land."
Sacred Family Site
Soon we reach a small family 'marae', or sacred ancestral site, that Hone and Tani built to give canoe guests a sense of their people's spiritual ways.
"My grandson will issue a challenge to one of you men," Hone announces. "He's going to be carrying a leaf. He'll place it on the ground and use his weapon to point at one of the men. If he chooses you, make sure to maintain eye contact. So, look at the leaf with your peripheral vision and pick it up."
The idea is to show that you are forthright and come in peace with honest motives.
Tani suddenly appears carrying a spear, which he points at me, and places the leaf on the ground. I fix my eyes on his while bending and retrieving the leaf. He backs away slowly and allows us to enter the 'marae'.
Carved Father Image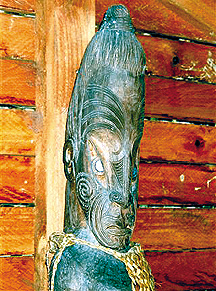 We duck into a little thatched meeting house with wooden benches and full of decorative items: baskets of sea shells, wooden paddles, old photos, flags, kerosene lanterns, torches and antique rifles.
Dominating one end is a carved wooden statue representing Hone's father, who died ten years ago.
It has an exaggerated forehead and nose, a fierce, intimidating expression and inlaid pearl-shell eyes. Deeply engraved tattoo lines cross his face. "Those tell the stories of his journey while he was alive," Hone explains. "So, folks, this is a picture of my father."
We sit down on the benches. Tani and Hone chant and sing, and Tani gives a brief speech acknowledging all the dead in his family.
Hone invites each of us to stand and say a few words about someone close to us who has died. My wife tells about her father, who came to Canada from Eastern Europe as a poor immigrant farmer. It is a moving experience.
Finally, we perform a 'hongi' with Tani. We press our noses and foreheads together for a few seconds, which means that we have bonded spiritually.
Leaving, we continue a short way up the river to a waterfall, and then turn back downstream to our starting point.
Proud History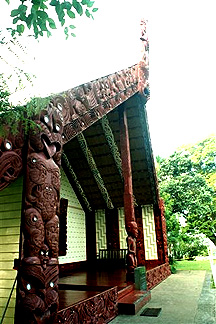 Another day, we visit the nearby park-like Waitangi Treaty Grounds, where in 1840 Britain and Maori chiefs signed an agreement defining colonial relations.
On display is a beautifully carved and painted 35.7 metre war canoe with high-carved ends that can carry 80 paddlers and 55 passengers. In a large, elegant meetinghouse stand carvings representing each of New Zealand's 28 Maori tribes.
For over a week we tour areas of importance to Maori history and culture. One day, guide Phil Cross takes us north up a broad sand highway called 90-Mile Beach, showing us places where ancient Maori artefacts are eroding out of dunes overlooking the sea.
At Cape Reinga, the northernmost tip of New Zealand (or Aotearoa, "the land of the long white cloud"), legend says that the souls of the dead leave and return to their distant homeland, fabled Hawaiki.
We pass a tiny, odd-looking church of the Ratana religion, which combines Christianity with Maori political activism. Among its customs: money may not be brought inside.
Forest of Giant Trees
Heading south, at Waipoua we walk after dark with two young Maori through a forest of giant kauri trees to shine our flashlights on the largest one, 'Tane Mahuta' the Lord of the Forest, which is 51 metres tall and almost 14 metres in circumference.
Our guides sing a song to this colossus and tell us how it helped to create the world. Growing with great strength, it separated the sky from the earth, and let in the sunlight.
Maori Hot Springs
The central part of the North Island is a land of hot sulphurous geysers, where the Maori used the natural volcanic heat for cooking.
At Rotorua, we bathe in lakeside hot springs at the Polynesian Spa and attend an evening cultural show. The women do graceful dances, much like Hawaiian hula, while men dressed as warriors perform a 'haka', or traditional war dance, with violent movements, loud grunting chants, and grimacing faces.
At Lake Taupo, we meet Te Ori Paki, who hosts a program on the Maori TV channel and manages an open-air cultural "village" where steaming hot water, full of natural chemicals and colours, cascades down a series of beautiful terraces.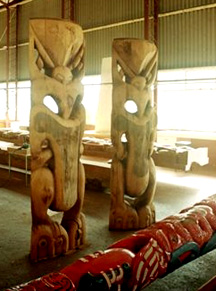 He shows us a wood sculpture depicting the volcanic gods of fire and takes us through a workshop where young Maori men learn traditional carving. Fine examples of their work line the region's roads.
Ancient Fortress
Near Napier, we clamber with clan chief Tipu Tareha up the steep Otatara pa, a knob-like grass-covered hill and ancient fortress, where his tribe could retreat in times of war, which were all too frequent.
He points out a deep defensive trench line about halfway to the top that was once reinforced with tall wooden palisades. Above that line are terraces where houses once stood and traces of pits where sweet potatoes were stored in case of a siege by enemy tribes.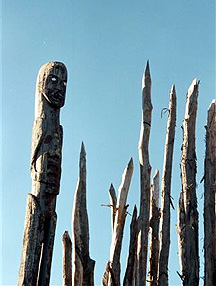 Cultural Revival
After decades during the 20th century in which Maori language and culture were discouraged, especially in schools, both Paki and Tareha are leaders of a Maori cultural revival that began a generation ago and continues today.
But nowhere do we witness this revival as well as following our earlier river trip with Hone Mihaka and his grandson Tani. Hone takes us out sailing later that day on a friend's trimaran to cruise the scenic Bay of Islands.
Young Tani is thrilled to take the wheel of the big boat in a stiff breeze, while Hone explains the meaning of his body's tattoos.
His chest and shoulders are like a map of the North Island. Some designs depict specific rivers or a lake that has special importance for his tribe. Swirling, spiral lines define the curved shape of each buttock.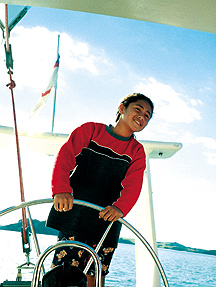 Generations: Past & Future
Later, Tani recites his genealogy as Hone translates. For each generation, Tani names the man who took a specific woman, and how they begat a particular son or daughter, who then married in turn.
This went back 30-odd generations, beginning long ago with the founding ancestor of their Ngapuhi tribe, a heroic figure named Rahiri.
Hone listens with pride. "Some day soon," he says, "my grandson will speak for me at all major gatherings. Why? Because I'm preparing him for the future.
There are very few others here that are living the way he lives. Speaking Maori at home. Knowing the links to his most ancient ancestors. Having respect for tribal traditions and protocol. He's the future of our people."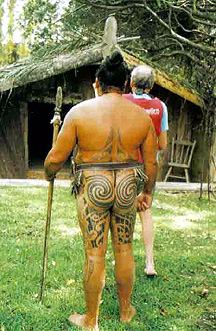 Where to Stay
A good base from which to explore the Northland area is the Scenic Circle Hotel in Paihia on the beautiful Bay of Islands.
Website: www.scenic-circle.co.nz
For the central North Island, try the Regal Palms Hotel in Rotorua.
Website: www.regalpalms.co.nz
While in Auckland, the Sky City Grand is a very elegant and centrally located hotel.
Website: www.skycityauckland.co.nz
Touring Info:
For information on the Waitangi River Waka Tours with Hone Mahaka:
Website: www.taiamaitours.co.nz
For four-wheel drive tours of 90-mile beach with Phil Cross:
Website: www.farnorthtours.co.nz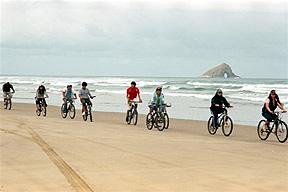 To see the great kauri trees with a Maori guide:
Website: www.footprintswaipoua.co.nz
For the cultural village and hot springs-fed terraces near Lake Taupo:
Website: www.wairakeiterraces.co.nz
For Otatara Pa touring near Hawkes Bay without a guide, visit: www.doc.govt.nz/conservation/historic/icon-sites/otatara-pa-hawkes-bay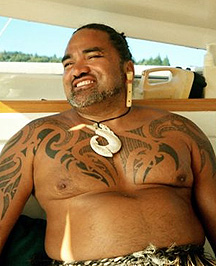 For More Info about New Zealand:
Tourism New Zealand
Tel.: 1-866-639-9325
Website: www.newzealand.com/travel