Orlando, Florida
The Wonderful World of Disney
Published in the Fall 2008 Issue of Canadian World Traveller
Text and Photos by David J. Cox (wordswrittenwrite@yahoo.com)
Supplementary Photos: Visit Florida and Disney World
On reflection, the drive from Montreal to Orlando was a rather long one. But it came with many rewards along the way. Great restaurants, comfortable rest stops and friendly Americans helped make our 27-hour road trip fly by. Of course, for my young family it was still way too long!
My daughter's anxiety was over whether she would meet Snow White or Cinderella first, while my son kept wondering if Buzz Lightyear and Cowboy Woody were still friends. Both were excited but were remarkably relaxed during the ride down.
When we finally got to Orlando, any doubts of making the trip by car were immediately swept away. We had indeed arrived in the truly wonderful and unique World of Disney!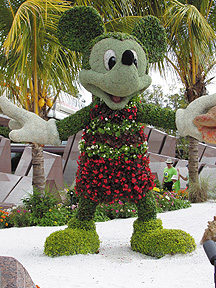 Welcoming Tour
Florida's transportation infrastructure is second to none and navigating its highways was a breeze.
We arrived at our resort in the early afternoon so we decided to take a tour of the city and find our way around the Disney World grounds, which cover some 47 square miles (121 km², or about the size of the City of San Francisco!).
We soon found out that it is almost impossible to see and do everything at Disney World on a short vacation! I recommend planning at least part of the trip, as each theme park offers a good day's worth of activities.
But the parks would have to wait until the following day, as we would spend our first evening visiting Downtown Disney.
Downtown Magic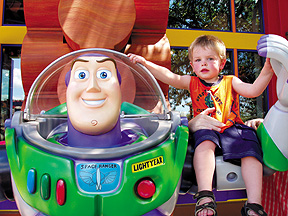 To my surprise, Downtown Disney, consisting of theme restaurants, toy stores and entertainment centres, turned out to be one of my favourite Disney experiences.
My son's favourite was the Lego store, with its huge selection and play area; my daughter loved the Bibbidi Bobbidi Boutique, where she had the "Ultimate Princess Makeover"; and we all enjoyed dining at Cap'n Jack's Restaurant, where we were treated to a panoramic view of Buena Vista Lagoon. Finally, we stopped at Goofy`s Candy Co. for mouth-watering deserts.
Window-shopping in Downtown Disney is also an overwhelming experience. Hollywood memorabilia shops and gigantic toy stores are mixed in with surfing stores, magic parlours, a Virgin Megastore and many others.
We returned several times to take pictures with the larger-than-life sculptures of Disney characters placed throughout the Marketplace, as well as to enjoy the delightful atmosphere.
Other treats await visitors in Downtown Disney, including the space-age arcade Disney Quest, a Cirque du Soleil show, cinemas and an adults-only area called Pleasure Island, featuring dance clubs that open till the wee hours.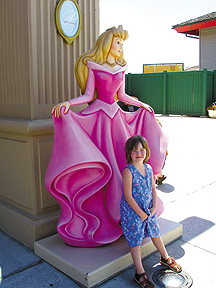 The Magic Kingdom
Our first full day had us heading for the star attraction, the Magic Kingdom.
Treated to a tram ride from the parking area to the "loading zone", visitors can choose to enter the park by Ferryboat or Monorail – both were a treat for our young kids.
Upon arriving, the crowds move surprising quick through the main gates and into the complex. One should not be surprised by the number of visitors, which is quite staggering at times.
The first thing to be aware of is the "Fast-Pass" system, which allows you to reserve a spot on a ride later in the day. We had picked four rides to go on and were quick to "fastpass" them for times throughout the day.
We were also pleasantly surprised at how affordable refreshments were, and in the Florida heat, the bottles of water we purchased were more than welcome!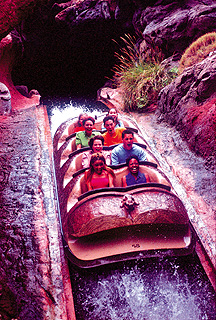 Thrilling Rides
As we were with small children, the height restrictions limited us to certain rides. Unable to go on Space Mountain, we satisfied our thrill seeking with the Buzz Lightyear Space Ranger Spin, which combines a twisty moving track with an alien-filled shooting gallery. It was first-class, simple fun.
My daughter was thrilled with the Splash Mountain ride I took her on. We enjoyed the long, meandering ride through caves filled with great animatronics. Though it left her a little breathless, the drop into a pool of water did make her laugh and want to do it again and again.
Meanwhile, the Disney staple, The Jungle Cruise, is not as spectacular as the newer rides. Even so, there is an air of wistfulness throughout the old-fashioned ride that is a joy on its own. Our "guide" was also a hit, cracking good (and some really bad) jokes throughout the trip.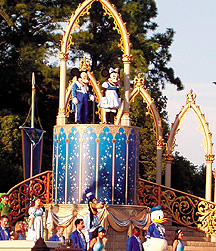 All Aboard!
At some point, I recommend that all visitors climb aboard the steam train. Running on recycled oil and waste, the train is a great way to see Disney World. Relaxing and calm, the kids had their nap aboard while my wife and I discussed what to do next.
The Disney Parade, Cinderella's Castle, the Haunted House and so much more all await you…just be prepared to be patient, the line-ups can sometimes be quite overwhelming!
Disney/MGM Studios
As with all Disney parks, a pre-planned day can help you avoid a lot of heartache and missed opportunities.
The New Rides
The park that is the home of the newer rides is considered to be the "hot park of the moment". It features the Rockin Roller Coaster, a roller coaster ride in the dark with a nice zero to 100-km/h acceleration in seconds, a loop and corkscrew, and speakers that blast Aerosmith music throughout the ride.
It was a little intense for the young ones, so I went on it myself. Great ride!
The other new ride, the Tower of Terror simulates a series of random elevator free-fall drops, but that would also be too much for our young kids.
My personal favourites were the Indiana Jones Stunt Show, about 30 minutes long and filled with exciting stunts, and Star Tours, a simulator ride based on the Star Wars movies. Though a little dated, the two were a hit with both my wife and I and our two kids.
The Great Movie ride with classic Disney animatronics, the Muppet 3-D show, and an all-star parade rounded out our fun-filled experience.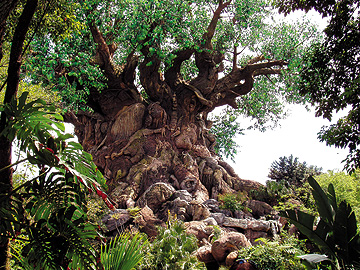 Animal Kingdom
The concept is great, and the centrepiece, a gigantic tree with animals engraved upon it, is absolutely stunning. The Animal Kingdom is part zoo, part theme park and part reserve.
The kids enjoyed the petting zoo, and the park's knowledgeable staff members were ready to answer any questions.
We also took a safari ride during which we spotted some elephants and some alligators that Disney had rescued from an abandoned farm.
As usual, we stuck to the family rides and really enjoyed the Kali River Rapids ride. Seated with another family, we were treated to waterspouts, fire pits and slow and fast moving river currents. A great ride, but you will get wet!
I also decided to take my daughter on Dinosaur, a bumpy "time travel" ride where animatronics jump out and startlingly loud sounds assault the "time-car" as it passes through a primordial jungle. It was a little too intense for my little girl, but some dinosaur-shaped candy helped her get through it!
Showtime
We also went to two shows. The first, A Bug's Life, was enjoyable but a bit scary for young kids, whereas The Lion King, a live action musical, was a great mix of dance, music and lighting (with a bit of humour from Timon and Pumbaa, of course.) This show was definitely suitable for the whole family!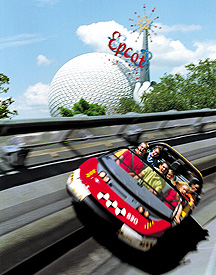 Epcot Centre
I remember vividly my first visit to Epcot as a teenager – I was not into rides and was fascinated by the "Countries" pavilions where videos, rides and a myriad of different foods await the visitor. And though my wife and I loved the walk around the lake, we had small children who became bored quite quickly. We wisely decided to concentrate on the science-themed rides at the front of the park.
A Ride for Everyone
We were rewarded with our first ride – Test Track. Probably the most technically complicated ride in the park, this top attraction is not to be missed.
Riding in a convertible, you test various road conditions, climbing power, brake reactions, hot and cold conditions until the vehicle bursts outside onto a race course, where it reaches an exhilarating 100 miles an hour! This was our family favourite!
Next came Mission: Space, which is not for everyone and there are many warnings posted before you enter.
Some people find it too realistic, as you are placed into a small flight capsule that some find claustrophobic, then spun and thrown around as you launch into space and then crash land. Many people were a little green after this ride, but my wife and I loved it!
Finally, we boarded Spaceship Earth, which is another classic Disney animatronic ride with a time-travelling theme and a spectacular climax – a star-scape that will impress even a jaded CGI fan. The kids enjoyed the "Future You" segment, where you pick your future sports, clothes and job.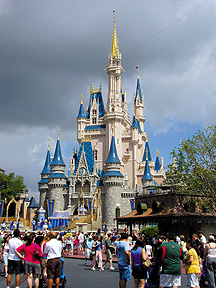 Uplifting Goodbye
Though we were limited somewhat in our choice of rides by children who were less than 48″ tall, the World of Disney really lived up to expectations.
Naturally, the crowds are thick and there are waiting times for the more popular rides. However, careful planning and using the "Fast-Pass" system help to ensure a thoroughly pleasant and carefree visit!
Our final evening was spent in Epcot. After eating in "Mexico", we were lucky enough to find a great vantage point for the spectacular sound and light show that Epcot closes with.
Mixing music, light, fireworks and lasers, the show will amaze and overwhelm all your senses as it lights up the skies with a laser-created planet earth!
The whole Disney experience does leave one a little drained, but the memories and the smiles on our kids' faces (and our own!) will last a lifetime.
For More Info:
Visit Florida
Tel.: 850-488-5607
Website: www.VISITFLORIDA.com
Visit Florida Canadian Representative:
The RMR Group Inc.
Tel.: 416-485-2573
Walt Disney World 
Tel.: 407-939-7675
Website: disneyworld.disney.go.com