Miami
South Beach and the Art Deco District
By Alain Legault
Published in the November-December, 2004 Issue of Canadian World Traveller
Text & Map: Excerpts from the Miami Ulysses Travel Guide (www.ulyssesguides.com)
Photos: Courtesy of Visit Florida (www.visitflorida.com)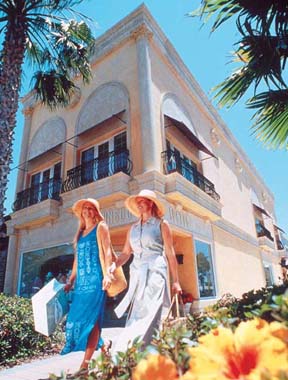 As may be inferred from its name, South Beach, or " SoBe" is the southern part of Miami Beach. And it is the place to be with its many restaurants, cafés, and nightclubs where people come to see and be seen or just let loose.
After a long period of neglect, South Beach is now enjoying a renaissance. Many hotels have been faithfully restored to their original glory; chic restaurants have sprung up here and there; and movie productions companies have homed in on it as a film location. So have the major fashion magazines: they send their best photographers here to do photo shoots that help speed their glossy pages off the shelves.
Tourists enjoy tanning themselves on the beach, and businesses along it are flourishing. Also, South Beach has the most Art Deco buildings on the planet.
By the late 1970s, the Art Deco District had suffered the ill effects of a burning sun that dulled the paint of its dilapidated hotels. At the time, no one considered that these were the city's historical legacy, and they were becoming more and more run down.
It was hard to believe the future that lay in store for this area. But due to the sustained efforts of Barbara Capitman, this area was rescued from obsolescence. Capitman recruited many volunteers and famous personalities to save this past heritage thus forming the Miami Design Preservation League.
Since 1979, the Art Deco District, with about 800 buildings dating from 1923 to 1943, has been listed as a national heritage. It may seem a little odd to classify a building built in the 20th century as historic; however, one must consider the fact that the United States is only over 300 years old. A hotel built in 1940 may not have the historical value and legacy of a European castle from the 11th century, and one Art Deco building alone has hardly any prestige. However, a group of 800 of them concentrated in one area, is what gives South Beach its great charm.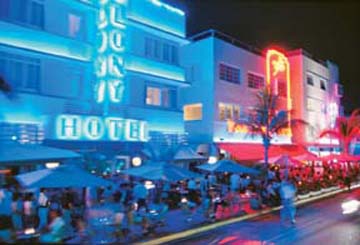 Strolling through the Art Deco District is like taking a walk back into the early 20th century. The buildings were spruced up more or less hastily, but the majority have kept their original façades. Their freshened pastel colours and incongruous geometric shapes charm visitors who are nostalgic for the inter-war period.
The Miami Design Preservation League in the Art Deco Welcome Center (1001 Ocean Dr.) organizes guided tours of the Art Deco District. The Welcome Center also houses a souvenir shop that sells, among other things, books about Art Deco.
Nevertheless, South Beach experienced hard times in the 1980s and 1990s for several reasons. Many jobless immigrants, racial problems and drug traffickers lead to an escalation of urban violence that made the city inhospitable to tourists from every point of origin. In fact, in the early 1990s, five tourists were killed in separate incidents and many others were victims of theft or assault. In August of 1992, Mother Nature threw her weight into the balance with one of the most devastating tropical storm of the decade – Hurricane Andrew.
Even the Miami Vice television show, which starred Don Johnson, helped contribute to Miami's – and especially South Beach's- image as a city full of drug-traffickers pursued by hot detectives driving flashy cars with beautiful women, setting off a worldwide fashion trend for pastel-coloured blazers and white shirts.
However, this image of Miami also had its positive side, because it drew famous fashion photographers to its beaches and then famous artists like Madonna, Cher and Sylvester Stalone to its restaurants and nightclubs, leading them to build palatial residences. English actor Michael Caine even opened a chic restaurant here. Thus almost overnight, Miami Beach became the "in" place to be, catering to the cream of society.
Ocean Drive
South Beach is the heart of Miami Beach and Ocean Drive is its main artery: traffic circulates on it day and night, keeping the district alive. It is bordered by hotels, bars, cafés, restaurants, and fashionable shops that attract crowds of people: roller-bladers, body builders, tourists in loud T-shirts, models having a smoke, businessmen talking non-stop on cellular phones and the occasional celebrity hiding behind sunglasses.
The flashy decor and commercial allure of the area between South First Street and North Fourteenth Street sparkles even brighter at night, attracting a motley crowd of strolling onlookers and revelling night owls.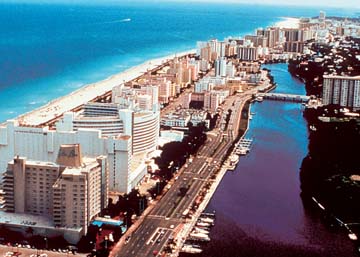 The entrance to the former house of Gianni Versace (1114 Ocean Dr.) is locked by heavy chains, but that does not prevent the curious from coming to photograph the scene of his murder.
The house is a replica of the home of Christopher Columbus in Santo Domingo, Dominican Republic. It even has a huge telescope jutting out of the roof!
Situated between Ocean Drive and the beach, Lummus Park (between 5th and 15th Streets) is very popular with roller-bladers, joggers and volleyball players, as well as anyone who wants to soak up the Florida sunshine by simply walking along the beach.
The Museums
There is a good reason why the Stanford L. Ziff Jewish Museum of Florida (301 Washington Ave.) was set up inside the oldest Orthodox synagogue in Miami Beach at Third Street. Until 1940, Jews were unwelcome north of Fifth Street. Thankfully, this sad chapter of anti-Semitism in Miami Beach is now closed. And, since its inauguration in the mid-1990s, the Stanford L. Ziff Jewish Museum of Florida has kept alive the memory of these people and their culture. Photographs, paintings and videos relate the history of the local Jewish community from the time of its arrival in Florida until today.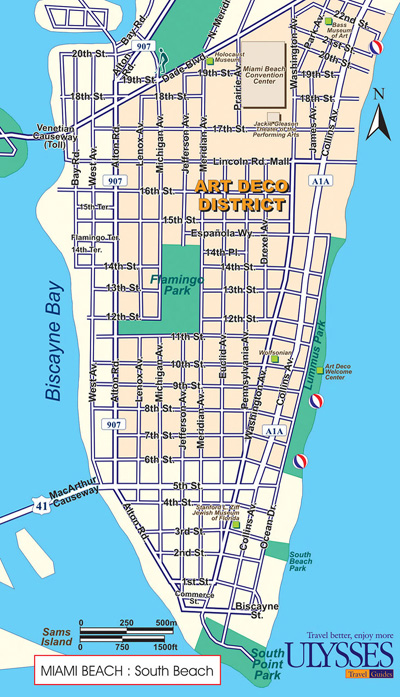 The façade of the Wolfsonian (1001 Washington Ave.) shows off the sumptuousness and pomp of baroque art. In the early 20th century, this noble dwelling served as a storage place for the valuables and personal articles of the wealthy people living nearby.
Today, it has been turned into a three-story museum that displays 70,000 art objects, old books, posters and other decorative items from 1885 to 1945.
In contrast to the glitter and light-hearted activity on the beach, the Holocaust Museum (1933-1945 Meridian Ave.) commemorates the victims of the Holocaust.
In the middle of a pool is a monumental sculpture of a half-opened hand, soaring towards the heavens with a fistful of starving, lost, haggard beings climbing up it in a last, doomed attempt to reach safety.
Access to this memorial is by way of a semicircular corridor whose walls are completely covered by names and photographs of Holocaust victims.
To add to the solemn mood, classical music is played throughout the memorial. A visit to this museum is a moving experience that leaves no one indifferent.
The Bass Museum of Art (2121 Park Ave.) is named after the Austrian couple, John and Johanna Bass, who donated their collection of paintings, sculptures and antique furniture dating from the 15th to the 17th centuries. John Bass was born in Vienna in 1891 and moved to North America in 1914. Johanna Bass died in 1970, eight years before her husband.
Pedestrian Streets
Española Way is lined with café terraces and fashion boutiques between Drexel and Washington Avenues. This pleasant street has a Mediterranean air because of the elegant wrought-iron balconies on the houses along it.
Lincoln Road is a pedestrian street inaugurated in early 1920 by Carl Fisher. It fell into decline after the Depression and World War II. Then, around 1950, Morris Lapidus, the architect of the Fontainebleau and Eden Roc hotels in Miami Beach, started a campaign to revitalise the walkway. Unfortunately, no one was interested in renovating it until the mid-1990s, and it is now full of boutiques, trendy restaurants and little bars. Moreover, the already-present Colony Theater, The Lincoln Theatre and The Miami City Ballet add to the prestige of this road. In the space of only a few years, Lincoln Road has become one of Miami's main attractions.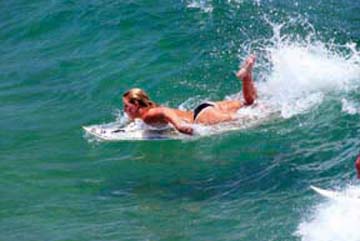 For More Info:
Visit Florida
512 Duplex Avenue
Toronto, ON M4R 2E3
Tel.: (416) 485-2573
Toll-Free:1-888-FLA INFO
Fax: (416) 485-8256
Email: See Website
www.visitflorida.com
Greater Miami Convention & Visitors Bureau
701 Brickell Ave., Suite 2700
Miami, FL 33131
Tel.: (305) 539-3000
Toll-Free: 1-800-933-8448
Email: See Website
www.gmcvb.com
Ulysses Travel Guides (St-Denis)
4176, rue St-Denis,
Montréal, QC H2W 2M5
Tel.: (514) 843-9447
E-mail: st-denis@ulysse.ca
www.ulyssesguides.com
American Consulate (Montréal)
1155, rue St-Alexandre,
Montréal, QC H2Y 2W7
Tel.: (514) 398-9695
E-mail: Montreal-NIV@state.gov
www.usembassycanada.gov