Florida
Two Weeks in Florida: A Family Affair
By Michael Morcos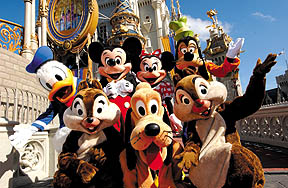 Published in the Fall 2006 Issue of
Canadian World Traveller
Photos: Michael Morcos & Walt Disney World Resort (www.disneyworld.ca)
As we touched down at Orlando International Airport, located some 20 miles from Disney World, we were already in a state of uncontrollable excitement! Our visit to Central Florida would start at Orlando's world-famous theme parks and end with a relaxing beachside holiday in Sarasota and its Islands on Florida's legendary Gulf Coast.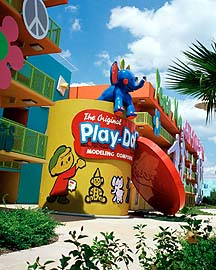 A Disney Welcome
After the short ride from the airport, we checked in at Disney's Pop Century Resort. This colourful, family-friendly resort is subdivided into five distinct areas. Each area features its own pavilion and giant-sized outdoor icons that reflect pop culture from one of the past five decades. We chose the '90s-themed area as our home away from home during our highly anticipated weeklong stay in Orlando.
Our hotel room was all that we could have wished it to be. It was spotlessly clean, spacious, modern and air-conditioned. But best of all, as guests of the resort, we would enjoy many extra privileges such as early morning and late evening admission to all of the surrounding Disney World theme parks.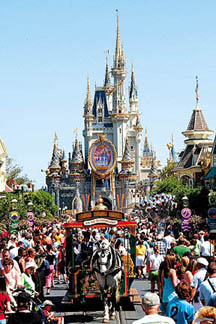 A Magical Realm
We got up early, intent on not missing a minute of the fun that lay ahead for us. Today, we were bound for the world-famous Magic Kingdom Theme Park. We got there aboard the Disney shuttle bus that picked us up at the resort and drove us right up to the front gates of the Kingdom.
During the short air-conditioned ride, I couldn't help but say to myself, "I made it!" This was the vacation I had planned in my mind for over a decade. For years I dreamt of having this unique experience with my wife and kids, and now it was actually happening! As I jokingly told people, I wanted to do it before my kids became adults. I beat that deadline by one and a half years, since Mat was closing in on 17 and Jasmine was already 14.
The Magic Kingdom was everything that I imagined it would be and more! We spent some time taking in the incredible sights and sounds of the park, which was dominated by Cinderella's towering fairytale castle. Later, We rejoined the rest of our travelling party that included my mother, aunt, assorted cousins and friends. We were 20 people all together! The Clan had indeed arrived in Florida en masse!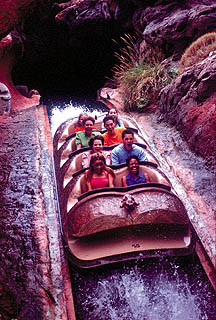 My favourite, among the many to choose from, was blasting off into outer space at Space Mountain, whilst the giant firework display and the Night Parade enthralled my wife Nat. Mat's favourite was the Big Thunder runaway train coaster ride and Jas just loved the five-story plunge of the Splash Mountain water ride.
Even with the extra evening hours reserved for resort guests, we were only able to see a fraction of the park's attractions and reluctantly left for our hotel room, exhausted but happy.
Water, Water… Everywhere
A visit to the Typhoon Lagoon Water Park was just the break we needed after our hectic day at the Magic Kingdom. Once again, we joined the rest of the family clan for a day of relaxation. 
Nat's favourite was the Castaway Creek Ride, in which you float on an inner tube on gently flowing waters. Mat preferred the excitement of Humunga Kowabunga. Jas went for the Crush "N" Gusher ride. I loved the Shark Reef. However, everyone agreed that bodysurfing on the six-foot-tall waves of the Wave Pools was the most unforgettable!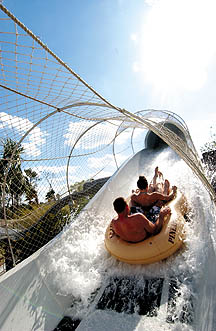 That night we went to Downtown Disney which is alive with unique shops, restaurants and live entertainment, including a permanent Cirque du Soliel pavilion offering year-round shows! Of course, our visit was primarily to let Jas to do some shopping. After all, this was our third day and she still had all that saved-up holiday money!
A World Tour
We allowed ourselves a late awakening, as we suspected we would need the extra rest before visiting Epcot. And were we ever right! This immense park surrounding a huge man-made lake was truly incredible. Here again, time and energy constrains meant that we were only able to scratch the surface of the plethora of interesting exhibits and attractions.
Mat was intrigued by his very realistically simulated trip to Mars at Mission: Space; Jas loved the speed of Test Track; Nat was blown away by the free-flying hang gliding experience of Soarin'; and I did some world travelling at World Showcase, whilst wishing I had more time to visit all eleven fascinating international pavilions.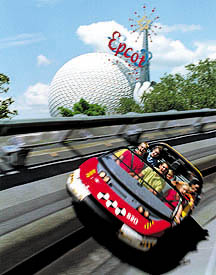 As dusk fell, we were all enthralled by the park's stunning illuminations: a fitting end to what had been a truly memorable day!
Rulers of the Jungle
After four days of the Florida sun, I must admit it was a relief to get into the shade provided by the many tropical trees and jungle-like environment of Animal Kingdom.
The main attraction in this park was not one of its rides, but its astounding 14-story-tall, 50-foot-wide "Tree of Life". More than a dozen artisans sculpted this masterpiece that stands on Discovery Island at the very centre of the park. The swirling tapestry of 325 animal carvings creates a staggering spectacle that is truly a sight to behold!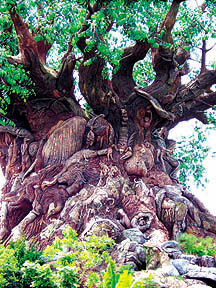 From among the park's many other attractions, Mat's favourite was the Expedition Everest high-speed train ride; Jas' was DinoLand U.S.A.; Nat's, the Kilimanjaro Safari expedition; and mine, the Pangani Forest Exploration Trail, with its exotic birds, tropical fish, magnificent gorillas and giant hippos in their natural habitats.
Movie Magic & Cyberspace
On our last day in Orlando we decided to visit Disney-MGM Studios. As usual, there was so much to see and do and so very little time.
This is an incredible fun park. Mat really enjoyed Twilight Zone Tower of Terror; Jas loved the Aerosmith Rock 'n' Roll Coaster ride; Nat was thrilled by the live Indiana Jones Epic Stunt Spectacular; and I found myself mesmerized by the Lights, Motors, Action! Extreme Stunt Show.
Week Two: Destination Sarasota
After all the feverish activity and wild excitement at Disney World, we were ready for some rest and relaxation during the second week of our Central Florida vacation. And a beachside holiday in Sarasota on Florida's Gulf Coast fit the bill in every way!
Keys and Beaches
We rented a car in Orlando and drove westwards to Sarasota in just under two hours. Our hotel apartment was located on Lido Key directly across from its beautiful beach. Lido is just one of a string of low-lying sandy islands that grace Sarasota's coastline on the Gulf of Mexico. Short causeways connect most of the larger keys to the mainland and to each other.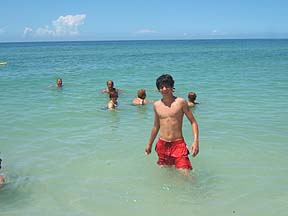 Our days were spent relaxing on the fine white sand of Sarasota's exquisite beaches and swimming in the warm, calm and clear waters of the Gulf. This was my first visit to Florida's Gulf Coast and it didn't disappoint.
The residents of the islands all seemed quite prosperous, as evidenced by the well-kept tree-lined streets, meticulously manicured golf courses, shiny-new luxury cars and elegant villas. The city's downtown core on the mainland was equally impressive, with many new buildings under construction at the time of our visit.
My early mornings were spent reading on Lido beach before the tribe made there way out. The afternoons and evenings were for exploring mainland Sarasota and its other islands.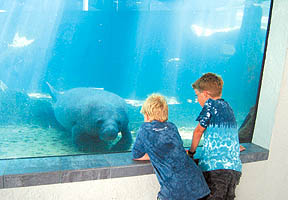 An Aquarium with Mammals
The Mote Aquarium is the perfect place to discover what lives offshore in the warm waters of the Gulf.
There were lots of huge glass-faced tanks filled with fascinating tropical fish, but the highlight of our visit was the shark tank! I was drawn to this exhibit because of the incredible size of its sharks, stingrays, barracudas and other predatory species of fish.
The other highlight of the aquarium was its manatee tank. These remarkably gentle "sea cows" are actually mammals that grow to more that ten feet long and can each weigh up to a ton as adults.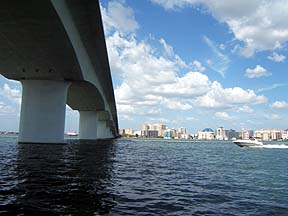 St Armands Circle
St Armands Circle, located on the small key of the same name, was just minutes away from our hotel on Lido Key and readily accessed by a short causeway. We spent many of our evenings browsing in its great shops and dined at its fine restaurants on several occasions.
We noticed a statue of John Ringling proudly standing in the Circle and had also noted that a Sarasota boulevard bore his name. This started us on a quest to find out why this man, who we all knew as a founder of the world-famous circus, was so important to this city.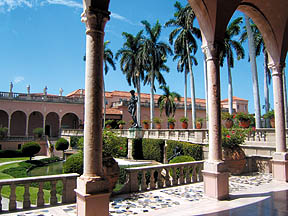 Ringling Museum
Our quest led us to visit the John and Mable Ringling Museum of Art, which as we soon discovered, is a must see for anyone visiting the Sarasota area.
The museum's 66-acre estate complex is actually three attractions: John Ringling's Venetian-Gothic Mansion and Gardens; the Circus Museum; and the Tibbals Learning Center.
According to his passport, John Ringling was a capitalist and businessman. He and his brothers turned Ringing Brothers Circus into the largest and grandest circus in the world. He also had interests in other industries. At one point, he owned 25 percent of Sarasota County and dreamt of making it a winter playground to rival Miami and Palm Beach.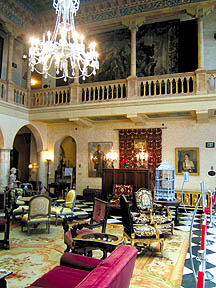 He and his wife travelled the world and collected fine art, sculpture and decorative art objects. Italy was his favourite source for acquisitions for his priceless private collection, which remarkably is still intact today in this Sarasota museum baring his name.
Central Florida
Our wonderful experience of these two very different aspects of Central Florida proved to us why this region is so popular with Canadians, not only as a temporary home during our bone-chilling winters, but as a fun destination all year round. And it's not just for a couple or a small family. It's also a great place to vacation… for an entire tribe!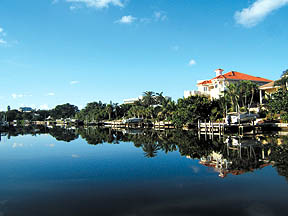 For More Info:
Florida Tourism
Tel. (Toll-free): 1-800-268-3791
www.VISITFLORIDA.com
Walt Disney World Resort
Tel: 1-407-W-DISNEY (1-407-934-7639)
www.disneyworld.ca