Daytona Beach, Florida
Not Just for Snowbirds
Published in the Summer 2009 Issue of Canadian World Traveller
Text by Greg James (greg@canadianworldtraveller.com)
Photos: Daytona Beach Area Tourism Bureau & other sources
Before my weeklong stay in the Daytona Beach Area, I h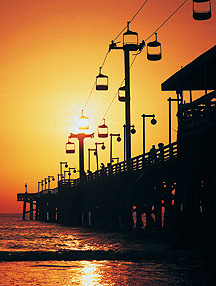 ad always thought of Florida as the exclusive refuge of Canadian snowbirds seeking an annual escape from the rigors of our brutal Northern winters. Boy, was I ever wrong!
It was a late November afternoon when my Delta flight touched down at Daytona Beach's International Airport, located within a stone's throw of the city's legendary Speedway. This famous racetrack was the other cause of my misconceptions about Daytona.
However, any preconceived notions I may have had began to rapidly evaporate the moment I started to explore this multi-faceted, intriguing, year-round destination!
City of Surprising Delights
Of course NASCAR's thrilling Daytona 500 stock car race, held in mid-February of each year, is one of the area's premier attractions.
But, as I was about to discover, the Daytona Beach Area offers its visitors so much more!
A rich and colourful history, world-class museums, ecotourism unlike anything I had ever experienced in North America, and some of the best culinary arts one finds on this side of the Atlantic, all awaited me in this friendly, laid-back Central Floridian city and its readily accessible, well-protected, lush wildlife environs.
Culinary Tour-de-force
After checking in at the Emerald Shores Hotel located on S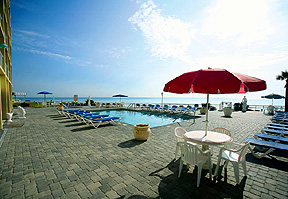 outh Atlantic Avenue, which runs parallel to Daytona's 37 kilometres (23 miles) of pristine white-sand beaches, I headed out for what would prove to be just the start of a five-day culinary tour-de-force.
This was accomplished and presented with great aplomb by the chefs of some of area's finest eateries.
Being from Montreal, a city that prides itself in being a gourmand's paradise, I hasten to add that this kudo is no mere hyperbole.
Not Just a Steakhouse 
Located at the Hilton Hotel – Ocean Walk Village on North Atlantic Avenue, the Daytona Beach Hyde Park Steakhouse's name is indeed an understatement.
I started my memorable meal with the 'Hyde Park Wedge', the restaurant's signature salad, consisting of a generous chunk of iceberg lettuce drenched in a blue cheese dressing and topped with real bacon bits and candied pecans.
When my 'Steak à la Lobster' arrived, I wondered if I could actually consume the perfectly grilled seven-ounce filet mignon, which was crowned with lobster and a béarnaise sauce and accompanied by a side dish of tender asparagus spears and grilled mushroom caps
Besides its wonderful panoramic window views of the beach and the ocean and its wide variety of tempting steak and seafood entrées, Daytona's Hyde Park's award-winning cellar offers over 40 wines to choose from!
Sunrise Over the Atlantic
On my first morning in Daytona Beach,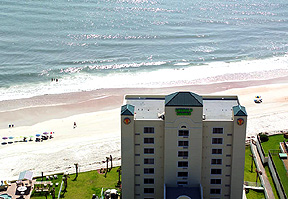 I awoke to golden rays of sunshine streaking across my spacious 7th-floor ocean-view hotel room.
As I stepped out onto the balcony, I could see two early-bird surfers making their way out to catch the waves that were breaking several metres from the seemingly endless shoreline.
However, what was really curious was the pick-up truck that slowly made its way over the tightly packed, fine white sand of the beach.
At regular intervals, the truck would stop and the driver would get out to plant a sandwich board firmly in the sand. It read, "Speed Limit 10 mph" (16 km per hour)!
This unique Daytona Beach tradition of allowing ordinary privately owned cars to be driven on its beaches goes back to 1936 when the first beach/road automobile race was held on the newly established duo-surfaced track. It ran along the beach, turned onto Atlantic Avenue, followed the road for some distance, and then completed its circuit by turning back onto the beach.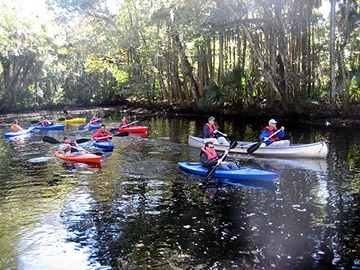 Kayaking Anyone?
With the beaconing waters of the Atlantic just steps away from my hotel lobby, I couldn't resist a quick invigorating dip before leaving for one of the most enjoyable experiences of my trip.
I had never gone kayaking before and we were now heading out to do just that at Cracker Creek in Port Orange, a neighbouring municipality that lies just south of Daytona Beach.
A lover of the rustic lifestyle, wealthy Northern industrialist James N. Gamble (of Procter and Gamble fame) purchased the land in 1898 as a winter retreat. Gamble's beautiful secluded estate, which can now be enjoyed by the public, lies adjacent to the 2000-acre Spruce Creek Preserve and Recreation Area.
The Preserve's natural black-water creek meanders eastward to join the waters of Daytona's coastline Halifax River system.
Avoiding the Drink
We chose our kayaks, and suitably geared-up in our colourful, lightweight life jac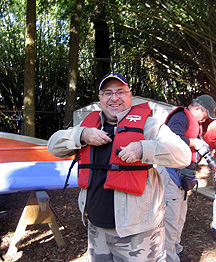 kets, pushed off from the shore onto the wine-coloured, shallow waters of the narrow, slow-flowing creek.
After a few paddle strokes, I began to get the gist of it and managed to avoid crashing into the banks or hitting the occasional tree trunk that had fallen into the creek.
One of my fellow kayakers Frank (pictured at right) wasn't so lucky and ended up in the drink, but as he later confessed, only his pride was hurt.
Abundant Flora and Fauna
Our guide was very knowledgeable about the protected flora and fauna of the wetlands surrounding the creek, which added immeasurably to the experience.
Cracker Creek Canoeing rents kayaks and canoes to individuals or groups and also operates its eco-boat tours, with no rowing involved! I highly recommend Cracker Creek to anyone who wants to experience more than just another day at the beach! It's also a great family or group activity.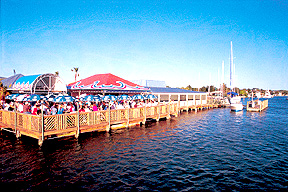 Lunch with the Birds
Our kayaking experience had opened up our appetites and the portions of the tasty seafood dishes served at the Inlet Harbor Restaurant and Marina were enormous and quite reasonably priced.
The seaside-themed décor and harbour-front setting of this popular casual eatery were charming.
I particularly enjoyed watching the pelicans perched on the wharf's pylons and the seagulls and squirrels that were also in attendance, hoping to snag a free meal.
Daring Young Men
Although I wrote earlier that stock car racing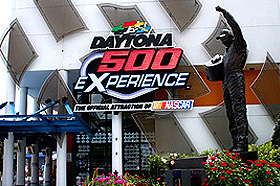 had created a false impression of Daytona, it is impossible to ignore this intrinsic part of the city's history.
Daring young men like Barney Oldfield, the first person to drive over 100 kilometres per hour, were performing world-record speeds on the area's beaches in their super-fast automobiles since the dawn of the 20th century.
Thousands of spectators from near and far turned out to watch these exciting events.
Even the local school children were let out early to witness the record runs! Needless-to-say, Daytona Beach's early love affair with cars and speed eventually led to the design and construction in 1959 of the Daytona International Speedway, which allowed for speeds of up to 320 km per hour (200 mph), an unheard velocity on any track of the day.
Its builder William France also created NASCAR, the National Association for Stock Car Auto Racing, which is still headquartered in Daytona Beach.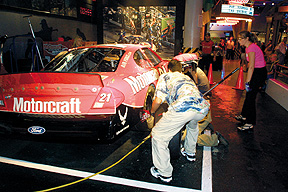 Drive She Said!
On my visit to the Speedway, I was reluctant to test my nonexistent driving skills in one of the stock cars mounted in front of individual giant monitors in the Speedway's 'Acceleration Alley' attraction.
Our fun-loving guide Tangela urged me to try it, and though I came in a miserably second-to-last in the simulated race, it was a thrilling experience!
Our tour included a 3-D film in the speedway's IMAX theatre and a 30-minute ride on an open-sided, multi-car tram around the track of the 168,000-capacity, state-of-the-art racing facility. Our tram didn't attempt to drive up onto the steeply banked turning corners of the track, but our ride did give us a good idea of how dramatic and scary they really are!
Dinner at the President's
That night, another unexpected culinary experience awaited us at Da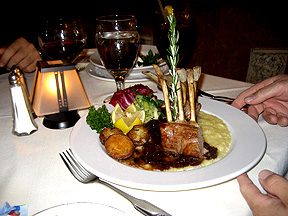 ytona Beach's Cellar Restaurant.
This restaurant that specializes in fine Italian cuisine boasts a unique location – the well-preserved historic winter home of former U.S. President Warren G. Harding, whose short-lived term only ran from 1921 to 1923.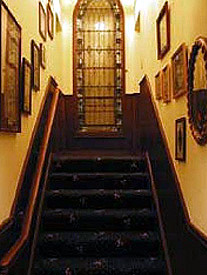 This modest seasonal residence was built in 1907 by the president's father-in-law and the walls of the stairway leading down to 'the cellar' are tastefully decorated with the faded but evocative photographs of the president and his wife holidaying in Daytona Beach during that century-old era.
The dinner menu of classic Italian dishes, all served with the restaurant's own homemade pasta, and the extensive wine list were exceptional. But it was its historic setting and the impeccable service afforded by its knowledgeable and quite enthusiastic young staff that made our evening at The Cellar so very memorable.
Finding My Bearings
As we made our way over one of Daytona's several bridges to have bre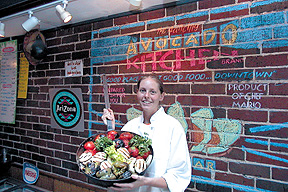 akfast at the Dancing Avocado Kitchen located on South Beach Street, I realised that the City of Daytona Beach is actually split in two by the Halifax River lagoon.
This narrow waterway, which runs north to south, separates the long and quite slender Daytona Beach peninsula from what was originally called Daytona City, founded in 1870 by Matthias D. Day (hence the city's name).
The city eventually adopted the name Daytona Beach for the entire municipality and the surrounding region became known as the Halifax River Area.
So much for geography, I thought, as I tucked into a burrito, filled with a delightful combination of shrimp and avocado and washed it down with a glass of freshly prepared carrot juice.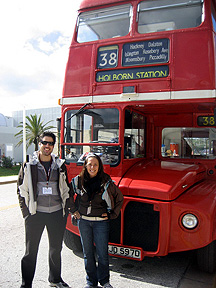 Aquatic Safari
We boarded Daytona Beach's only London-style double-decker bus for the short ride south to Ponce Inlet, a narrow strait where the waters of the Halifax River join those of the Atlantic Ocean.
The inlet bears the name of Juan Ponce de Leon (1474-1521), the noted Spanish explorer who led the first European expedition to Florida.
Our Aqua Safari launch called the "Cnidoblast" took us on a marvellous eco-tour of the scenic Ponce Inlet waterways.
The captain, a marine biologist, helped us to identify the profusion of colourful seabirds nesting in the protected low-lying islets of this fragile ecosystem.
Dolphins and Manatees
During our four-hour eco-tour, we witnessed pl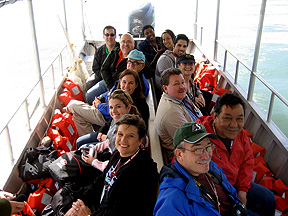 ayful dolphins performing their graceful leaps out of the water mere metres from the boat. A few of the area's huge gentle manatees, sometimes called sea cows, also seemed to be following us just centimetres below the surface of the water. What a trilling experience that was!
On our return trip to the dock at Ponce Inlet, the Captain pointed at the barely visible outline of Disappearing Island, which only appears at low tide, hence its name. But soon historic Ponce Inlet Lighthouse loomed up majestically before us as we approached the dock.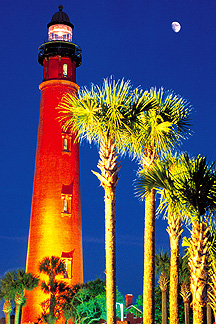 Florida's Tallest Lighthouse
Climbing the 203 steps of the Ponce Inlet Lighthouse was not as difficult one would think and my climb was well rewarded by the spectacular 360-degree views from the top of the surrounding landscape, beaches, waterways, islands and the offshore deep-blue Atlantic Ocean.
At 53 metres (175 ft.), this beautifully restored bright-red masonry tower, which was completed in 1887, is Florida's tallest and best-preserved lighthouse.
The site includes the restored cottages of former lighthouse keepers. One cottage now houses an interesting lighthouse museum. A second features exhibits on the history of Daytona Beach and Florida and a third houses the lighthouse's original impressive Fresnel lens.
The Ponce de Leon Inlet Lighthouse Preservation Association maintains this important historic site, which includes its perfectly manicured lawns surrounded by lily-white picket fences.
School For Fish
The nearby Ponce Inlet Marine Science Center sure made learning about the area's mari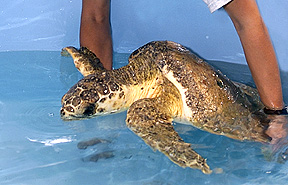 ne environment a fun-filled exercise.
Alligators, whales, dolphins, sea turtles and a wide variety of local fish and seabirds are the stars of this fascinating interactive exhibit of the denizens of Daytona Beach's fascinating marine environs.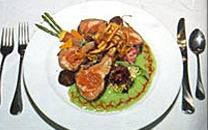 Dining à la Française
That evening, a short drive north of Daytona Beach brought us to neighbouring Ormond Beach where we had the pleasure of dining at La Crepe en Haut.
This charming restaurant offers fabulous French nouvelle cuisine that compares favourable with that of the finest French restaurants in Montreal.
The service was impeccable and the rack of lamb accompanied by a medley of fresh, perfectly prepared vegetables was delectable. Once again, this was an aspect of the Daytona Beach Area that was indeed a well-kept secret!
Fountain of Youth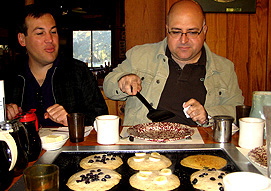 The DeLeon Springs State Park is located just 48 km (30 miles) inland from Daytona Beach.
On our arrival at the springs we were invited to make our own pancake breakfast at the rustic Old Spanish Sugar Mill Grill & Griddle House. What a pleasant and unexpected experience!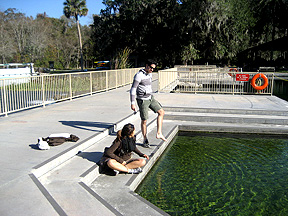 As we sat at the restaurant's long tables pouring batter from old-fashioned jugs onto the built-in hot plates, we all had a good laugh at some of the self-proclaimed experts among us.
We then took a stroll along the banks of a manmade swimming area that gets its ample year-round tepid water from the purported "fountain of youth". The fountain is actually fed by a spring issuing from the park's two natural underground hot streams.
Historic Springs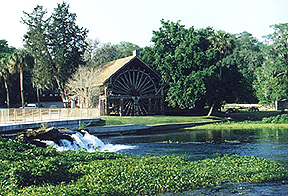 There is now archaeological evidence that Native Americans used these springs as far back as 6,000 years ago.
In the early 1800s, settlers established sugar and cotton plantations, worked on by African American slaves. In 1835, Seminole Indians sacked the plantations.
The plantations were re-established in time to supply the Confederate Army during the American Civil War, but in 1864, they were again destroyed by Union troops under General William Birney.
Beginning in the 1880s, the area became a popular winter resort for Northern wealthy tourists who believed that the water's natural chemical ingredients would rejuvenate them.
Legend has it that Juan Ponce de Leon, who discovered the springs in 1513, proclaimed them to be the long-sought-after mythical fountain of youth!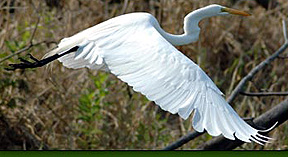 Adrift in Eden
The DeLeon Springs actually flow into the Lake Woodruff National Wildlife Refuge, which consists of 18,000 acres of lakes, creeks and marshes that are part of the area's delicate St. John River eco-system.
We boarded the M/V Acuera for our Fountain of Youth Eco/History Boat Tour and were greeted by the knowledgeable and affable Captain Frank and his ever-wisecracking shipmate Kem Wiltse.
The unique aspect of our tour of the magical, Eden-like Woodruff Refuge, was that it was narrated by Captain John himself, who seemed as comfortable here as the dozens of species of birds that nest by the thousands along the banks of the refuge's streams.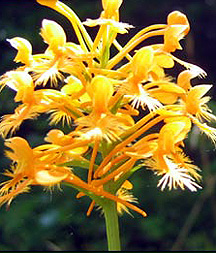 Birds of Paradise
As our boat manoeuvred slowly along the meandering waterways, ospreys, great egrets, blue herons and white ibises stood almost motionless on the banks or fluttered from branch to branch of the perfusion of riverside trees. Clusters of yellow-fringed orchids added bursts of colour to the lush landscape.

It seemed as if all of the refuge's wildlife had turned out to perform just for us. But the alligators stole the show as they lolled on the muddy banks or caught some rays on a fallen tree trunk!
Candid Cameras
The Southeast Museum of Photography (SMP) located in Daytona Beach is quite stunning. I had never visited such an impressive facility dedicated exclusively to the art of photography. Housed in its new home in the Mori Hosseini Center on the campus of Daytona Beach College since 1992, the museum is the largest of its kind in the American Southeast.
We met the director, who gave us a bit of the museum's history and mission, then viewed the current exhibition featuring Mexican photographer Pedro Meyer's magic-realist creations; Wayne Miller's stark black and white WWII images; and Jill Greenberg's somewhat controversial, yet strangely moving larger-than-life colour prints of children and animals. Visit this unique museum's informative website at www.smponline.org to learn about its current exhibitions and scheduled events.
Art and Memorabilia
Exploring more of the often-missed cultural gems of Daytona Beach,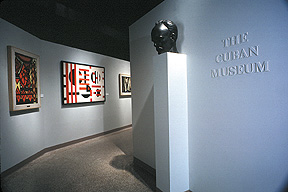 we visited the city's extensive Museum of Arts and Sciences (MOAS).
Located on a 90-acre nature preserve, the museum's complex of exhibition rooms and other facilities cover 86,000 square feet with over 30,000 objects on display!
The museum's huge Cuban art collection, a part of which once belonged to deposed Cuban dictator Batista, was alone worth the visit.
Another standout was the fascinating display of Americana that Coca-Cola entrepreneur Chapman Root collected over his lifetime. The collection even includes two of his private rail cars!
With so much to experience at Daytona's Museum of Arts and Sciences, including its theatre, planetarium, and children's science centre, one could easily spend a whole day here. Visit the museum's website at www.moas.org for a great preview!
Shaken, Not Stirred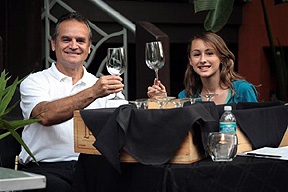 Our elegant dinner at Martini's Chophouse was the last of many memorable meals I enjoyed on my Daytona Beach sojourn. I must have gained at least five pounds during my all-too-short visit!
The restaurant's décor and its illuminated 20-ft garden waterfall were enchanting and its menu, which was refreshingly brief, offered a mouth-watering choice of New American cuisine dishes lovingly prepared with only the freshest of local ingredients.
The pièce de résistance of this unique eatery and popular happy-hour bar was its desserts, which were decorated with spun sugar designs created by the young daughter of the restaurant's dedicated owners Claudia and Clay Butters. And of course, as the restaurant's name suggests, I had to try one of its classic martinis, shaken not stirred!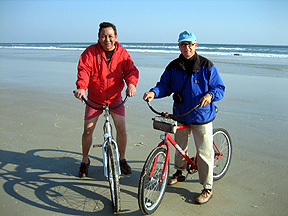 Bicycling on the Beach
I chalked up another first on this trip. I had never ridden a bike on a beach before! This was a truly exhilarating experience.
Watching the shore birds and the dune buggies as I rode close to the water's edge on the tightly packed sand was something I'll never forget. You can rent "beach bicycles" by the day or the week, with free delivery to your hotel.
A Different Daytona
As I took my final dip in the ocean before leaving for my flight north, I thought about all of the special things I had learnt about Daytona Beach over my short stay. The most important thing was that Daytona was definitely not just for snowbirds and racing fans!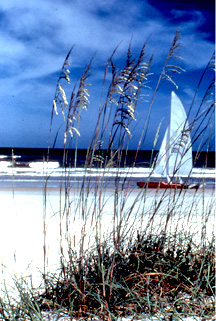 For More Info about the Daytona Beach Area:
Daytona Beach Convention and Visitor's Bureau
Tel: 386-255-0415
Email: nconte@daytonabeachcvb.org
Website: www.daytonabeachcvb.org