USA
Relishing Chicago (but not the Deep-dish Pizza)
Article and photography by Jennifer Merrick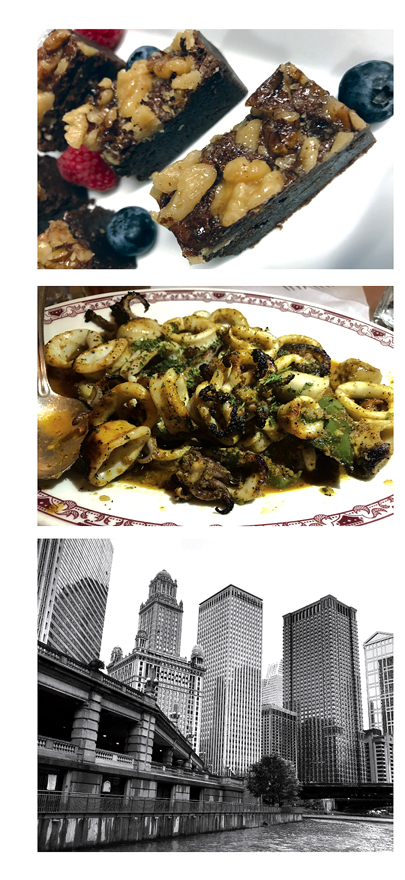 '"Have you tried the pizza, yet?" my family asked whenever I phoned home on a recent visit to the Windy City.
"Not yet," I'd reply. "But I will."
I had fully intended to try a few slices of this thickly layered pie with the sauce on top on my trip. After all, this is a quintessential tourist experience of Chi-town and it's even listed on the 'Chicago Bucket List', located at Willis Tower (formerly the Sears Tower) 110 stories above the city.
Having braved the first item of that list, which was taking a photo while standing on the tower's glass Skydeck (easy, as long as you don't look down), I vowed to tick off number seven and sample the city's famous pizza.
I didn't end up keeping my promise. Why not? Well, there was simply too much other fabulous food to try and not enough hours in a day.
Here were some of the culinary highlights we enjoyed on our Chicago getaway.
Bertha's Brownies
Bertha Palmer, an eminent turn-of-the-century business woman, socialite and philanthropist has a legacy that lives on today in more ways than one. She promoted women's rights, brought kindergarten to Chicago and collected art, especially impressionist paintings. Bertha amassed an impressive collection of Monets, Renoirs, Degas and others, which now form the core of the Art Institute of Chicago's impressionist galleries that hold the largest collection of these works outside of France (a truly inspiring and a must-see attraction).
The Queen of Chicago, as Bertha was known, is also given credit for something more frivolous but equally enduring – the brownie. According to local lore, she desired a new treat for the 1893 World's Fair, and so she directed the pastry chef to create a confection denser than a cookie but not quite a cake. An American classic was born. We tasted the original recipe in the kitchen of The Palmer House Hilton on a "History is Hott!" tour led by historian (and I would add entertainer), Ken Price.
The gilded and lavish Palmer House was brimming with stories, and Price brought them to life with flare. Quoting Kipling, he believes that, "If all history were taught in the form of stories, it would never be forgotten." Personally, the intriguing stories of the extraordinary Bertha Palmer will be remembered for quite some time as will the taste of her brownie creation.
A Foodie Haven
Chicago's cuisine is legendary, and the city has consistently been on top of best food lists for years, including "Best Restaurant City in America" by Bon Appetit in 2017. Based on the restaurants we tried, these accolades are well-deserved. At Quiote, a mescal-themed eatery, we savoured the flavours of Mexico in a neighbourhood restaurant teeming with locals even though it was a Monday night. Once tasting the Crab Tostada, Chorizo Verde and Chicken en Mole, we understood the attraction. Downstairs, the mescal bar showcased the spirit of the agave plant with crafted cocktails and an extensive collection of Mexico's smoky tequila cousin.
For a classic Chicago dining experience that has been thriving for three generations, head to Gene and Georgetti Steakhouse. The waist-coated waiters, décor and traditional recipes transported us to an Italian village restaurant circa 1960. It's no wonder celebs from old-time legends, like Frank Sinatra and Lucy Ball, to modern-day stars, including Russell Crowe, Vince Vaughn and Will Ferrell, have dined here.
The most memorable meal of our trip, however, was at a brewpub. But unlike any other brewery, the Band of Bohemia has a Michelin Star.
"We didn't expect it," explained co-owner Craig Sindelar. "We just wanted to create something special for this neighbourhood." Now visitors from all over come to experience beautifully presented and delicious food with impeccable service in an unpretentious atmosphere. My mouth waters just thinking back to the dry-aged beef and crispy pork belly. Dishes can be paired with wine or beer brewed on the premises.
This is a food court? Wow!
With no big chains, and a variety of local start-ups Chicago's food halls are a great option for first-rate food on the go.
The Chicago French Market, located in the Ogilvie Transportation Center, is a favorite with commuters with 30 individual specialty vendors. "Many chefs get their break here," says Leslie Cahill the market's director. One example is the Aloha Poke Co, which opened their first Hawaiian eatery in this market and have since expanded across the city. Other popular stalls include Pastoral for artisan cheese, bread and wine, Raw for great-tasting vegan fare and Lolli and Pops for sweet treats.
At the Revival Food Hall in the heart of the business district, there are 15 outposts of Chicago-based neighbourhood restaurants, including the Furious Spoon, famous for their ramen, Smoque BBQ, Antique Taco Chiquito and Black Dog Gelato. When I spied a pizzeria my hopes were high for a deep-dish pie, but there was only a Detroit-styled option and it just didn't seem appropriate on my first visit to Chi-town.
3-1 Chew Food Tour 
"Grab it with two hands and lean over your plate," advised Kat, our friendly guide, at the starting point of our food tour of Bucktown and Wicker Park. Ten yeas ago, this neighbourhood northwest of downtown was rough around the edges, to put it nicely; but you'd never know it today walking through the streets filled with patios, coffee shops, hip hangouts, boutiques and, of course, eateries. You could explore on your own, but it's more fun when someone fills you in on all the popular hangouts, and fills you up with ample-sized samples at every stop.
At Jay's Beef, we leaned over our plates to enjoy a classic Italian beef sandwich, slow-cooked and dripping with sauce. We sampled falafel at Sultan's Market, indulged in a sugary treat at Stan's Donuts and sipped on a rich, creamy cocoa concoction at Mindy's HotChocolate and Dessert Bar. Between the food stops, we toured local landmarks and historic houses while learning more about the neighbourhood (it also allowed us to digest the food a bit). Oh and I forgot to mention our stop at Piece Pizzeria, where once again my Chicago deep-dish ambitions were thwarted. At this popular sports watering hole, the pizza, though tasty, was thin crust.
"Thin-crust outsell deep-dish in Chicago 3-1," Cat told us, which consoled me somewhat, but I'm still determined to return to the Windy City and tick the rest of the items off the Chicago Bucket List, including number 7.
www.choosechicago.com 
Click on cover to view published article