Philippines
An Exciting South Sea Diving Adventure
By Ron Paquet (rpaquet@bulzi.ca)
Published in the October, 2004 Issue of Canadian World Traveller
Photos by Ron Paquet & Courtesy of Philippine Department of Tourism www.wowphilippines.ca
Okay, here's the drill. With these words from 43-year old Paul Arpin, co-owner of Philippines-based South Sea Divers, we begin our adventure. "Hold onto your masks and roll into the water backwards and we'll meet in front of the boat" he adds.
The Asian sunlight gradually disappears as we slowly descend into the depths of the 27 C South China Sea water to 'Dungeon Wall' some 28-metres below. Blessed with up to 30 metres of clear visibility, we are greeted by schools of diverse, colorful marine life such as sturgeon and unicorn fish, fusiliers, jacks, and smaller reef fish that frequently feed on the abundant sponges and exotic coral reefs.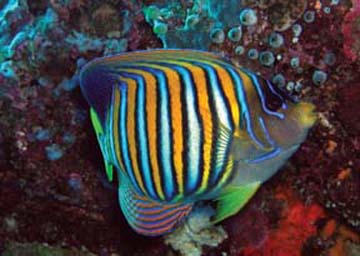 Dive locations in Puerto Galera include the 'Alma-Jane Shipwreck', which features stingrays, large snapper and sweetlips. 'Hole in the Wall' teams with angel and butterfly fish, moray eels, parrot and trumpet fish on a coral reef that is unsurpassed in beauty and diversity.
At 'Shark Cave', whitetip reef sharks rest and nearby are 'The Canyons', a world-class dive site where you can see anything from hammerhead sharks to manta rays.
"You can see more marine life here in one dive than almost anywhere else in the world," Arpin attested. An experienced diver, having explored and worked in the Caribbean, Fiji and Asia, Arpin has logged over 3,500 dives, which qualifies him to run South Sea Divers. Based on Sabang Beach, four hours south of Manila, South Sea Divers is the second oldest dive shop in Puerto Galera and competes against some 20 dive operations. The first dive shop, Captn' Greggs was established by an Australian in 1983.
American-born Sky Tellman founded South Sea Divers in 1983 and along with Captn' Greggs, discovered all the dive sites that dot the Sabang Beach area. The diving operations cater mostly to the Europeans, Koreans, and North Americans. Arpin teamed up with Alberta resident Rob Belcher and became co-partners in Tellman's operation in 1997.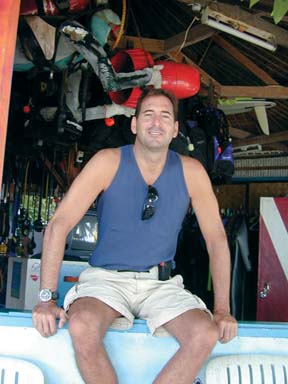 "We've had the U.S. Green Berets and Korean monks here, and many of our friends are Canadians teaching English in Korea who come back to dive up to three times a year," said Arpin.
Relaxing on his usual lawn chair under the shady coconut tree in front of his shop sandwiched between the Big Apple pool-bar and restaurant and a tiny local convenience store on the opposite side, Arpin appears to lead the easy life in the tropics. "There are moments when you can relax a few feet from the warm sea, but you must remember, we are dealing with life-support equipment," said Arpin. "When the customers arrive there is a lot of attention to detail and serious work lies ahead."
South Sea Divers provides a very personalized dive service, with no more than six divers to a boat. Staffed by five other divers, two boat operators, a secretary and a mechanic the operation runs three dives a day, 09h30, 13h00 and 15h30. Night dives are also available.
Dive prices are very competitive and well below Western standard prices as it is a mere 10 to 15-minute boat-ride to reach superior diving. For the certified diver each dive costs US$18 ($22 with full equipment rental). A full range of PADI (Professional Association of Diving Instructors) courses – from an introductory course for the beginner, are available, which includes one dive for $50 right up to a two-week to 3-month, $580+ Divemaster course.
The company operates two, 60-hp, Mercury-powered, 8.22-metre boats that are very stable and will get you to any dive site very quickly. "Sabang Beach is one of the few places in the world where you can have this variety of diving at your doorstep," Arpin enthused.
I had the opportunity of diving with an excellent American Divemaster, George (he wishes to remain anonymous), who had been in training for two months. Actually many characters, who come to the rough and tumble Sabang beach for the diving and the partying, hide behind a shroud of secrecy revealing little about their lives. They tend to dive in the day and moonlight during the evening in the dozen or so bars and discos that crowd the back-alleys of Sabang Beach.
Compared to Western standards, South Sea Divers is not a high-revenue generating operation. The group who runs the operation really enjoys the quality of life in South East Asia.
Even the snorkeling is a thrilling adventure. A one hundred-metre swim places you next to a variety of large schools of marine life, which are a camera-click away. Submersible Kodak instamatic cameras are readily available for about $15, providing photos that are sharp and colorful and will impress your friends. You can discover and marvel at the exotic coral in depths less than two metres from the sunny surface.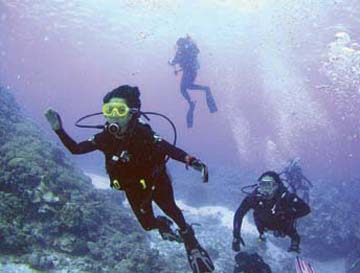 Situated on the Island of Mindoro, Sabang Beach is home to the indigenous Mangyan tribe and is replete with exotic marine treasures. Years ago, the local population used dynamite and cyanide to catch fish thus eroding marine life. This continued until environmental groups applied pressure to cease such operations. The result is some of the best-protected reefs and marine life in the world, making Sabang Beach a veritable marine sanctuary.
Traveling the Philippines is relatively easy and quite an adventure. Upon landing in Manila a three-hour bus trip takes you to the seaport of Batangas, providing you with many interesting views of thatched huts, small concrete homes and the lush Philippine countryside.
You sail from Batangas by boat or bancas (Philippine-built pumpboat or diesel-powered outrigger, consisting of a large, open monohaul stabilized by bamboo pontoons on either side) across the calm, blue waters of the Verdes Island Passage which offers a view of mountainous islands on either side with the occasional dolphins swimming alongside. A word of caution however, there have been reports of bancas capsizing, therefore it is advisable to ensure that the boat appears well maintained.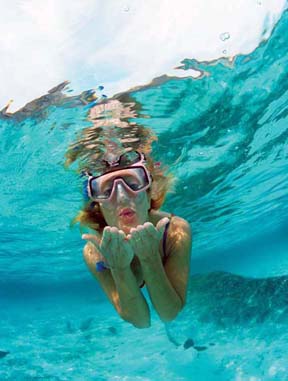 Surrounded by the South China Sea to the West and by the Pacific Ocean to the East, the Philippines, a tropical nation of over 7,000 islands, lies north of Indonesia and South East of China.
Although Canadian, U.S. and other governments have issued travel advisories to the Philippines, almost all of the rebel activity you hear about takes place in the Muslim areas in the far south of the country and does not affect Puerto Galera and the rest of the country.
The best times to visit the Philippines are between December to March where the weather is a constant 30 C with no rain or humidity. The stifling heat and humidity begins in April through to July, and the torrential downpour envelops the country from August to November.
A round-trip fare from Montréal around this time costs approximately $1,600 (Cdn), including Blue Cross and cancellation insurance, and you can expect to spend $10 per night for very modest accommodations. Food and drink cost anywhere from five to $10 per day.
South Sea Divers can be reached at: +63 (43) 287-3052 or dive@southsea divers.com. Their website is: www.southseadivers.com.

For More Info:
South Sea Divers
Puerto-Galera, Sabang Beach
Oriental Mindoro, Philippines 5203
Tel.: +63 (43) 287-3052
E-mail: dive@southseadivers.com
www.southseadivers.com
Philippine Department of Tourism
151 Bloor St. West, Suite 1120
Toronto, ON M5S 1S4
Tel.: (416) 924-3569
Fax: (416) 924-8013
E-mail: info@wowphilippines.ca
www.wowphilippines.ca
Embassy of the Republic of the Philippines
130 Albert Street, Suite 606
Ottawa, ON K1P 5G4
Tel.: (613) 233-1121
Fax: (613) 233-4165
E-mail: embassyofphilippines@rogers.com
www.philembassyca.org/
Philippine Airlines
Vancouver International Airport
3211 Grant McConachie Way, Suite 4110.0A
Richmond, BC V7B 1Y7
Toll-Free: 1-800-435-9725
Fax : (604) 276-6018
E-mail : pryvrsales@telus.net
www.philippineairlines.com