Hong Kong
In Search of My Chinese Roots
Published in the Summer 2009 Issue of Canadian World Traveller
Text by Greg James (greg@canadianworldtraveller.com)
Photos by Jean-Michel Dufaux (jmdufaux@videotron.ca) and other sources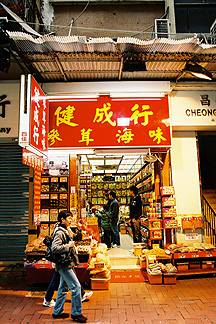 Chinese New Year in Hong Kong! What a wonderful time to visit this dynamic world-class city that rises so dramatically on the northern shores of the South China Sea!
However, this was going be much more than just another trip to yet another exotic foreign destination. For me, this would be a long-anticipated voyage to explore one of my many far-flung and multi-hued ethic roots!
A Chinese Grandfather
My maternal grandfather was born to Chinese indentured workers. Following Great Britain's abolition of slavery in 1833, Cantonese peasant farmers were carried on ships halfway around the world in an effort to replace the freed African slaves on the sugar plantations in what was then British Guiana, Britain's only South American colony, during the mid-to-late 1800s.
I never knew my Chinese great grandparents, but growing up 'half-Chinese', I always wondered what it would be like to stroll down streets where almost everyone was Asian. Now at last, I was about to find out on my brief but incredibly intriguing seven-day sojourn in Hong Kong!
One Country, Two Systems
Hong Kong would prove to be the ideal place to begin my search for my long-lost 'Chinese' heritage. Like Guyana w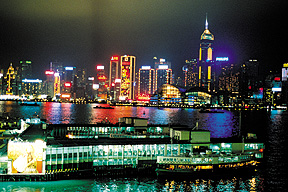 here I was born, Hong Kong had also been a British colony.
On July 1, 1997, Britain ceded Hong Kong to China with lots of fanfare, but much of the territory's previous way of life as a British possession was guaranteed under the "One Country, Two Systems" agreement, signed by the governments of the United Kingdom and the People's Republic of China.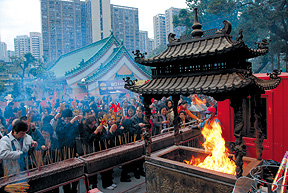 For today's Western visitor, this means that English continues to be widely understood and spoken in Hong Kong and its street names, major commercial signs and almost all the menus of restaurants that cater to tourists are in Cantonese and English.
But don't be fooled by this. Centuries-old Chinese traditions, superstitions, religious fervour, clan affiliation, ancestral veneration and respect for one's elders are still strongly adhered to by even the most chic and worldly of young Hongkongers!
Gracious Beginning
The inimitable charm of the Chinese swept me away the minute I got into line at the check-in counter for my late-night Cathay Pacific flight from Toronto to Hong Kong.
Graceful, ever-smiling, female attendants, wearing cheongsams (close-fitting, floor-length traditional Chinese silk dresses) and stiletto heels, immediately came up to greet me, and taking note of my six-foot height, hastened to assure me in perfect English that I would have a seat with plenty of legroom for the 14-hour-plus, non-stop flight to Hong Kong!
On arrival at Hong Kong's impressive Chek Lap Kok International Airport, which was completed in 1998, I found it hard to believe that I was in Asia.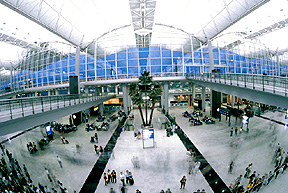 World-renowned, Manchester-born architect Norman Foster designed this ultramodern, highly efficient, stunning gateway to Hong Kong. Remarkably, the airport stands on its own man-made island created just north of Lantau Island. It took me just 20 minutes from deplaning to exiting the airport's doors, including the unbelievably brief time to reclaim my suitcase!
Lay of the Land
Using Hong Kong's surprisingly unclogged network of super highways, bridges and tunnels, it was just a short ride to the Harbour Plaza Metropolis Hotel located on Kowloon's waterfront.
Until my visit, I did not realize that the Special Administrative Region of Hong Kong consists of the Island of Hong Kong; Lantau Island; Kowloon City, situated on the north bank of Hong Kong's natural Victoria Harbour; and the expansive New Territories.
Hong Kong's New Territories extend northward from Kowloon to the border of the Southeastern Chinese Province of Guangdong (often referred to in English as Canton, hence the term Cantonese Chinese).
Sea of Islands
Hong Kong also counts some 260 islets as part of its region for a total land area
of 1,108 km2 (427 square miles). With its burgeoning population of just over 7 million, Hong Kong is one of the most densely populated areas of the world.
However, there are two things to consider in this regard. Firstly, even in the busiest parts of Hong Kong Island and Kowloon City, it never felt overcrowded due to the propensity of the Chinese to let everyone have their space. Not once did I bump up against someone else!
Secondly, the immense, sparsely populated and officially protected forested areas and pristine secluded beaches of the New Territories afford the visitor amply opportunities to spend time away from the crowded city centres.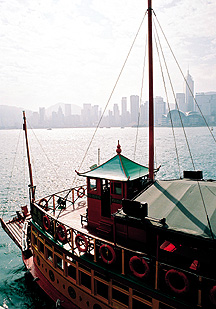 Balmy Winter Weather
Hong Kong's weather can be very unpredictable. One minute, it can be overcast, with heavy mist concealing much of the city's stunning skyline; the next, there can be clear blue skies and brilliant sunshine overhead.
This being the end of January during subtropical Hong Kong's so-called winter months, the average temperature was a comfortable 17 degrees Celsius (63 F) with absolutely no chance of sleet, ice or snow.
For us Canadians, this was positively balmy 'winter weather'. But on our 'Duk Ling Ride' aboard the motorized junk bearing that amusing name, one definitely needed a windbreaker or sweater to ward off the seasonal slightly chilly South China Sea breezes.
Junks were the distinctive Chinese sailing vessels that plied Hong Kong's harbour as far back as the Han Dynasty (220 BC-200 AD). These picturesque, now mostly obsolete boats were often used as ocean going vessels as early as the 2nd century AD. Today, they are considered a colourful iconic symbol of Hong Kong's illustrious past.
Look Way Up!

We boarded our junk at the Kowloon Public Pier for a morning sail around Hong Kong's beautiful natural Victoria Har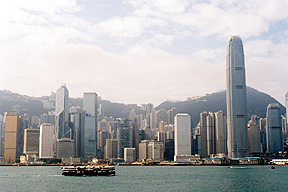 bour and enjoyed the impressive water-level views of some of the city's 106 buildings that tower above 180 metres (591 ft), a statistic that rivals most other world cities!
Three of the landmark buildings that loomed up so dramatically before us on Hong Kong Island were the city's tallest, namely the 88-storey Two International Finance Centre; the 78-storey Central Plaza, which houses the Hong Kong City Church, the highest church in the world; and the 70-storey Bank of China Tower, which was designed by famed Chinese-born American architect I. M. Pei.
Feng Shui Aesthetics
The Bank of China Tower, though not the tallest, is still one of Hong Kong's most recognizable landmarks. However, we discovered that the building had sparked lots of controversy when it was completed in 1990.
Many Hongkongers thought that its sharp-angled design and X-shaped exposed structural elements did not conform to Feng Shui, the ancient Chinese guiding principle of positive aesthetics.
Oftentimes, good Feng Shui even dictates how ordinary Chinese place their household furniture in a room!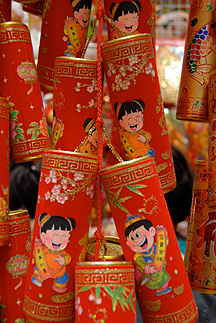 A Street Market For Every Reason
After disembarking on Hong Kong Island, we made our way through the forest of ultramodern high-rise office buildings to some of the most interesting urban market streets that I have ever had the good fortune to stroll.
The most amazing thing about Hong Kong is how the city planners were able to preserve the colourful busy street markets of the 1957 novel and 1960 film "The World of Suzie Wong", cheek by jowl with today's ultramodern steel and glass office towers!
These narrow, crowded and often moderately inclined side streets were a joy to explore. Stalls selling every imaginable type of fish and seafood competed with those offering farm-fresh vegetables, fruits and greens.

Thousand-year-old Eggs
Thousand-year-old eggs were available next to a mind-blowing variety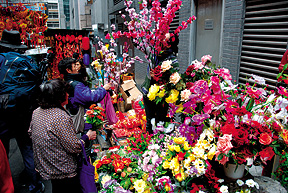 of teas. Dried Ginseng roots and other remedies for promoting one's health and curing every imaginable medical condition, including male sexual dysfunction, were yours for the asking.
Because this was the week preceding Chinese New Year, many of the stalls offered multicoloured blossoms, real and artificial; exotic miniature fruit-bearing trees; candies in bright, shiny wrappers; and a wild assortment of decorations for celebrating the arrival of the Year of the Ox.
Traditional New Year's firecrackers had been banned following a disastrous Hong Kong fire; so now only colourful replicas were available in the street markets. However, there was lots of real red clothing for sale, including bright red underwear for both men and women! As I discovered that day, the 'couleur du jour' for Chinese New Year is definitely red!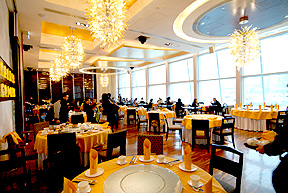 Dim Sum par excellence!
Lunch at Cuisine Cuisine was a very elegant affair. After our intriguing walk through the organized chaos of the street markets, we entered the rarefied atmosphere of the International Finance Centre Mall, located in Hong Kong's Central District. Was I ever in for a big surprise!
Even the most exclusive shopping emporiums in Montreal, Toronto or Vancouver could not compete with the scores of ritzy international designer boutiques and specialty shops that were filled with lots of chic and seemingly well-heeled young shoppers. This certainly was living proof that "One country, two systems" is no idle slogan.
On arriving at the restaurant on Podium Level 3, we were ushered to a table with a fine view of Victoria Harbour from the Hong Kong Island side. Along with the usual delectable dim sum tidbits, I tried my first thousand-year-old egg, which is not really that old at all. In fact, they are duck or chicken eggs that are coated in a clay-like plaster of red earth, garden lime, salt, wood ash, and tea and preserved over a period of about 100 days.
Two Pairs of Chopsticks
My second new experience that day in the fine art of Chinese dining, was remembering to use the cor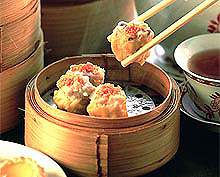 rect pair of chopsticks. The shiny black pair was for serving yourself from the communal dishes, which are usually placed at the centre of the table. The second pair, which was ivory-coloured, was for eating from one's own plate or bowl!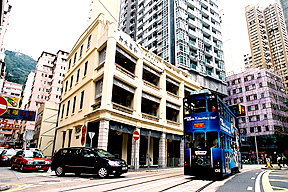 Colourful Wan Chai
After lunch, we took a leisurely walk through Hong Kong's Wan Chai District, known equally for its lively nightlife, luxury apartments, swanky hotels, shopping malls and modern office towers.
However, during our afternoon stroll, we did notice an intriguing makeshift devise protruding precariously from some of the open windows high above the traffic-filled streets. This ingenious devise was used to hang out clothes to dry!
As we made our way through Wan Chai, we stopped to buy some roasted chestnuts from a street vendor and were warned by our affable guide Andy not to throw the shells onto the sidewalk. Apparently the fine is $1000 HK (about $150 CAD) for infractions of the strictly enforced anti-littering and anti-spitting laws. "So that's why Hong Kong's streets are so spotlessly clean!" I exclaimed.
Riding the Ding-Ding

The most memorable part of our afternoon Wan Chai promenade was a ride on one the city's double-decker tram
ways. The historic tramway system on Hong Kong Island dates back to 1904.
Today, its fleet of 163 tramcars carry a daily average of 230,000 passengers on the six extensive tramway routes.
Hong Kong's trams are brightly festooned with some of the most creative transit advertising I have ever seen. So much so that the tramcar ads seem more like mobile murals and have indeed become an intrinsic part of the vibrant cityscape.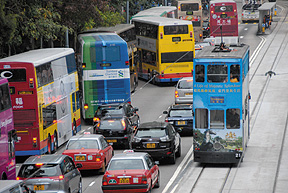 We climbed to the upper level of our ding-ding, as the locals affectionately call the trams. One of my travelling companions bumped his head on the ceiling of the tram, which was an amusing reminder that at six-foot-plus, he was obviously taller and less agile than the average Hongkonger.
At only $2 HK (about 30 cents Canadian) for a ride, regardless of the distance, Hong Kong's trams are the best and cheapest way to get a wonderful bird's eye view of the city's pulsating street life.
For more extensive travel, Hong Kong's modern sparklingly clean Metro System will whisk you to almost every part of the territory. The metro even runs under the deep waters of the harbour to Kowloon and beyond.
Not Just a Flower Market
The Chinese New Year Flower Market in Victoria Park is an unforgettable experience. This ann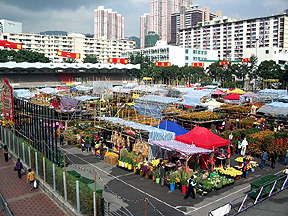 ual festive event held on the day before New Year's Eve is jam-packed with people, young and old, who flock to the market to get their last-minute New Year's shopping done.
The atmosphere was much like that of a North American fairground. Hundreds of stalls offered holiday decorations, including huge fruit bearing and flowering plants. And because this was the Year of the Ox, many of the venders and shoppers sported 'horned' headgear.
Apparently, some of the novelty items on sale poked fun at local politicians and institutions. But the most amazing thing about the market was that its crowded aisles were designated as one-way thoroughfares, which the throngs of merrymaking Hongkongers actually adhered to!
One final notable aspect of the event was when I witnessed several Hong Kong families proudly posing to have their photos taken in front of the rather formidable though weatherworn statue of Queen Victoria located at the entrance to the park that still bears her name.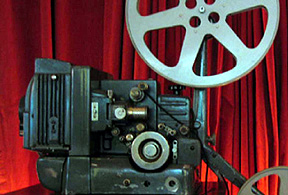 Viva Italia!
In a city that offers many surprises, this was one that I did not expect. We dined at Cinecitta, located in one of Wan Chai's fashionable 'Yuppie' neighbourhoods.
This upscale Italian eatery featured a post-modern interior design and state-of-the-art furnishings.
Scenes from classic black and white Italian films were projected on the walls as we dined on some of the best Italian cuisine that I've had outside of Italy. The restaurant's extensive Italian wine list was equally impressive.
Hiking Enthusiast's Dream
For anyone who loves the outdoors this is an experience not to be missed. The Sai Kung peninsula is a pristine and largely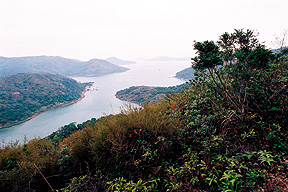 protected area of Hong Kong's New Territories. Its main hiking trails run along the peninsula's Tai Lam mountain range.
The peaks of the range rise dramatically from the surrounding sea making some trails more challenging than others. But the outstanding panoramic views of both land and sea afforded by even an abbreviated hike are well worth the effort. Taking rests along the way is no crime!
We only did a part of the popular 100 km MacLehose Trail, named after one of Hong Kong's last colonial governors and enthusiastic hiker Murray MacLehose, but at the highest point that we attained, we had a wonderful bird's-eye view of much of the Eastern coastal area of the Sai Kung Region including some of its fabled coves and sandy beaches, which I vowed to visit and languish on some day.
How Fresh is Fresh?
After our exhilarating hike, we took a refreshing boat ride and a short bus ride to the seaside New Territories town of Sai Kung.
Local fishermen in small multi-coloured boats moored alongside the docks offered freshly caught live fish and an assortment of seafood that defied description to their many keen-eyed local customers who leaned over the docksides to point out their selection.
And just offshore, sea birds hunting for their supper dove gracefully down into the placid sea to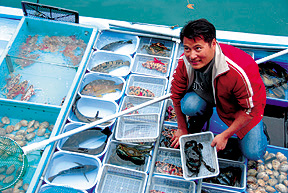 snap up their own well-earned fresh catch.
New Year Seafood Feast
Our own extraordinary New Year's seafood feast awaited us at one of the many restaurants that lined Sai Kung's colourful waterfront.
Outside each establishment, there were stacks of huge glass tanks. The bubbling tanks contained an amazing assortment of live fish, prawns, crabs, scallops, clams, oysters and many other edible but quite scary-looking creatures of the deep.
The idea was to make your dinner choices before entering the restaurant. This would prompt a very nimble fellow, shod in waterproof knee-high boots, to skip across the tanks and scoop up your selection with his small handheld net.
Happily, our guide Andy was more familiar with our restaurant's exotic live offerings and made the choices for us. In about half an hour, the restaurant's talented Cantonese chefs had transformed his live selection into a banquet fit for even the most demanding of ancient Chinese emperors. This was a truly memorable meal!
Hockey Night in Hong Kong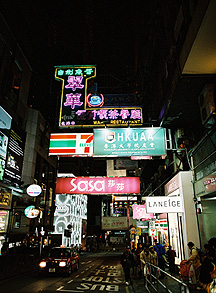 Lan Kwai Fong is Hong Kong's premier entertainment district. Located in the area called Central, it is home to over a hundred bars and restaurants, many of which open directly onto the street.
For anyone seeking a late-night hot spot, this is the place. And for homesick Canadians, there's even a sports bar that shows NHL hockey games on its TV monitor.
I can't recall its name, but you can't miss it. A Canadian flag hangs proudly on the outside of the bar and a sizable collection of NHL hockey paraphernalia and souvenir items grace its interior walls!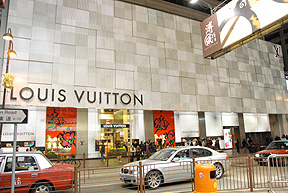 Late-night Shopping
If you name just one activity that everyone who visits Hong Kong does it has to be shopping. Some elect to go bargain hunting in the makeshift stalls of the night market on Kowloon's Temple Street, where I found the perfect red silk tie with black Chinese characters to wear on New Year's Day and the price was right.
Others may prefer browsing through the scores of high-end boutiques that l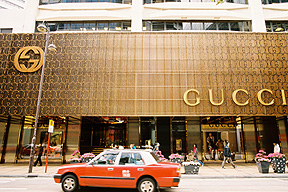 ine Nathan Road where you can find genuine designer clothing at one-third of the price you would pay in Montreal, Toronto or Vancouver.
Nathan Road is Kowloon's main thoroughfare. Its chic shops are covered from top to bottom with those huge neon signs that turn night into day. The remarkable thing is that all of these shops are open until 11 P.M. each and every night!
New Year's Lion Dance
The first order of New Year's Day in Hong Kong is to witness a Lion Dance. This ancient ritual promises its spectators good luck for the coming year.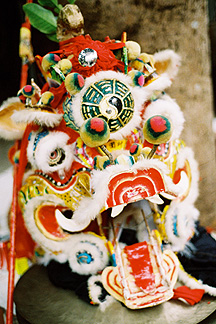 The lion also has the ability to drive out any evil spirits from the establishments where he performs, in this case, the Renaissance Kowloon Hotel, located on Kowloon's waterfront.
Boys as young as six years old are trained in troupes (often affiliated with local Kung Fu clubs) to perform this intricate acrobatic dance that has one young performer manipulating the lion's head and the other its body.
The lion's antics include jumping between the tops of a series of freestanding, two-metre-high pillars. The Lion Dance, not to be confused with the Dragon Dance, is performed to the rhythmic and startlingly loud beat of portable Chinese drums, cymbals and gongs, enthusiastically supplied by other members of the troupe.
Apparently, there is a fierce but generally friendly rivalry between Hong Kong's many Lion Dance troupes for the right to perform at prime locations.
Bruce and Me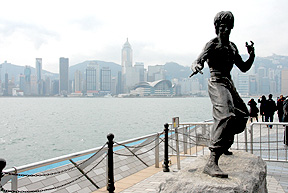 The Avenue of Stars is a wide pedestrian-only boardwalk that borders Victoria Harbour. This literally 'star-studded' avenue celebrates Hong Kong's many past and present movie stars, among them none other than the legendary Bruce Lee.
His bronze, life-sized statue was definitely the main attraction for the hundreds of locals and tourists who patiently waited their turn to have their photos taken beside this enduring icon of the Kung Fu movies. I have to admit that I too waited my turn for my moment with Bruce!
Time to Pray
Three things struck me on my visit to the Wong Tai Sin Temple, a traditional Taoist temple established just north of Kowloon in 1921.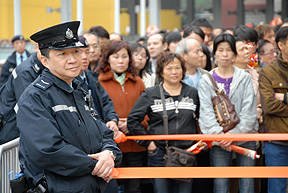 The first was its location. It was surrounded on three sides by modern high-rise buildings. The second was the crowds of worshippers. They were old and young, of every socio-economic class, lined up for blocks to get in.
The third and most impressive thing about my visit was the obvious reverence in which the temple adherents held their place of worship. Even though there were thousands of people in a very confined space, there was no pushing or queue jumping and it was so quiet that you could hear a pin drop.
The main mission of the worshippers that special day was to pray for good fortune and health in the coming year, the Year of the Ox, and the air was thick with the fragrant smoke of the incense sticks that just about everyone tightly clutched in his or her hands.
Fortune Sticks Anyone?
On entering the temple's Grand Hall, I joined the crowd in kneeling in front of its main altar, making a silent wish and shaking a bamboo cylinder containing numbered fortune sticks until one of them fell out. I was then instructed to exchange this stick for a piece of paper bearing the same number.
Up to that moment, this ritual was all a mystery to me until our guide Andy explained t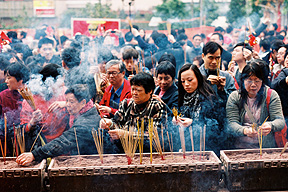 hat I was taking part in an age-old fortune-telling practice called Kau Cim. Clutching my precious bit of numbered paper, I entered an adjacent building that housed row upon row of fortune-teller booths.
Ever-patient Andy led us to one of the booths that had a sign that read "English Speaking". The lovely lady who read my fortune based on the number from my fortune stick immediately divined my part-Chinese heritage.
Westerners may take this timeless ritual lightly, but for millions of Chinese, a trusted fortune-teller's forecast is very serious business.
Taste of "The Golden Age"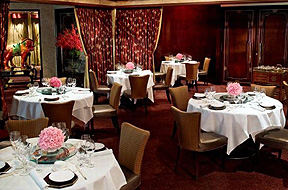 Located in the fashionable Tsim Sha Tsui District of Kowloon, the T'ang Court justly deserves its two Michelin stars. This restaurant's décor and fine furnishings were obviously carefully chosen to reflect the elegance and good taste associated with the Tang Dynasty, China's golden age.
As if this wasn't enough, the delectable Cantonese-style haut-cuisine dishes were stylishly presented to us by an attentive yet discreet staff.
I wished we could have lingered much longer to soak up even more of the T'ang Court's refined atmosphere but we had to be on our way to view Hong Kong's spectacular New Year's Night Parade.
Everyone Loves a Parade!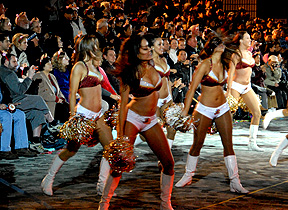 This was definitely a parade with a difference! The line-up included everything from the Washington Redskins Cheerleaders from Good Ol' USA to Russia's Brass Band of the Moscow Cadet Music Corps, who incidentally thrilled the crowd with their short disco-dancing routine à la John Travolta.
When we arrived at the viewing stands, we were presented with headbands, which naturally featured 'Ox' horns, noisemakers and shiny silver light reflectors.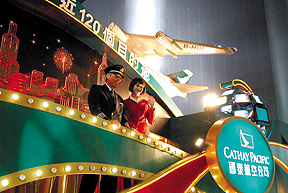 The parade began with a float decked out to resemble a Cathay Pacific plane. It was followed by a contingent of the airline's female and male flight attendants looking as smart as ever in their snappy uniforms.
As expected, most of the 39 performing groups in the hour-and-a-half-long parade were from Hong Kong and other parts of China. But underscoring the international appeal of Hong Kong, other  participants hailed from as far away as Australia, Denmark, Japan, Korea, Russia, South Africa, Spain, Thailand and the US.
The time sped by quickly and judging from the wild response of the spectators, Hong Kong's Cathay Pacific New Year's Night Parade certainly was one very happy party and the perfect way to usher in the Year of the Ox!
Lantau Island Outing
Lantau Island, which lies west of Hong Kong Island, is sparsely populated (45,000 compared to 1.4 million on Hong Kong Island) and its terrain is quite mountainous and heavily forested. The island has often been described as the 'Lung' of Hong Kong.
However, as we discovered on our brief visit, northwestern Lantau is now experiencing rapid population growth in its newly established towns due to their proximity to the manmade island where Hong Kong's International Airport now sits. New tourist attractions and facilities are also bringing more visitors to Lantau Island, which is almost twice the size of Hong Kong Island.
Fishermen's Domain
One aspect of Lantau Island that happily defies change is the historic village of Tai O located on the farthe
st point on Lantau's northwestern coast. This tiny picturesque seaside community is home to the Tanka people who built their homes on stilts above the tidal flats for generations.
We strolled through the town's main market street past several stalls offering souvenirs made by local artisans from the region's beautiful multicoloured seashells.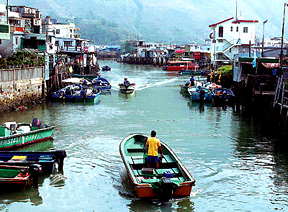 Other street venders displayed enormous fresh and dried fish and other freshly caught seafood in their tiny stalls. This colourful but somewhat pungent smelling street led us to a manually operated little drawbridge that spans the narrow creek that divides the town.
Before the drawbridge was built, the only way to cross the creek was on a "ferry" that was pulled back and forth by ropes! That system for crossing the creek lasted for an incredible 85 years in Tai O, attesting to the town's resistance to change!
May I Have the Envelope?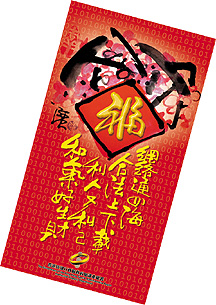 This being the time of New Year's celebrations, the lion dancers were going from shop to shop in Tai O. It was at this time that I found out how the performers are paid.
Part of the lion's dance involves "biting" a head of lettuce that is hung up by the shopkeeper or homeowner over the entranceway. And hidden in the lettuce is a little red envelope called a Lai See, which contains money. The greater the sum, the greater the good fortune!
As part of New Year's celebration, similar Lai Sees are given to children, single people and lower-echelon employees.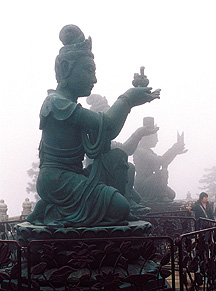 Misty Buddha
Our second stop on Lantau Island was to see the impressive Tian Tan Buddha, said to be the world's tallest outdoor bronze seated Buddha.
The Big Buddha, as it is sometimes called, is a huge attraction for both local adherents and the thousands of foreign visitors who flock to see the shrine each year.
As we climbed up the shrine's 286 stone steps, we realised that a persistent heavy mist, which hung in the air like a giant curtain, would somewhat obscure our view of the Buddha's upper body and head.
Though we were disappointed at not seeing the entire 34-metre-tall (110 ft), 250-tonne (280 tons) Buddha, the mist actually added a mysterious and almost mystic aura to this monumental and highly revered religious site.
We made a brief visit on the inside of the hollow bronze body of the Buddha where we encountered many walls displaying hundreds of memorial plaques of deceased revered notable individuals that had been paid for by their relatives and friends. Then along with the hundreds of other pilgrims to the shrine, we headed back down the 286 steps to the Po Lin Monastery, which lies in the shadow of the Big Buddha. Here we enjoyed a simple but satisfying vegetarian meal prepared by the resident monks.
Village Theme Park
The perfect return route from the Po Lin Monastery is a stroll through the nearby Ngong Ping Cultural Village, a sort of Chinese version of a North American theme park.
It boasts several attractions including the moving 'Walking with Buddha' pavilion and the amusing animated film featured at the 'Monkey's Tale Theatre'. After sipping on an American-style coffee at one of the village's many cafés, we headed for the terminus of the Ngong Ping 360 cable car ride.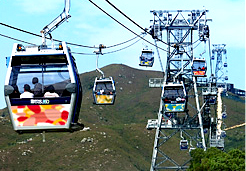 Sky-High Ride
The Ngong Ping 360 cable car ride is a spectacular 5.7km (3.5 miles), 25-minute trip that begins from Tung Chung in Landau.
It then crosses Tung Chung Bay and touches on the Hong Kong's airport's island before turning towards North Lantau and the Ngong Ping terminus where we boarded one of its spacious cars for our return trip from Po Lin Monastery.
Once again the heavy mist that day obscured most of the panoramic views from the huge windows of our cable car, but we could still catch glimpses of Lantau's verdant slopes and the calm waters of Tung Chung Bay as we went over them. On a clear day, this would be one Hong Kong ride not to be missed!
Date at Harbour City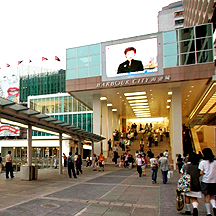 During our early supper at Harbour City, located in the Tsim Sha Tsui waterside district of Kowloon, excitement definitely was in the air as this was the night of the extraordinary, annually held Lunar New Year Fireworks Display over Hong Kong's Victoria Harbour!
Harbour City is an immense commercial complex that was built on the former site of wharfs and dockside warehouses.
Peking Duck & Cruising
Our Harbour City restaurant's signature dish was Peking duck. As we tucked into the several courses of this quintessential Chinese speciality, one of the many cruise ships that count Hong Kong as its premier Asian port-of-call sailed by the restaurant's huge picture windows. The reflection of the ship's cabin lights shimmered romantically in the waters of the harbour.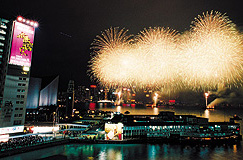 Explosive Superstition
From our vantage point on one of Harbour City's rooftops, the fireworks display exploding over the Victoria Harbour was fantastic
The dazzling backdrop was the illuminations on high-rise buildings on the Hong Kong Island side of the harbour and the accompanying laser show.
After the usual eye-popping, ear-shattering finale, one of the three barges in the harbour used to launch some of the fireworks caught on fire. According to the local English-language paper, the South China Morning Post, this unfortunate event and the fact that an important city official had previously drawn an unlucky fortune stick numbered 27 at the Sha Tin Temple, meant that tough financial times were in store for Hong Kong!
This assessment of the future of economically dynamic Hong Kong in the coming Year of the Ox would probably not turn out to be a true, but it indicates the powerful influence that Chinese beliefs and superstitions have on even its most level-headed institutions.
Fierce Temple God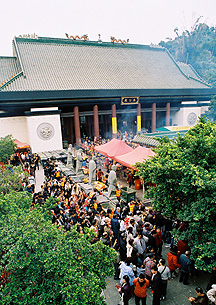 After the Wong Tai Sin Temple, where I had my fortune read, the Che Kung Temple is definitely Hong Kong's second most popular shrine.
We visited this renowned Buddhist temple, located in the Sha Tin District of the New Territories, on the third day of Chinese New Year, which is the birthday of the shrine's demigod Che Kung.
He was a fierce general from the Sung Dynasty (960-1279 AD) who was elevated to Buddhist immortality on account of his heroic deeds. His much-venerated towering bronze statue, which stands several metres tall in the main hall of the temple, is indeed an awesome sight to behold!
Che Kung is considered by many to be Hong Kong's undisputed god of gambling and as such, thousands of worshipers gather here on his birthday to pray to him for good fortune in the coming year.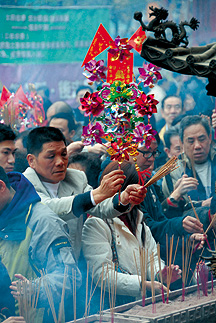 Winds of Change
Incense sticks and huge arrays of colourful paper windmills were for sale just outside the temple walls.
Apparently, paper windmills purchased at the temple blow good luck winds into your home throughout the year when placed in a window or doorway.
As the day wore on, it was amusing to see the discount signs for the windmills go up. But on a more serious note, I was once again totally astounded by the fervour of both young and old devotees at this impressive and obviously highly revered place of worship.
Off to the Races
The Hong Kong Jockey Club's Sha Tin Racecourse is conveniently close to th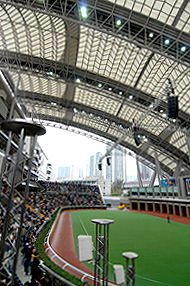 e Che Kung Temple. This stunning facility was built in the New Territories in 1978, but the club's Happy Valley Racecourse on Hong Kong Island, dates back to 1846.
Sha Tin's total capacity is 85,000, which in itself attests to the average Hongkonger's passion for horseracing and gambling. As a matter of interest, this state-of-the-art racecourse had the honour of being the main venue for the equestrian events of the wildly successful 2008 Beijing Olympic Games.
The day we visited Sha Tin was the 3rd Day of Chinese New Year. There was a near sell-out crowd due to the suspicion that on this day, one should avoid contact with family members and close friends.
It is believed that if you have an argument with someone on this day you won't speak with him or her for the entire year!
Proud Heritage
I wish I could say that my quest to find my Chinese roots ended in the historic heritage village of Ping Shan. It didn't, but this was as close as it got. My mum's maiden name was 'Cheong' but it could just as well been 'Tang' when I alighted in the village of Ping Shan.
Ping Shan has one of the longest recorded histories in all of Hong Kong and the lineage of the Tang clan is firmly rooted right here. Considered one of the "Five Great Clans" in the New Territories, the Tang clan can amazingly trace its roots as far back as the twelfth century.
World-Famous Designer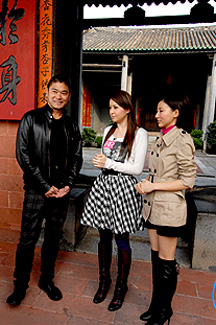 On our arrival at the town's unpretentious main square, none other than Ping Shan's favourite son William Tang came up to greet us.
This amicable Canadian-educated, world-famous Hong Kong fashion designer, clad in his signature leather jacket, proceeded to take us on a fascinating tour of his nearby, privately owned ancestral home!
High Threshold
On entering his beautifully restored multi-storied ancestral village residence, an amusing anecdote was created by us having to step over the rather high threshold of the entranceway.
I had previously been told that the reason for the high thresholds in village homes was to keep out the chickens and other village livestock! Now I learnt that the real reason was to remind visitors that they were entering a place that should be treated with reverence.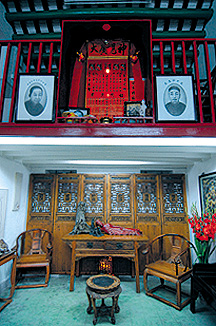 Faded Photographs
The house was filled with Tang family mementos included framed faded photographs of William's ancestors and interesting artefacts and furnishings of many bygone eras.
Funnily enough, I actually felt that I would be quite at home living here and once again my thoughts turned to the Chinese great grandparents that I never knew.
As William had to leave for a scheduled interview with two attractive female reporters from a local TV station, his charming sister Kwai Man Tang and Kathy To, the local representative of the Hong Kong Tourism Board, gladly took over from him to act as our guides for the rest our afternoon tour of Ping Shan.

Historic School and Timeless Pagoda
After touring the two levels of the fascinating Kun Ting Study Hall, which was built in 1870 by Tang Heung Chuen, a 22nd-generation ancestor of the Tang clan, for students preparing for the imperial civil service examination, we strolled over to the site of Hong Kong's only truly ancient pagoda.
The original five-storey Tsui Sing Lau Pagoda, which means "Pagoda of Gathering Stars", was built by Tang Yin-tung, a seventh generation ancestor of the clan, more than 600 years ago! It was damaged by strong winds and subsequently rebuilt as today's still impressive three-storey pagoda.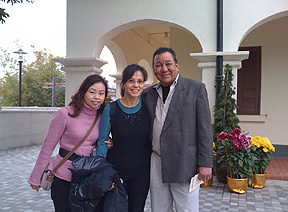 Living Memories
The really fascinating part of the Ping Shan Heritage Trail was visiting the recently established hilltop Tang Clan Gallery, which is housed in the Old Ping Shan Police Station built in 1899 by the British.
Happily, in 2007, the defunct colonial-styled police station was wonderfully restored and became the repository for many of the Tang Clan's treasured artefacts from its long line of notable ancestors.
The gallery even includes a case displaying the historic outfit worn by our charming 'clan guide' Kwai Man on her own wedding day. How I wish I could have found such a remarkable tribute to the Cheong Clan!
Bowl of Plenty
The Heritage Trail led us to our final stop, the Tang Ancestral Hall, which was constructed by Tang Fung-shun, a fif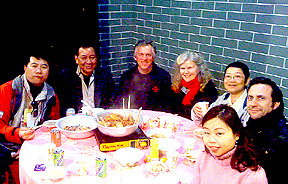 th generation ancestor of Tang clan some 700 years ago.
The hall's impressive two internal courtyards were about to become filled by the 400-plus closest family and friends of our hosts William and Kwai Man Tang!
Earlier when I had visited the open-topped ancestral hall, I had noticed what looked like slide projectors on each of the dozens of tables that were set up for the banquet. Now I found out that they were actually mini tabletop gas ranges that would keep the Pun choi warm!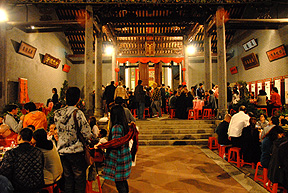 And what is a Pun choi you may ask. Well, this is a classic New Year's dish originating in the New Territories. A huge piping hot bowl of stew containing cabbage, bok choy, tofu, fish balls, meat balls, pig's skin and duck is served up to each table at a communal New Year's banquet.
Each year, a small army of volunteer village cooks prepares this exotic feast, which may or may not be to everyone's taste, but I found it quite delectable.
I knew that I had become an honourary clan member when Kwai Man brought over a glass of the Chinese version of mulled wine to me and only me at our table of ten!
Kung Hei Fat Choy!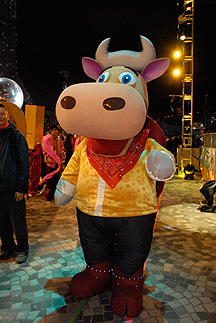 For those not familiar with that greeting, it's Happy New Year in Chinese. And what a happy time it was to be in Hong Kong to celebrate the beginning of the Year of the Ox and to re-establish my Chinese connection!
As I stood on one of the breathtaking lookout points on Victoria Peak, high above Hong Kong's forest of futuristic skyscrapers and its shimmering harbour on my last night in this scintillating city, I began to understand for the very first time the contradictions inherent in my late Chinese grandfather Ol' Cheong.
After all, he was Chinese yet Western – every bit like contrary yet totally loveable Hong Kong! 
For More Info on Hong Kong:
Hong Kong Tourism Board
Tel: 416-366-2389
Email: yyzwwo@hktb.com
Website: www.discoverhongkong.com/canada