Shanghai
China's New Rising World Star
Published in the Winter 2008-09 Issue of Canadian World Traveller
By Michael Morcos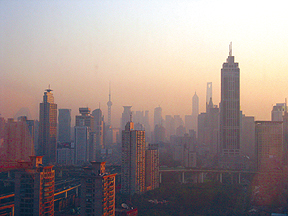 My view of Shanghai could not be any clearer. There it was, like a glossy postcard. But it was all real and larger than life!
Now that morning had broken, I awoke to the breathtaking sight of this up-and-coming world-class city. My first real glimpse of Shanghai would prove to be an eye-opener.
For miles around, there was nothing but sky-high buildings. The skyline of Manhattan is impressive and so is that of Hong Kong, but Shanghai's, as I was now discovering, is as spectacular as seeing a shooting star.
Three days in the city was barely long enough to get fully acquainted with it but I would do my best in my limited time to capture the essence of China's largest city.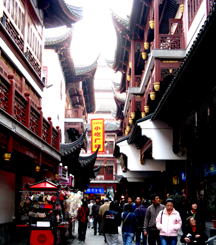 Amazing Shanghai Facts
Imagine the magnitude of this metropolis with its 4,000 buildings of eight stories or more, a population of over 14 million, China's tallest building, China's fastest train and much, much more, and you get a sense of Shanghai's immensity and stature.
Bridging the Huangpu
In 1990, there were no fixed links across the Huangpu River to connect Shanghai and Pudong, located on the opposite bank. At that time, Pudong was largely farmland with a population of only 300,000.
Since then, five bridges and five tunnels have been created and another six bridges and tunnels are under construction or in the planning stage. Pudong's population has now mushroomed and the city is constantly buzzing with the construction of new commercial and residential buildings.
Getting Around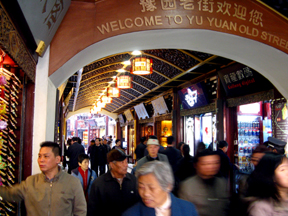 Shanghai has over 44 000 taxis but it's still difficult to find one. Sometimes the wait was so long that I started a conversation with the others who were also trying to get a cab.
On some occasions, I would end up sharing the cab with them. Taxis are a very affordable quick way of getting around the city. The subway is also quite inexpensive and very well-maintained.
The subway is a good place to meet locals and on a couple of occasions some of them even tried to help me out by giving me directions.
World's Speediest Train
Having the fastest passenger train has been an obsession for many countries. France has its TGV (très grand vitesse) and Japan its "bullet train". The Shanghai Maglev is China's answer to providing fast train travel and it beats out all of the competition.
A ride on this technological wonder would prove to be an incredible experience. This was no ordinary train.
Firstly there were no tracks, as the Shanghai Maglev used magnets to propel its cars forward over an elevated concrete platform, and secondly the distance it covered was only the 30 kilometres between Shanghai's city centre and the city's international airport in Pudong, meaning that there are only two stations and no stops.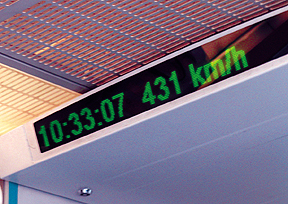 The most amazing thing was that the whole trip took only seven minutes with the train hitting a maximum speed of 431 kilometres per hour. The Maglev reached its top speed in only three minutes and stayed at that speed for less than a minute.
But the best part of the ride is when two trains, travelling in opposite directions, pass each other at a combined speed of over 800 km/hr. This brief encounter happened in a flash.
The only thing that made it noticeable was the vibration of the car doors and a brief blasting sound, as we went pass the other train.
High-tech Monks Strolling on the Bund
This surely is a must-see. While on the Bund, Shanghai's most visited public venue, I noticed something quite unique.
On that day, monks with shaved heads and dressed in their traditional saffron-coloured robes were enjoying a stroll on this popular riverfront promenade along with everyone else.
What was so unusual was that they were taking pictures of each other with a digital camera and chatting on their mobile phones.
What a lesson that was in how our modern world has touched even the most traditional among us!
Pudong: The New Shanghai
The City of Pudong, which has grown by leaps and bounds in the past two decades, is the site of Greater Shanghai's latest structures, including the landmark Oriental Pearl TV building. It's also the site of China's tallest building, which is one of the tallest in the world.
In Pudong, China's nouveau rich are vying to buy the city's new residential properties, driving prices higher and higher. Luxury cars are common here, as are well-dressed, up-and-coming young Chinese.
A City on Its Own
It was interesting to see how urban planning has created wide western-style boulevards on a grid pattern. Pudong is well served by public transport including the subway system and is connected to Shanghai by the ten bridges and tunnels.
It has become a large city on its own, but its population is also a part of the 14 million inhabitants of Greater Shanghai, one of the most densely populated metropolitan areas in the entire world.
The City of Pudong boasts a very impressive exhibition centre comprised of several large hanger-size buildings that host year-round international exhibitions and conferences. It's also the location of Shanghai's new world-class international airport.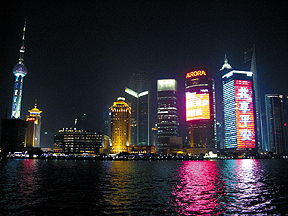 Boat Ride on the Huangpu
A nighttime boat ride on the Huangpu River is a great way to see the waterfronts of Shanghai and Pudong. Most evident on the ride are the old colonial early high-rise buildings on the Bund that are brilliantly lit and give evidence to the historic European presence in Shanghai.
Meanwhile on the Pudong side is the testament of a rising China, as newly-built modern glass, metal and concrete buildings gleamed against the night sky.
I couldn't help but think about the many Chinese-made products that I've bought over the years that might have been loaded onto container ships bound for Canada right here in this harbour.
2010 Shanghai World Expo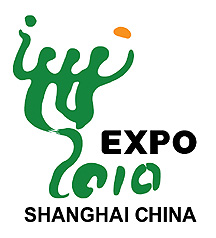 Shanghai is getting ready for an incredible exposition that will be held in 2010 between May and October, inclusive. If the highly-successful Beijing Summer Olympic Games were any indication of China's ability to hold a grand event, this international event should be a whooper of a show.
It is estimated that 70 million people will visit Expo 2010. So far, 214 countries and international organizations have confirmed their participation and three billion dollars (US) are being spent to ready the city for the six-month event.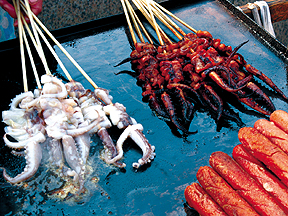 Sidewalk Lunch
You don't have to go very far to find a place to eat in Shanghai. Street eateries are found at just about every corner offering everything from squid, octopus, exotic fish and other local Chinese delicacies to desserts and beverages.
Of course this international city has just about every other type of cuisine imaginable, but the Chinese variety is the norm.
Ta Boa in the Old City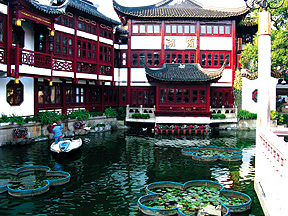 Shanghai's brilliant past can be seen in the Ta Boa area of the old city. This is one of the city's most visited areas and a stroll along Yuan Street with its many exquisite, well-preserved buildings and its garden area will take you back in time.
However, it's a bit difficult to get a sense of tranquillity among the hoards of visitors. Ta boa's many narrow streets and alleyways are lined with small shops that sell everything from souvenirs to genuine priceless Chinese art.
Famous Shopping Street
No trip to Shanghai could be complete without some shopping. This city does not lack stores and Nanjing Street is legendary for being the longest shopping street in the world.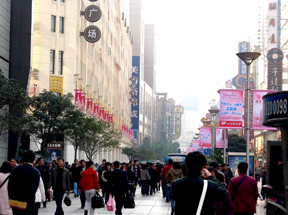 Along its roughly ten kilometres, this busy pedestrian thoroughfare offers just about anything you would ever want to buy.
The world-famous shopping venue is popular with locals and foreigners alike and is one of the must-visits in Shanghai.
You won't have to go very far to spend money in Shanghai. As a matter of fact, the merchandise comes to you.
Even if you try to make yourself a moving target, the street hawkers, weighted down with their goods, will still manage to make a sale of their mostly knock-off, yet attractive merchandise.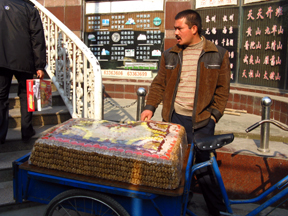 They were as persistent as I was in trying to avoid them, but in the end they won, as I couldn't resist buying fake Rolex, Gucci and Channel watches as gifts for my nieces and nephews.
Heed my word of warning! These goods (though not the real thing) are hard to resist at their bargain-basement prices and you too might become a not-so-unwilling but ultimately satisfied customer.
A Bewildering Three Days
How were my three days in Shanghai? Well, even a Chinese citizen traveling from other parts of the country to Shanghai will leave bewildered by this amazing city. But for myself, how would I explain my visit to Shanghai?
Well, imagine a westerner arriving in a totally foreign country, jet-lagged, not accustomed to the food, somewhat culture-shocked, not speaking the language and experiencing the biggest this and the tallest, fastest and oldest that, in just three days?
"Bewildering, yet always fascinating and intriguing". That's how I would describe my hectic three days spent in China's rising star.
For More Info on Shanghai:
China National Tourist Office
Tel.: 416-599-6636
Email: cnto@tourismchina-ca.com
Website: www.tourismchina-ca.com
2010 Shanghai World Expo
Website: http://en.expo2010china.com