ZhengZhou
Cradle of Chinese Civilization
Published in the Summer 2010 Issue of Canadian World Traveller
By Michael Morcos
It was a humid, overcast day and Mt. Songshan, the sacred Chinese mountain behind me, was hidden in the fog that coiled over its slopes like a slumbering dragon.
In front of me, long rows of 1,200 year-old pagodas loomed through the mist, their tall towers outlined with ghostly petal-shaped eaves. Close by the "pagoda forest" stood an ancient Shaolin temple, the birthplace of Kung Fu and Zen Buddhism.
As I marveled at the majesty of China's past, its ambitious, energetic present was only 40 kilometres away — the object of my visit, the city of ZhengZhou, a metropolis of eight million people that is both the cradle of Chinese civilization and an important part of this teeming nation's rapidly evolving future.
China's Heartland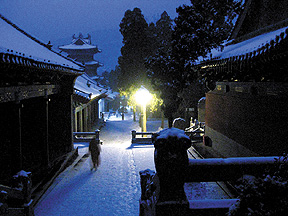 ZhengZhou is located on the Yellow River in the central Chinese province of Henan, 600 km south of Beijing. A transportation hub, its impressive airport boasts a variety of international carriers serving the city's dynamic manufacturing sector and world-class tourist destinations.
Founded over 3,600 years ago by the Shang dynasty of rulers, ZhengZhou was China's first imperial capital, reaching its pinnacle under the Song dynasty (9th – 12th century AD), the golden age of Chinese history.
Today, that storied past is visible in hundreds of historic sites and attractions. Wherever you wander, it quickly becomes clear why the ZhengZhou area is considered the Chinese heartland — the region is responsible for many of the innovations that mark China's enormous contribution to human progress over the centuries, whether technical (the invention of indoor plumbing, eyeglasses, paper, and the first ever printing press), or cultural (the world's first libraries, secular literature, and transcribed musical compositions).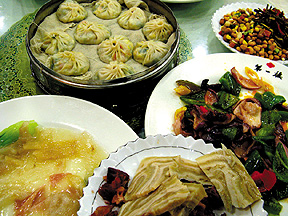 And, yes, as befits an area that helped develop rice cultivation, dumplings, and pasta, the food is downright delicious.
A Modern Town
Given the wealth of history on display, it may surprise visitors to see how up-to-date ZhengZhou is.
While the sheer number of people in the streets can be daunting, the city retains a pleasant atmosphere.
Modern, well signposted, filled with parks and gardens, and boasting a total of nine 4-and-5-star hotels, ZhengZhou generally feels airy and relaxed despite its hustle and bustle.
The downtown radiates outward from the central Erqi Memorial along five major thoroughfares; within strolling distance are the city's main shopping, entertainment and eating districts. At night, downtown side streets jam with vendors selling exotic snacks and curios.
International Influences
I made sure to sample local cuisine at lunch hour, trying signature dishes like hu la tang (a spicy and sour soup with glass noodles, seaweed, and meat) and zhengjiao (long steamed dumplings). Oftentimes, dining out became an opportunity to meet well-wishers, or passersby wanting to practice English.
China's recent rush to international prominence is reflected by the attitudes of its citizens, many of whom are knowledgeable about the outside world.
They are also influenced by it, as I found out when I stumbled onto a wedding party — the groom resplendent in a natty suit, his consort wearing a fairytale wedding gown any Canadian bride would die for. The local touch? Two interlocked gold padlocks held aloft by the happy couple, symbolizing love for ever after.
Grand Heritage
Once comfortable in ZhengZhou's humid subtropical climate (beware the May-September rains), I set out to explore the area's many cultural treasures. But where to start?
The City God Temple, home of the traditional local deity? Or perhaps a stroll in the Yellow River Scenic Area, its 13 kilometres of views dominated by 50-metre high granite busts of two legendary emperors?
China's attractions, modern and ancient, invariably tend towards the lavish and grand; as a result, even the laziest daytrip can quickly test the number of adjectives in any tourist's vocabulary ("Colossal! Exquisite! Amazing!").
In the ZhengZhou region, I had to choose between visiting the neighbouring city of Gongyi's Song Emperor Tombs (colossal) and heading to nearby Xinzheng's Temple of the Yellow Emperor (exquisite). Instead, I plumped for a third option 112 km to the west but easily reachable by bus: the amazing Buddhas of the Longmen Grottoes just outside the city of Louyang.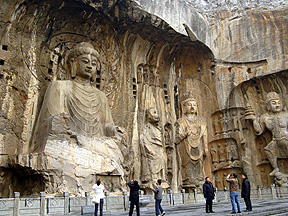 Longmen Ghettoes
At a time when medieval Europe was building cathedrals, Chinese Buddhist monks took a simpler but equally breathtaking approach to the divine — they cut vast shrines from the sheer rock of mountainsides, carving elaborately sculpted caves (or "grottoes"), and transforming whole cliff-faces into unsurpassable stone statuary.
Though present elsewhere around ZhengZhou (there are beautiful grottoes in Gongyi, for instance), these incredible achievements can be best seen at Longmen, where monks laboured for 500 years creating one of the wonders of the world, now a UNESCO World Heritage Site.
The place itself is a revelation. Imagine if you can a mountainside torn away to reveal towering statues of the Buddha up to 17 metres tall; everywhere the surrounding cliffs pitted with grottos and niches (2,345 in all), their contents a treasure-trove of over 100,000 religious sculptures hewn from the sandstone rock-face.
In many of the grottos, every inch of space, including floors and ceilings, is covered with devotional carvings. On the cliffs outside, the giant statues pose frozen in the rock, defying the teachings of Buddha himself that all things are transitory.
Henan Provincial Museum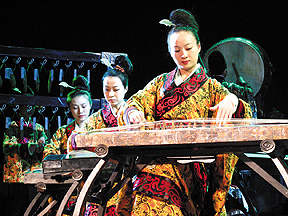 Back in ZhengZhou, I visited the Henan Provincial Museum (8 Nongye Rd in the city's north end) to make sense of everything I'd seen.
Housed in a mammoth eye-catching pyramid, the museum boasts an extraordinary collection of artifacts from China's 8,000-year history.
Well-captioned in English (audio is also available), the exhibits include many rare relics, notably a burial gown made of jade and some of the earliest musical instruments known anywhere (demonstrations using replicas take place regularly). Expect to see lots of gold, along with priceless jewelry, ceramics, sculpture, paintings, and porcelain.
Millennium City Park
ZhengZhou and its environs remain just as absorbing after nightfall. One evening I ventured to the smaller, skyscraper-free city of Kaifeng (45 minutes by train), long ago the residence of a tourist named Marco Polo.
Upon arrival, I headed off to the Millennium City Park, dedicated to the sort of spectacle only the Chinese can pull off. The park is based entirely on a famous Song Dynasty picture, Going Upriver for the Qingming Festival. Details of the painting illustrating daily life during Song times are recreated throughout the elaborate theme park, which features intricate period architecture, torch parades, and "10thcentury-style shopping."
Song Dynasty Show
Even more spectacular is the song-and-dance production put on nightly at another Kaifeng theme park dedicated to the Song era, the Qingming Riverside Landscape Garden.
The show, "Dreamlike Prosperity of the Eastern Capitol," depicts life in Bianliang, the Song capital. Vivid, expressionistic, and high tech, it features hundreds of costumed performers cavorting on extravagant stage-sets that defy belief.
My favorite part was the show's surrealistic second act, "The Butterfly Fond of Flowers," which I thought couldn't be topped until I went to see traditional Yuju Chinese Opera in ZhengZhou itself — another diverting evening spent in a mind-boggling world of costumed finery, sumptuous sets, and idiosyncratic music.
Futuristic New City
Taking a break from tradition, I ventured into the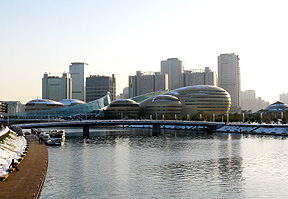 "New City Zone," a massive futuristic development that will double ZhengZhou's size on completion in 2020. Consisting of two circles of identical skyscrapers ringing an artificial lake, the New City is intended to be both a commercial and residential centre.
Features include an already finished performing arts centre (it looks like five gigantic golden eggs), along with a 6-star pagoda-shaped skyscraper hotel now under construction, and a convention centre containing a 5,000-seat auditorium.
When done, fountains rising from the central lake will come alive in elaborate nightly shows, with jets of water reaching building height. Movies will be projected onto a screen of water vapor filling the night sky, producing a cinematic experience visible kilometres away.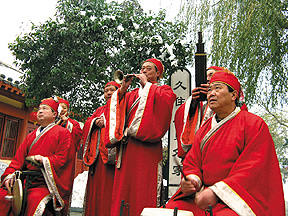 Mt. Songshan's Temples
An hour from ZhengZhou lies Mt. Songshan, one of China's five holiest mountains. Its tumbling scenery of crags, gorges, rope bridges and temple complexes has attracted visitors since the local Zhongyne Temple was completed during the Qin Dynasty in the 2nd Century BC.
Even more famous is the Shaolin Temple at the mountain's base, built 700 years afterwards by Buddhist warrior monks who founded both the esoteric practices of Zen Buddhism and the martial arts discipline of Kung Fu. Destroyed many times by the monk's opponents during its long history, the temple complex was only restored to its previous splendour in 1981.
Today, it continues to house a population of monks who remain devoted to Buddhism's study when not putting on hourly displays of acrobatic prowess and wizardly martial skills for tourists.
Shaolin Music Ritual
Many of the Shaolin monks' feats (smashing iron bars over their heads;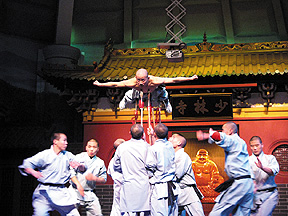 balancing on spear points; flinging nails through plates of glass without smashing them) are astonishing to witness, as is the extravagant "Music Ritual," a nightly show put on during the summer.
Although expensive to see, the epic production is well worth the admission price: horses, chariots, boats, medieval siege machines, and hundreds of whirling monks all fill an outdoor stage to tell traditional battle stories enacted on a lavish scale — a grand finale to the spectacular sights of ZhengZhou.
For More Info on ZhengZhou:
China National Tourist Office
480 University Ave, Suite 806
Toronto, ON M5G 1V2
Tel: 416-599-6636 or 1-866-599-6636
Official Websites: www.tourismchina-ca.com and www.cnto.org