Zhuhai
China's Seaside Garden City
Published in the Fall 2008 Issue of Canadian World Traveller
By Aisha Thornton (aisha.thornton@gmail.com)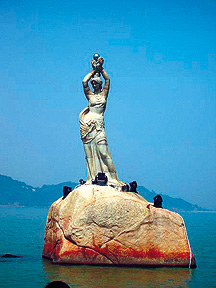 For a long time, most outsiders only thought of China as the epitome of communism and repression. However, with the recent opening up of the country to the world and its emergence from behind its proverbial "Great Wall" of isolation, the beauty and exotic nature of this immense Asian country has at last been revealed to the Western world.
I was lucky to gain access to the wonders of the 'Middle Kingdom' while working as an English teacher in Zhuhai, teaching young children to speak and understand English through music and games. The innocence of these open and inquisitive young minds was a joyful experience that is beyond words.
The seaside garden city of Zhuhai, where I lived and worked for two years, translates literally as "Pearl Sea". This picturesque city is situated on the Pearl River Delta of China's Guangdong Province.
It faces Hong Kong to the east across the Lingding Bay of the South China Sea, and is just a fifteen-minute bus-ride away from its southern border with Macau. Zhuhai is justifiably referred to as "The Pearl of China", and I would soon discover why!
Culture of Respect
Chinese culture embodies two important aspects: respect of one's elders and of other people in general and the consumption of a lot more rice, fish, chicken and vegetables than red meat.
Over the years, the communist ideology instilled in the Chinese people an overpowering and almost mechanical devotion to contributing to the greater good of their country through work and productivity, which would contribute to China's growing economy in a very real way.
However, with all of their hustle and bustle, the Chinese still maintain their delightful manners, showing great respect for a guest and not eating or entering a house before the guest does.
Getting Around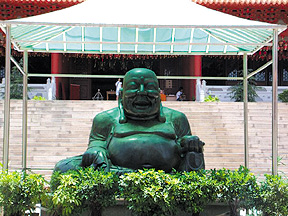 Unlike in the Western world, the motor traffic is exceedingly orderly in Zhuhai and the roads are very well laid out. The city's traffic lights function properly and zebra crossings, found everywhere, are clearly marked and generally respected by motorists.
In all my time spent in the city, I did not see a single pothole. However, I did find pedestrian walkways and bicycle lanes almost everywhere.
The public bus service in Zhuhai would put the STM (Montreal's Public Transit System) to shame.
There are constant buses, air-conditioned or otherwise, traveling to and from every tourist accommodation or point of interest in the city, and they always run on schedule.
If you plan to do a fair amount of travelling around and about the city, you can purchase a bus card, which is about the same size and weight as an ATM card. Just hold it against a little machine when you board the bus, listen for the beep and you're on your way.
You can recharge your credit on the card at grocery stores or other special shops. Air-conditioned taxis are also easy to find, and for a moderate price, they will take you anywhere in Zhuhai.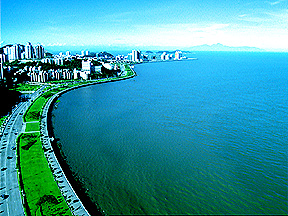 Surprising Accommodations
The sheer height of the buildings in Central Zhuhai is fascinating. I sometimes almost got vertigo just looking up at them.
Furnished homes for rent usually come with standard furniture; a washing machine; a water heater; one air conditioner per bedroom; a water dispenser (for room-temperature and cold drinking water); a microwave oven and a stove.
The rent for apartments varies, but is an average of $180CND per month. I paid slightly less for my apartment because I developed a rapport with my landlady by highly praising her excellent cooking skills.
To access my apartment, there was a special magnetic key and even a card to unlock the main gate downstairs. The security was a bit excessive; though some of the Chinese told me it was a necessary precaution.
Taking a Bow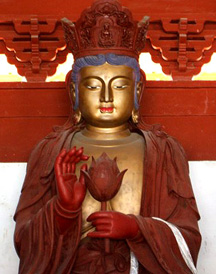 The Chinese are very laid-back, considerate and unusually polite. This politeness goes to extremes in certain cases.
I went to a souvenir shop to look for a certain traditional doll that my son liked and the proprietor bowed as I entered. I bowed in response and he bowed even lower than I did.
My mischievous nature took over and I bowed lower than he did. He bowed again, his head almost touching the ground and it took all my resolve not to burst out laughing.
He followed me around the store, walking behind me with his hands clasped behind his back, making sure he did not step in front of me at any time. He also nodded his head vigorously in agreement with anything I said. The experience was both comical and endearing.
Healthy Cuisine
Chinese food is delicious and very healthy compared to Western fare. It is also unbelievably cheap.
It is part of Chinese culture to eat out; sometimes three meals a day, so there are bakeries offering breakfast and restaurants everywhere for lunch and supper.
Most places only serve food with chopsticks, so being my clumsy self, I struggled with keeping my food in place between the two pointed wooden sticks throughout the two years that I lived in Zhuhai.
A colleague suggested I go about with a spoon in my pocket, which I started doing. Thankfully there are restaurants that do have forks available for "foreigners", as there are lots of international visitors in Zhuhai. Of course, in times of great hunger there is Western-style food aplenty in the local outlets of McDonalds and Pizza Hut to come to your rescue.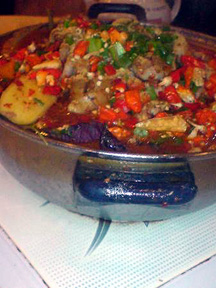 Exotic Fare
I had some unfortunate incidents due to my lack of knowledge of the anatomy of a frog. I promptly threw up when I was told that what I had just eaten with great relish was a frog and not a partridge, as I had originally believed it to be.
The meat tasted just like chicken, but I did get suspicious at the ultra-small bones and asked a friend what kind of "chicken" that was!
The Chinese believe in eating all parts of the animal or poultry parts. Here, chicken feet are a major delicacy!
Apparently not having learnt my lesson to ask what I would be eating before I tasted it, I drank chocolate milk with frog eggs and had an upset stomach for a whole weekend when I discovered what was in it.
Others may find that particularly exotic concoction to their liking. If you find out that it doesn't like you, a good remedy is Chinese green tea, which is very soothing and refreshing and very simple to prepare. You simply put a few tightly rolled-up leaves in hot water and they slowly open up. No sugar. Just leaves in steaming water. Sip and enjoy this ancient Chinese tradition!
Shopaholic's Heaven
The goods and provisions in Zhuhai's shops, supermarkets and stores are very affordable. With the low prices and big discounts, a shopaholic would be in heaven. Not being able to resist the many bargains, I almost emptied my bank account halfway through each of the first few months I was there.
All prices are clearly marked and the prices of most things are extremely affordable when compared to those in North America or elsewhere.
Animated Squares
The Chinese are very social and form very strong familial and friendship ties. There are squares all over the city where people gather every evening from, say 8:30 to 9:30 pm, to dance, play musical instruments or do aerobic exercises.
Zhuhai's main public square bears comparison to Place Jacques Cartier in Old Montreal in the summer months. However, in Zhuhai's square, there could be anywhere between 50 to 100 people dancing ballroom, tango, waltz and Chinese traditional dances to English and Chinese music at all times of the year.
Shall We Dance?
Those who want to join in must first practise the steps elsewhere with the help of a friend or instructor, and then join the dancers in the main square, so that their rhythm is not interrupted.
No shouting, rude comments, staring or catcalls emanate from the always-appreciative audience gathered around the square.
The Chinese are a very gentle and calm people. Their manner of dancing also depicts that. The dances are always slow and graceful, bereft of any quick or jerky movements.
The participants also dress quite elegantly and take great pride in their appearance. Dressing classy and chic is a deeply ingrained part of Chinese social dressing.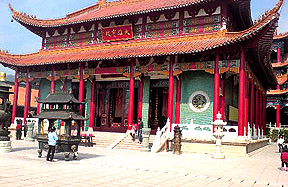 A Dream Come True
Zhuhai is a tourist's dream-come-true. The New Yuan Ming Yuan Palace located at the foot of Mt. Dashilin is a rarely found reproduction of Chinese traditional architecture from a long past era, functioning as an important educational tool for building Chinese patriotism.
Another must-do is the "Lost City", a huge water park composed of ten parts, including the waterfall, the man-made wave pool, the torrent river, the drifting river and the children's pool among others. Reproductions of the wonders of the ancient civilizations form the background of the park. It's a magical, dream-like wonderland. "Returning to Nature" is the main theme of this innovative water world.
Visitors may want to stay at the Japanese-styled Imperial Hot Spring Resort, which is popular for its two hot springs that contain rare health-giving minerals.
Zhuhai's Other Must-Sees
Other main attractions in Zhuhai include the "Pearl Lady", a landmark monument of the city, who stands proudly on a boulder in Xiangluwang Bay.
The legend surrounding her is similar to the story of Copenhagen's Little Mermaid.
And then there's the Zhuhai Campus of Zhongshan University. It's dramatic location is very beautiful, with three sides surrounded with blue water and one side set against lush green hills.
Covering an area of 9.3 sq km, it boasts the longest classroom building in Asia (500 metres long) and student dorms with excellent facilities, which can board up to 5,000 students at one time!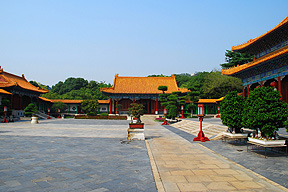 For More Info on Zhuhai:
China National Tourist Office
480 University Ave, Suite 806
Toronto, ON M5G 1V2
Tel.: 416-599-6636
Email: cnto@tourismchina-ca.com
Website: www.tourismchina-ca.com
City of Zhuhai Tourism Info:
Website: www.visitzhuhai.com/english