Silversea Cruises
Different, unique and filled with charm!
Published in the Fall 2005 Issue of Canadian World Traveller
Text & Photos: By Lise Giguère (l.giguere@videotron.ca)
Cruising anyone? You either love cruises or hate them. Until my discovery of the Silversea fleet of luxury cruise ships, I considered myself to be in the latter category. But that opinion was soon to be totally reversed! Let me explain how this remarkable transformation happened…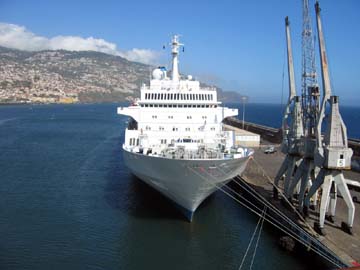 Those floating monsters, all bright and shiny, never did make me salivate. But I have to confess that, like many Sunday strollers, I would find myself returning again and again to the ports of Quebec or Montreal to admire those imposing cruise ships tied up at dockside. Whenever one of the ships belonging to the Silversea fleet was in port, its elegant teak-decked balconies encircling the imposing vessel like a huge lacy skirt kept my eyes transfixed. 
As a great believer in comfort, peace and quiet, it would never have occurred to me to book a berth or a cabin on a cruise ship. Why would I want to find myself trapped in a huge, artificial floating city with thousands of strangers, having to respect regimented schedules, constantly bombarded by disco music, forced to play bingo or to wait in line for restaurants. The mere thought of it is enough to make anyone nauseous. Also, it had occurred to me that the captains of these ships must surely be bored, always (or almost always) having to repeat the same routine.
Silversea cruises, or any other cruises for that matter, were never in my travelling plans until the day, my male friend invited me to accompany him on the Silver Shadow for a crossing of the Atlantic from Rio to Lisbon. This trip was going to forever change my opinion of cruising!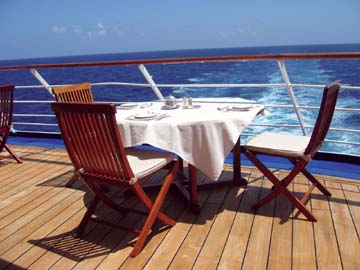 The Silversea Experience
Silversea was founded in the early 1990s by the Lefebvres, a ship-owning family of Italian origin, that wanted to create a brand-new intimate way of cruising. To make this a reality, they came up with the idea of building a fleet of relatively small ships which would not exceed 30 000 tons each.
The first two ships of this unique new fleet, the Silver Cloud and the Silver Wind, measured 156 meters in length, each having a capacity of a mere 296 passengers and 212 crew members. The more recent ones, the Silver Shadow and the Silver Whisper, each 186 meters long and carrying 382 passengers and 295 crew members, completed the fleet.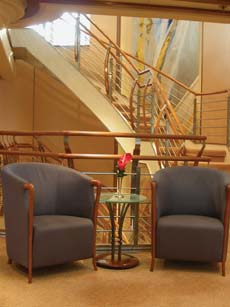 With an emphasis on luxury and comfort, the designers created six categories of cabins, each and every one offering a sea view. Their dimensions vary between 22 square metres and 130 square metres. The well-appointed cabins all include a large bathroom, a spacious closet, satellite television, CD and DVD players, a workstation and a small fridge. On entering our cabin, my eyes are immediately drawn to the porthole, which is in fact a wide patio door that opens onto a private teak-decked balcony. In fact, only 20% of the ship's cabins have no balcony.
In keeping with its image of charm, elegance and refinement, last year Silversea's owners chose actress Isabella Rossellini to be patroness of its cruise ships. On each of the ships, she will personally oversee the interior design of the spacious suite that bears her name.
The creators of the fleet offer their clientele first-class service, both in ports of call and on board its ships, by collaborating with such prestigious names as The Leading Hotels of the World, Orient-Express, Luxury Alliance, Abercombie & Kent, Davidoff, Philipponnat and Relais & Châteaux. The chefs of the famous chain Relais & Châteaux prepare the menus themselves, create the recipes for the cruises and oversee the training of chefs who will work on board the Silversea ships.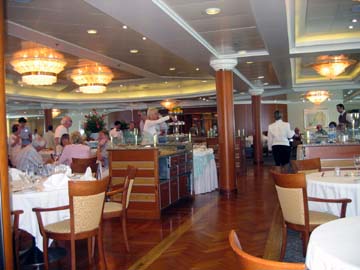 Lulled by the Waves
As the days on board go by, you begin to understand why this company has repeatedly been awarded the title: The Best Small Cruise Line by Travel & Leisure and Condé Nast Traveler. That's because everything on board seems to have been perfectly put in place so that absolutely nothing could impede the pleasure of the traveller. 
Communications? No problem, the personnel on board speaks about thirty languages. You desire a particular wine? Even if it's not available at your boarding time, the wine steward will get it for you when he goes shopping at the very next port of call.
Here, the golden rule is that the passenger is King. In the restaurants, designed to human scale, there's no need for reservations (except for the Relais & Châteaux main course). You simply arrive when you choose and dine with the person or persons of your choice. No question of routine here!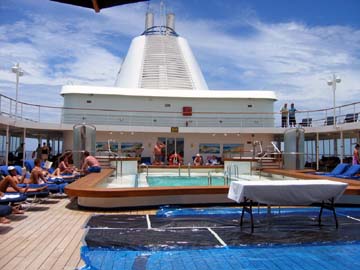 In the corridors, no deafening music, which is pure bliss for a lover of peace and quiet like me. Could this be the morning for a stroll in the fresh air? At Noon, should I catch some sun or do some reading? Or later, is this the evening for a romantic moonlit walk? One lives by the rhythm of the waves. Everyone can find his or her own evening entertainment. Guests can opt for the bar, the nightly live shows, the movies or the restaurants that offer dinner dances or dinner theatre.
A select group of passengers are enjoying rekindling their friendships. This is when I become aware of the existence of the Venetian Society, an exclusive club for all those who had already experienced cruising on board one of the Silversea fleet of ships. To my surprise, I discover that some of the passengers were on their fortieth cruise (averaging two cruises in each of the past 20 years) and that others had already been on board this ship for 160 days!
A Unique World Tour
One outstanding feature of the Silversea fleet is that it offers its passengers the opportunity to see most of the world's great port cities. In fact each year, its four ships offer a total of 150 different cruises to the four corners of the globe. This makes it possible to change destinations by switching to one of the other Silversea ships, thus accomplishing an unforgettable and unique tour of the world.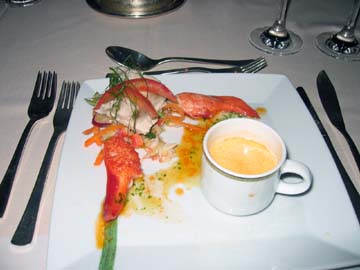 As each cruise has a special theme, such as history, nature, gastronomy, wines and even golf, professionals of these disciplines are part of the trip. Their mandate is to entertain the passengers while deepening their knowledge of the subjects. 
For example, renown golfers offer lessons in improving your performance on courses that are chosen from among the most beautiful ones of the world; historians relate the turning points that forever changed the ports and the countries you are about to visit; sommeliers impart their knowledge of wines so that your can better appreciate your visit to the vineyards producing those famous rare vintages and chefs of the renown Relais & Châteaux reveal their culinary secrets and introduce you to the rarefied world of fine gastronomy.
Sixteen days after leaving Rio, we arrive in Lisbon. With much regret, I leave this dream life. In each port of call, I had observed the departure of the four small transfer boats making their way to other ships. On the Internet, I studied their itineraries and I raised an imaginary glass of champagne to the endless blue horizon. My friend was right. This is really something that one must experience at least once in one's lifetime! And, believe me, one can easily get used to the life of a prince or princess aboard a Silversea cruise ship!
For More Info:
Visit www.silversea.com or contact your local travel agent.