Singapore
To know Singapore is to know its ethnic mix
By Habeeb Salloum
Published in the Winter 2005-06 Issue of Canadian World Traveller
Photos: Habeeb Salloum (habeeb.salloum@sympatico.ca)
and Singapore Tourism Board (www.visitsingapore.com)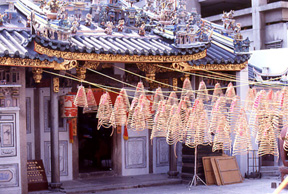 My Chinese taxi driver had nothing but praise for his tiny city-state. "Singapore works because we have learned how to live together. It's how the nations of the world should get along." He continued, "We have given every race and religion equality. Our schools are mixed, but all students, besides their mother tongue, must learn English."Persisting, he went on, "I can truly say we have a functional multi-cultural society. This and good government have made us a wealthy nation."
I was surprised that the driver was so supportive of his government. Most taxi drivers throughout the world, whom I have encountered, usually have nothing good to say about their rulers. However, the evolution of Singapore in some three decades from a third world country to one of the most advanced nations on the globe, has satisfied the vast majority of its citizens.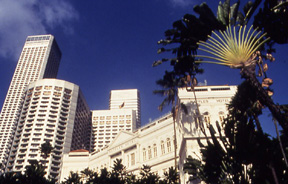 Modern Singapore
This all goes back to Lee Kuan Yew, the architect of modern Singapore. A Cambridge-educated third generation Straits-born Chinese, he led Singapore from before independence in 1965 until 1990. With a firm hand he transformed his state from a poverty-stricken urban centre to a booming nation.
As a whole, Singapore is a Chinese town with a strong Western face, mellowed by other influences. Its architecture is an eclectic mix of colonial Chinese, Malay, Indian and Arab.
Four Official Languages
In communication and speech, it is the same potpourri. The state has four official languages: Bahasa Malaysia, the national tongue, Mandarin, Tamil and English which is the language of business and administration. Even though 77% of the 3 million population are Chinese, 14% Malay, 7% Indian, 2% Eurasians and others, English unites them all.
The country is a mixture of the great Asian cultures but there is little friction between the races and religions. Buddhist and Hindu temples, Christian churches, Muslim mosques, and relics from the British colonial past, all are respected in a live and let live atmosphere.
Malay Village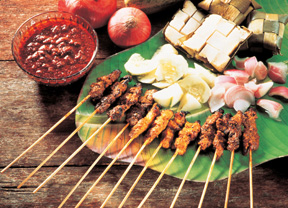 With Ling, a Chinese acquaintance, I decided to visit some of the sites which the cultural groups and religions of Singapore call their own.
Our first stop was the Malay Village – a reflection of the people who first settled in Singapore. Here, we experienced a slice of life in a once typical Malay community. The rich cultural heritage of the Malays is exhibited in the Village's museums and shops, and their cuisine is available in all of the restaurants and snack bars. Nightly, there are cultural shows in the Village, featuring Malay dancing, music and singing.
What caught our attention was an open food court, full of diners. It was the month of Ramadan when Muslims must fast all day, and almost all Malays are Muslims. It speaks well of Singaporean tolerance that no one was bothering the non-Muslims who were not fasting – the Malays were even serving them.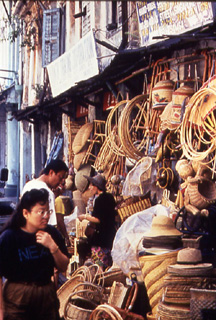 Arab Street
Our next stop, Arab Street, was the area allotted to the Arabs by Sir Stamford Raffles, founder of Singapore. The Arabs were among the first foreigners to arrive in the Malay Peninsula, many years before the Europeans. They, along with the Indian Muslims, brought along the Islamic faith and converted the Malays to their belief.
Today, Arab Street is a colourful marketplace, offering in its shops multicoloured textiles, handmade baskets and saris, coming in many hues, but no Arabs. Chinese and Indians own the shops. Only an impressive mosque remains, now frequented by Muslims from the Indian sub-continent.
As minorities, the Arabs, more than any other people, quickly assimilate. When I asked a merchant "Are there any Arabs on Arab Street?" he smiled, replying, "If we're lucky we might see one or two during the year."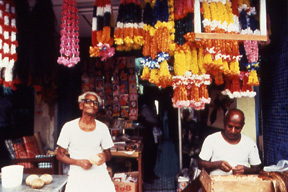 Little India
From Arab Street, it was only a short walk to Little India – a stop on every city tour. Unlike Arab Street, it is vibrant and alive with Indians.
Women in attractive saris and turbaned Sikhs implant the colour of India on Singapore. Spicy foods, glittering silks, temple garlands and Hindu temples make these few blocks of the city a replica of the Indian sub-continent.
Colonial Singapore
Further down, edging the Singapore River is Colonial Singapore – telling well the story of how Singapore owes its existence to the British. Here one finds their governing structures and churches being renovated and preserved as a rich part of the country's history.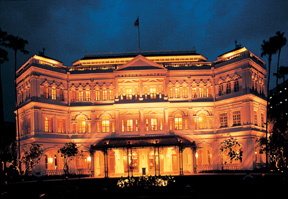 Unlike other colonies who threw off the colonial yoke and created new heroes from their nation's past, Singapore considers Raffles as the founder of their city-state. Statues, buildings (including the world-famous hotel) and streets carrying his name proliferate the city.
From that colonial era, begun by this British colonial governor, there remains the impressive Parliament House, Supreme Court, City Hall, Victoria Theatre, Cricket Club, St. Andrew's Cathedral and many other totally renovated structures. However, more than in their structures, the British left their laws, educational system, organization and, above all, their language. It is a legacy of which Singaporeans are proud.
The Chinese & Chinatown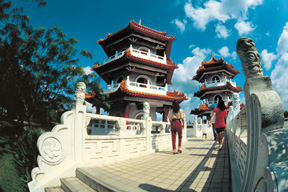 On the other hand, overshadowing all of the ethnic groups and their remaining influences in today's Singapore are the Chinese and Chinatown – the original home of their ancestors.
During our walk through this part of town, Ling was enthusiastic as he spoke about his people, "Our forefathers were brought here as coolies and they built the bases on which modern Singapore stands. You should see our history exhibited in the Images of Singapore Museum on Sentosa Island! From sweat and tears to our thriving state, it is due to the Chinese that this country is now called 'the Switzerland of the East'."
Ling's words had an historic ring. When Raffles established Singapore, in addition to others, he brought labourers from China and Chinese merchants from Malacca, in today's Malaysia, to work as traders. The vast majority of Singaporeans can trace their lineage to either one of these two groups.
As we strolled amidst the picturesque shops and restaurants brimming with life, Ling gestured, "See all these beautifully renovated buildings with new terra cotta roofs! The old slums have been reincarnated into works of art. You know! Chinatown is today a famous tourist site." 
Yet, even though much of Chinatown has been restored, its former inhabitants live somewhere else. Like most of the working class in the city, they have been relocated to new apartment complexes where all the amenities of life are found – from workplace to hospitals, schools, shops and sport facilities.
However, the tastes and traditions of the old town remain. The odour of incense streaming from old temples, calligraphers, herbalists, and local craftsmen fashioning clogs, kites, and traditional seals for stamping documents are all still there – the area now a Mecca for tourists.
The most important of the ethnic districts, Chinatown today is the historic heart of Singapore – a city which also, Malays, Arabs, Indians and British helped to build.
In Ling's words, "I think we have a working model of how the world should be in the future."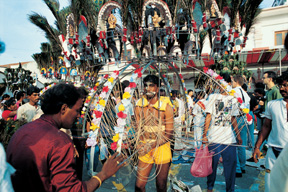 For More Info:
Singapore Tourism Board(Head Office)
Tourism Court, 1 Orchard Spring Lane,
Singapore 247729
Tel: (65) 6736 6622
Fax: (65) 6734 9423
Email: STB_Visitsingapore@stb.gov.sg
Website: www.visitsingapore.com
Singapore Tourism Board (Canada & USA)
1156 Avenue of the Americas, Suite 702
New York, NY 10036, USA
Tel: (212) 302-4861
Fax: (212) 302-4801
Email: newyork@stb.gov.sg
Website: www.singapore-usa.com