South-East Asia
A Tale of Three Countries
by Olivia Balsinger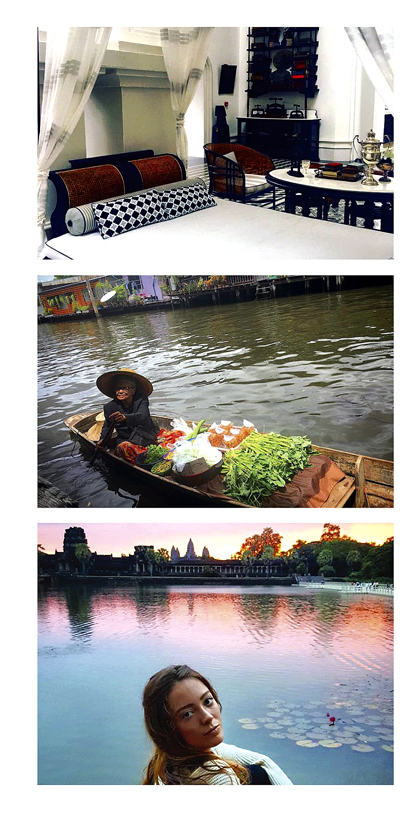 It was 1:03 am, but Bangkok was as alive as ever. An immense sense of excitement canceled out the jetlag I felt, as I stood on my 49th floor balcony of the five-star Chatrium Hotel. I had an aerial view of this metropolis of grandeur, the traditional long-tail boats drifting down the river and street vendors selling their homemade pad Thai. The rhythm of this city is like none I have experienced. I smiled.
It was just the first night of my eleven-daywhirlwind adventure through Thailand, Cambodia and Vietnam.
From the white beaches and turquoise water of Thailand Bay to the bustling streets of Ho Chi Minh, where time whizzes by in the form of motorbikes, it is no secret that Southeast Asia is home to a vast and varied range of culture, color, and natural phenomena, which for years had been presented to tourists with the welcoming hospitality of the local people.
Fortunately it is now easier than ever to plan an exotic trip: ten countries of The Association of Southeast Asian Nations (ASEAN)–Indonesia, Malaysia, the Philippines, Singapore, Thailand, Brunei, Cambodia, Laos, Myanmar and Vietnam– began working together, promoting specific itineraries in tourism. One such itinerary is an eleven day "Romantic Treasures" route, featuring true treasures of Vietnam, Cambodia and Thailand. So now travelers fear not being overwhelmed with managing their time in places with so much to offer.
Thailand is the optimal starting point for a tri-country adventure as Bangkok's airport, Suvarnabhumi Airport, boasts a multitude of daily international flights. As soon as I stepped foot in Bangkok, I experienced a sensory overload; in particular, I noted a tangible juxtaposition between modern luxury and ancient authenticity.
I stayed at both the Chatrium and the energetic Lit Bangkok Hotel, with its decadent linens, intuitive architecture and location in the midst of Bangkok's elite shopping district. However accommodating to tourists this city may be, it still maintains the culture and identity it had when it was first settled as a faming community in 1424. This heritage can be both seen and felt while strolling through the magnificent grounds of Wat Phra Kaew, or The Temple of the Emerald Buddha, with its spiraling golden domes and it's over 100 buildings to explore, each built in the iconic old Bangkok style.
I also found Bangkok's bustling market–Pak Khlong Talat–to be pivotal in understanding the culture and lifestyle. The market is open 24-hour, selling primarily flowers, vegetables and fruit, and has been cited by the city's locals as a place of "symbolic values." I visited at dawn—the busiest time of day for the market—and was one of the few tourists browsing the stalls.
A trip to Thailand would not be complete without visiting one of its world famous beaches. It is an escape from the bustle of Bangkok—and only about an hour's flight away. Koh Pha-Ngan is a nature lover's paradise which can be reached by way of a 40-minute boat drive from the larger and more developed Koh Sumoi. It is reclusive but by no means boring. I stayed in a luxurious villa—plunge pool included—at Anatara Resorts Koh Pha-Ngan. Situated on a pristine beach on the western end of the island, I could have spent days decompressing, bathing in the salt of the sea, practicing yoga and meditation, and sampling the creative sushi bites at the resort's Japanese restaurant, Yukinoya, where delicious meat and seafood dishes are prepared tableside.
Though I was entirely content enjoying the activities that the resort offered, the lure of the island beyond my comfortable quarters led me off my lounge chair and into the town of Koh Pha-Ngan. Here I rented a motor boat and jetted off to neighboring islands; I visited Koh Tao and Koh Nangyuan where I went caving, kayaking and hiking around Augthong National Park, with its towering limestone mountains and exquisite Emerald Lake, an inland saltwater lagoon living up to its namesake.
As much as I could have spent weeks experiencing why Thailand is known as the "Land of Smiles," I decided that I wanted to experience a greater breadth of the entire region, and venture into the neighboring countries of Cambodia and Vietnam.
My first stop, Siem Reap in Cambodia, was only about an 80-minute flight from Bangkok aboard Bangkok Airways. Though short in distance, the atmosphere could not have differed more than the crowded streets of Bangkok—Siem Reap has about 230,000 residents to Bangkok's 8.2 million. There are many resorts to choose from, all within a 20-minute drive from both the airport and from the heart of the temples. I decided to stay in Le Meridien Angkor Resort, a luxury five-star hotel that is actually closest to Angkor Watt. The resort has many amenities and activities, such as an authentic Cambodian cooking class or the absolute ultimate spa experience in the resort's acclaimed facilities.
On my first morning in Cambodia, I woke up early to witness Angkor Wat at sunrise– a
mosaic of hues form the backdrop to one of humanities greatest creations. Angkor Wat, meaning "City of Temples" is the largest religious monument in the world, part of the Kingdom of Cambodia and visited by more than one million people a year. If pressed for time, another temple that I would highly recommend exploring is Angkor Thom, last great capital of the Khmer empire. This temple was built in the late twelfth century by King Jayavarman VII. The genius of the architecture is still visible today, the stone monuments withstanding the test of time.
After absorbing hundreds of years of history in Cambodia, it was time to travel to a country whose turbulent events in the recent century may have altered its demographics but did not kill its fiery spirit. And that country was Vietnam.
It took only a 46-minute flight from Siem Riep to land in Ho Chi Minh—the former Saigon– and instantly I felt the energy of the city pulsate through me. The number of motorbikes beeping through the streets surpassed the number of pedestrians browsing shops and sampling from food carts on the streets. A trip to Ho Chi Minh is never complete without a warm bowl of pho, the country's national noodle soup dish, which is all the better when paired with a Vietnamese coffee. As a self proclaimed history buff wandering around the city of Saigon, it is impossible not to feel the effects of the recent war. A grandiose statue of Ho Chi Minh himself stands in the midst of the town square—a recognition of his glory and strife.
One surprise I had on my jaunt through Vietnam was how swiftly one can travel from the height of busyness in the city to an entirely calming countryside. I spent just two days escaping to Vietnam's island of Phu Qhoc, which, ironically, sits off the coast of Cambodia but is only accessible by short plane ride from Ho Chi Minh. On this island I stayed at The JW Marriott Phu Quoc Emerald Bay Resort & Spa, a luxurious and quite imaginative resort which was exactly what I needed following my packed itinerary through three Southeast Asia countries. I relaxed in the resort's three pools, sipped pina coladas on the beach and even had the opportunity to learn a bit about horticulture as a "student" at the university. That's right—the resort is designed to pay homage to a fictional university and this quirky theme is integrated throughout–from the French colonial architecture to the whimsical color scheme.
You can travel to all corners of the world and still find that the sheer diversity of Southeast Asia is unmatched. Nowhere else will you see such a gorgeous and sincere display of colors, whether in the lively, thriving urban areas or the serene, unbelievable vistas of its natural landscape. The three countries that I had the fortune to visit elicit both pride in their ancient origins, as well as an embrace of modern conveniences to welcome tourists with warm hospitality. There is so much to do, see and taste, and planning your visit to one Southeast Asia's remarkable countries has never been easier.

Click on cover to view published article