Surprising Amsterdam
Something for Everyone
By Greg A. James
Published in the April, 2004 Issue of Canadian World Traveller
Photos Courtesy of Netherlands Board of Tourism www.holland.com or www.visitamsterdam.nl
Amsterdam is often referred to as one of the most colourful cities in the world. And rightly so! Where else do you find so many places of interest, famous museums, cozy pubs, fun shops and markets, all within walking or cycling distance. And there are many other surprising things that Amsterdam has in store for the adventurous visitor. This a why this vibrant, free-wheeling Dutch city can boast that it indeed has something for everyone!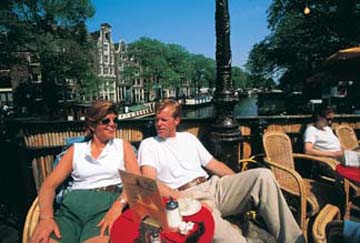 Location, Climate and Population
The Netherlands (often referred to as Holland) is located on the North Sea and shares its borders with Belgium to the south and Germany to the east.
Lots of tourists visit Holland in summer. There is no denying that this is the best time of the year to sit by the canals or take a bike trip through the countryside. Spring is a good time to visit too, as the bulb flowers are in full bloom in this season. April is the best month for daffodils, May for tulips. The Keukenhof flower exhibition is a wonderful place to visit during spring.
Rain is spread pretty evenly over the year, so there is not much point in trying to avoid the Dutch drizzle. Winter can be somewhat cold, but you will find that the museums and other attractions are not crowded, which is not a bad thing. If it gets cold enough for the canals and waterways to freeze over, the Dutch enjoy skating on the canals and flood plains.
The city of Amsterdam has 735,328 inhabitants but Greater Amsterdam counts its population at 1,268,908 citizens.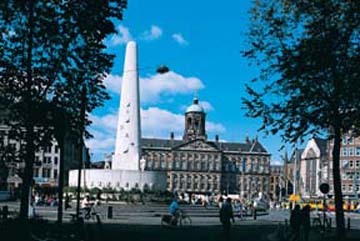 Language
Dutch is the national language of Holland. However, English is spoken by almost everyone. In addition, many Dutch people speak French and German. Dutch is the mother-tongue of well over 21 million Dutch people and Flemish people (Dutch-speaking nationals of neighbouring Belgium). In addition, some 60,000 people in Northwest France speak a Dutch dialect.
On the Netherlands Antilles and Aruba, islands that are part of the Kingdom of the Netherlands, and in the former Dutch colony of Surinam, Dutch is used in government institutions and in schools. Because of the historical ties, many Indonesians speak Dutch and the Dutch language was the basis for Afrikaans, one of the languages spoken in South Africa.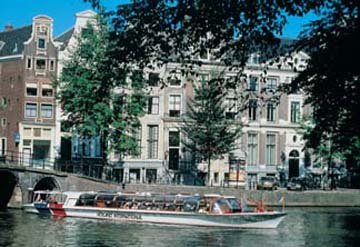 Amsterdam by Canal
Waterways, shaded by leafy green, reflect five centuries of architectural glory… To this very day a walk through the narrow streets of Amsterdam gives the walker glimpses between buildings that have inspired generations of artists.
However, there is a better way of discovering the magnificent narrow streets, namely a cruise along the canals. You can enjoy such a cruise throughout the year. The possibilities range from standard canal cruises lasting one hour to cruises of four hours including dinner. In the evening, you can experience special candlelight cruises and marvel at the illuminated buildings and bridges of Central Amsterdam.
Food and Drink
Restaurants representing Holland's multicultural backgrounds have mushroomed all over, ranging from French to Indonesian to Thai to Pakistani. However, traditional Dutch fare includes breakfast cake (ontbijtkoek); bread with slices of cheese or meat, topped with fried eggs (uitsmijter); pea soup (erwtensoep); pastry (gebak); and mini pancakes (poffertjes). For a snack, try French fries (patat) smothered in mayonnaise or sate sauce; deep-fried breaded meat balls (bitterballen); or a kroket (the larger version of the bitterbal).
When it's time for a drink (a borrel as the Dutch call it), try a glass of beer or a nip of jenever (Dutch gin). And the Dutch are always serving delicious cups of coffee.
Getting There
Air Canada, KLM Royal Dutch Airlines and many other international airlines fly in and out of Amsterdam's Schiphol International Airport.
What to Wear
Amsterdam's Summers are pleasant, but along with your shorts and beachwear, pack a light-weight raincoat… the odd shower cannot be ruled out. In the Winter months, the average temperature hovers just above 2 degrees celsius.
The Dutch are relaxed about clothes. You wear what you feel good in, particularly in Amsterdam when an opera audience happily turns up in jeans and t-shirts.
Visas and Vaccination
A valid Canadian passport is all you need to enter Holland and their are no vaccination requirements.

Getting Around
With 600,000 bicycles, 260 articulated city trams, relatively short distances between major attractions, and many pedestrian-only streets and squares, public transport, riding a rented bike or walking is definitely the way to go in Amsterdam.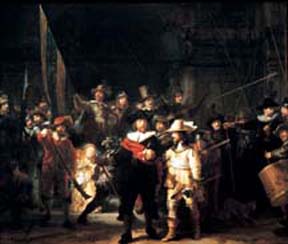 Things to Do
Attractions in Amsterdam include the Anne Frank House, with its touching wartime story of the young Jewish girl; Queen Beatrix's Royal Palace on Dam Square; the relaxing Vondelpark; and Artis Zoo, the oldest zoo in the Netherlands.
Two not-to-be-missed museums are the Rijksmuseum, with its collection of renowned paintings from Holland's Golden Age, including Rembrandt's masterpiece, the Night Watch; and the Van Gogh Museum with the largest number van Gogh's paintings under one roof.


Festivals and Events
Its many swinging summer festivals make Amsterdam Europe's perfect event city. You can enjoy concerts, theater performances, movies and dance events in number of surprising locations. Join the crowds of carefree people from around the world swinging in the sun. A selection of the most popular festivals in the coming months is posted at www.visitamsterdam.nl.

Nightlife
In the evening, it is impossible to be bored in Amsterdam! For a relaxed evening out you can visit one of the many cinemas, the Holland Casino or a cozy café. If you like clubbing there is a large choice of dance venues and discos (both straight and gay). Posted under the 'Hip Hang-outs' section of www.visitamsterdam.nl is a listing of the most popular venues in Amsterdam.
Of course Amsterdam also has its sultry places and hot spots in its legendary Red-Light District. For erotic entertainment and beautiful company in a safe environment, nothing beats Amsterdam.
Coffee Shops
An Amsterdam coffee shop can best be described as a café which does not sell alcoholic beverages, and in which, under certain circumstances, soft drugs may be sold. No hard drugs may be sold and persons under the age of 18 are not admitted on the premises.

Unique Tour
At the Heineken Experience, located in the former brewery of Heineken, you can experience the history of Heineken and test your knowledge of brewing.
The admission fee of EUR 7,50 includes several complimentary drinks and a free present at the end of the tour!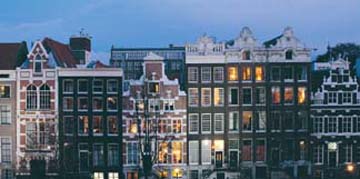 Where to Stay
In Amsterdam you can find a range of accommodations, from luxury hotels to friendly youth hostels, where age restrictions and curfews no longer apply! The city also has a number of bed and breakfast options, often in diverse places with special names. What could be more enjoyable than spending a night with an Amsterdam family that prepares breakfast for you in the morning?

Shopping
Amsterdam's shopping districts such as the pedestrian- and tramway-only Kalverstraat and Bijenkorf are internationally renowned. Amsterdam is also recognized as one of the world's most important diamond centers. The city's renown diamond trade attracts millions of tourists and buyers from around the world. Most diamond polishers as well as diamond traders give demonstrations in diamond cutting.
Currency and Exchange
As of January 1, 2002, euro bank notes and coins came into circulation, replacing Dutch guilders. Traveller's cheques and major credit cards are accepted by most establishments.
For More Info:
Netherlands Board of Tourism
601 Dundas St. W. Box 24010
Whitby, ON L1N 8X8
Tel.: (905) 666-5960
www.visitamsterdam.nl
www.holland.com
Netherlands Board of Tourism
355 Lexington Ave.
New York, NY 10017
Tel: (212) 370-7360
Fax: (212) 370-9507
E-mail: info@goholland.com
www.visitamsterdam.nl
www.holland.com
Amsterdam Tourist Info (Central Station)
VVV Stationsplein Perron 2 b
Stationsplein Perron 2B 15
1012 AB Amsterdam, Netherlands
Tel.: (+31) (0) 20 201 88 00
Fax: (+31) (0) 20 201 88 50
E-mail: info@atcb.nl
www.visitamsterdam.nl
Netherlands Embassy
350 Albert, Suite 2020
Ottawa, ON K1R 1A4
Tel.: 613-237-5030 to 5035
Fax: 613-237-6471
Email: culture@netherlandsembassy.ca
www.netherlandsembassy.ca
KLM Royal Dutch Airlines / NWA Northwest Airlines
Montréal Pierre Elliot Trudeau International Airport
Dorval, QC H4Y1H1
Toll-Free: 1-800-447-4747
E-mail: See Websites
www.klm.com
www.nwa.com