Holland
Rembrandt's 400th Birthday
Text & Photos: Michael Morcos
Published in the Summer 2006 Issue of Canadian World Travelle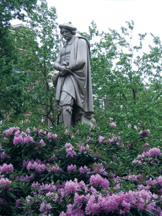 r
Holland is a favourite destination for vacationing Canadians and no more so than during this year.
2006 marked the 400th Anniversary of the birth of great 17th-century Dutch master Rembrandt and the whole world seemed to be heading for the Netherlands to take part in the celebrations.
This was evident the moment I stepped off my KLM direct flight from Montreal to Amsterdam and entered the brightly lit bustling hallways of the city's Schiphol International Airport.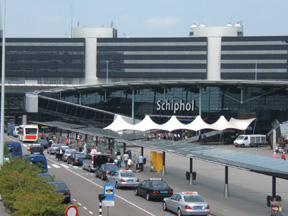 Extraordinary Schiphol
Besides being a major European hub with connecting flights to scores of global destinations, Schiphol also boasts a huge plaza that is a veritable indoor city with gourmet restaurants, cafés, bars and duty-free shops to suit all tastes and budgets. Other extraordinary facilities include a casino, fully equipped private offices, a meditation centre, chair massages, a sauna and showers.
The airport plaza also features a free mini-museum with a collection of priceless works by Rembrandt and his contemporaries. This one-of-its-kind museum is a branch of Amsterdam's world-famous Rijksmuseum. It offers the in-transit visitor a taste of Holland's rich cultural heritage without taking a single step outside the airport.
Hotel with a Difference
After a pleasant 20-m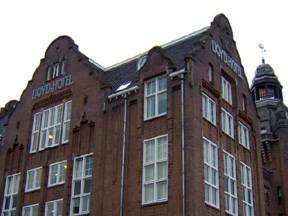 inute ride on the modern airport train to Amsterdam's Centraal Station, I took one of the city's many trams to Lloyd Hotel located east of the station and overlooking the harbour. I was fortunate to get a reservation for my stay. Even though it was the only the end of May, hardly the high season for European travel, most of the hotels in Amsterdam were completely full.
An old dockside warehouse was converted into the hotel. This gave it a distinctly Old World atmosphere. To my surprise, the ceiling and large windows of my spacious corner room were two stories high! The hotel's Continental breakfast consisted of generous servings of cold cuts, slices of those legendary Dutch cheeses, fresh fruit and a delicious assortment of freshly baked breads.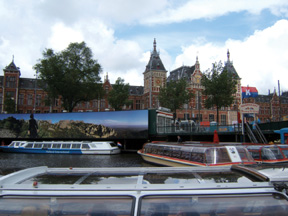 Historic Canal Ride
No one visiting Amsterdam should miss taking a canal ride. The sightseeing glass-topped canal boats are the best and most leisurely way to explore the web of waterways that encircle and dissect the city's inner core.
During the ride, knowledgeable multilingual guides point out significant historical buildings located along the banks of the canals.
The Anne Frank House
My visit to this house was the most moving of my stay. It really brought home the terrible treatment endured by Dutch Jews during the Nazi occupation of Holland. Two families lived in hiding in very small quarters on the top floor of this building. They were discovered and sent to a concentration camp where Anne Frank and her sister died shortly before the end of the Second World War. However, her father and her diary survived that tragic era.
Diamonds, Rembrandt & Rijstafel
One morning during my five-day stay in Amsterdam, I visited the Gassan Diamond Factory where skilled craftsmen cut and polish the dull grey stones into sparkling gems. Gassan is one of the most well-known and reputable diamond houses in Holland. Diamonds worth from $500. to as much as $250,000. were part of the demonstration. Gassan also custom-sets its polished diamonds in jewellery for the clientele of its various retail outlets.
Next was a visit to Rembrandt's House, an interesting re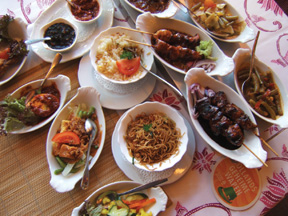 construction of the painter's everyday life, his living quarters, and his workshop. Rembrandt owned and lived in the house between 1639 and 1660. Located in Central Amsterdam near Waterlooplein, this faithfully restored and refurbished building is of interest to anyone who wants to learn more about the painter's life and his graphic work and about the Dutch Golden Age in general.
That evening, I dined at one of the city's many fine Indonesian restaurants. Indonesia was once a Dutch colony, hence the connection. The meal was the famous Rijstafel (literally, Rice Table), which consisted of 12 different tasty little dishes of beef, chicken, fish, vegetables and exotic sauces laid out on a heating stand and served (of course) with bowls of steamed rice. A popular feast with locals and tourists alike, it's quite the culinary experience!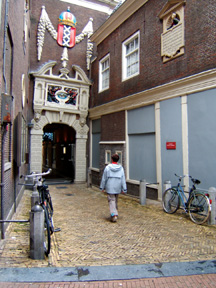 A City's History
The Amsterdam historical museum is housed in magnificent buildings, once the City Orphanage. Located on Kalverstraat, one of Amsterdam's most animated pedestrian shopping streets, the museum's permanent exhibition tells the history of Amsterdam and it's people.
Its collection of huge paintings, prints, maquettes, historic objects and archaeological finds depict how Amsterdam grew from a swamp to a small medieval town and eventually to a world famous urban centre. Many of its exhibits are from the Dutch Golden Age (1584-1702), during which Dutch trade, science, and art were among the most acclaimed in the world. This is simply a must for all history buffs.
Outside Amsterdam
Holland offers much more than its legendary metropolis. An organized tour of the towns of Volendam, Marken and Zaanse (famous for its windmills and cheese) is a welcome break from the hectic pulse of the city and is highly recommended. A day trip organized by Key Tour leaves at 8.30 am from 19 Dam Street and gets you back to Amsterdam around 4 pm, just in time for you to get ready for an evening of exuberant city nightlife.
Rembrandt & the Rijksmuseum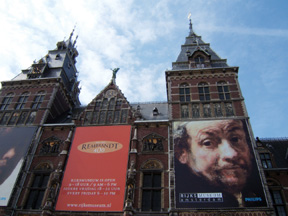 On June 2, a press conference was held at the Amsterdam's renowned Rijksmuseum to mark the 400th Anniversary of the birth of Rembrandt. Author and filmmaker Peter Greenaway gave an interesting preview of his coming film "Nightwatching" based on his book of the same title.
The titles of the book and the film refer to the museum's most famous Rembrandt – The Night Watch. Apparently, somewhere in the wall-sized painting, the artist surreptitiously depicted a murder that had been covered up. After that, Rembrandt lost most of his wealthy, influential sponsors. He became bankrupt, eventually dying in poverty, and was buried in an unmarked grave.
With that story still fresh in my mind, I went on to view the actual painting and the myriad of other works of art and craftsmanship in the museums priceless collections. Most of the paintings are from the Dutch Golden Age (1584-1702), but there is also a substantial collection of Asian art on display. The importance and popularity the Rijksmuseum (the Natural Museum in Dutch) was evident from the throngs of tourists in attendance on the day of my visit.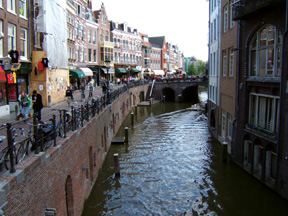 Visit to Utrecht
I hopped aboard a train at Centraal Station for the 20-minute ride to the medieval city of Utrecht. Situated in the heart of Holland, it is one of the oldest and most beautiful of Dutch cities.
Utrecht began almost 2000 years ago when the Romans established a fortification here in 47 AD. Its canals and wharves enjoy worldwide fame because no other city boasts pedestrian wharves along its romantic 14th-century sunken canals.
Dick Bruna House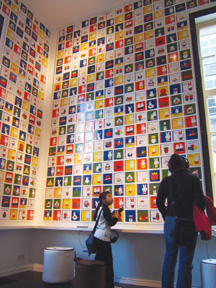 Miffy is the little bunny created in 1955 by Utrecht artist Dick Bruna. Design icon, children's character, fashion brand – Miffy is an international phenomenon; the books are published in more than 40 languages and have sold over 85 million copies worldwide.
I enjoyed my short visit to Dick Bruna House, which opened in February 2006. Utrecht's newest museum not only houses the colourful, whimsical artwork of Dick Bruna, it's also a fitting home for the ever-popular Miffy!
Musical Museum
My next stop in Utrecht was the National Museum of Musical Clocks and Street Organs. A former church houses a living collection of mechanical music. Carillon clocks, musical boxes, pianolas, belly organs, as well as full-size street, fairground and dance hall organs are all on display. The exhibits, most of which are in working order, hail from such diverse countries as Russia, China, India, England etc. Many played classical pieces of composers such as Haydn during my visit.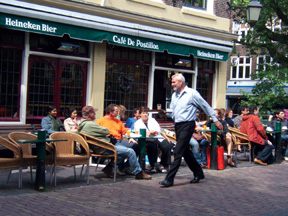 Afternoon Promenade
As I walked alongside the city's famed canals, crossed its bridges and explored its streets, lined with mature overhanging trees, I couldn't help thinking that Utrecht is the kind of place you read about in travel brochures and always dream of visiting.
I savoured the last moments of my all-too-short visit sitting in one of the many cafés located near the centre of this picturesque town.
Lasting Impressions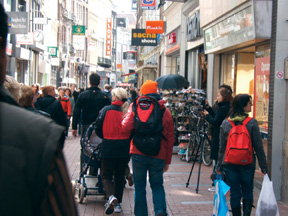 My stay in Holland was over, but here are some of its many sights, sounds and tastes that will always be remembered:
– Walking along the Amsterdam's Nieuwendijk Street that becomes Kalverstraat after you cross Dam Square, making it one of the world's longest continuous pedestrian walkways.
– Eating Pom Frites with mayonnaise from a roadside vendor.
– The canals and the beautiful and well-preserved architecture.
– The people, who were all very helpful, but also reserved and very polite.
– Everyone biking everywhere, including the businessman in his suit – with his briefcase strapped to his bike. The Dutch must be the fittest people in the world!
– The waterside Flower Market, filled with thousands of cut flowers. Holland exports 70% of all the cut flowers sold in the world!
– Albert Cuypstraat Market, the city's most popular market, selling clothing as well as fruit, vegetables, Holland's famous Gouda and Edam cheeses, freshly caught fish and the pungent but very much loved pickled herring.
A Final Word about Amsterdam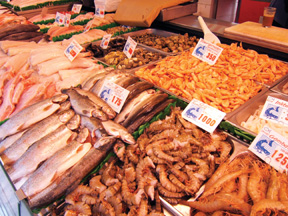 Holland and particularly Amsterdam is the must-visit European destination. The unique features of Amsterdam make it truly memorable. The city is safe, even at night, and the people welcome visitors, especially Canadians. As well, the recent rise of the dollar against the euro makes accommodations, meals, entry fees, entertainment and transportation quite affordable.
Speaking about transportation, the IAMSTERDAM Card is an economic way to see the city. It can be purchased for a 24-, 48- or 72-hour visit and includes all forms of local transit, entry fees to museums and other popular tourist attractions, a canal boat ride and discounts at some restaurants and shops. For inter-city transport, Holland's national railway system is both efficient and affordable.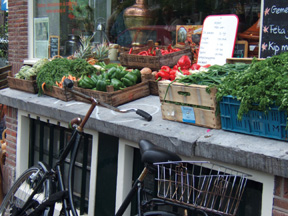 A Schiphol Farewell
Flying out of Schiphol Airport, I once again marvelled at not only how big it is, but also how efficient. It handles the third highest passenger volume in Europe, right after London's Heathrow and Paris' De Gaulle Airports.
Schiphol's advantage is that it has only one big terminal with many radiating spokes that quickly transport passengers and luggage to the central hub and back out for connecting flights on quiet moving sidewalks.
For those lucky enough to spend a few hours in Schiphol, the wonderful amenities and diversions I described at the beginning of this article await your discovery.
For More Info:
The Netherlands Board of Tourism & Conventions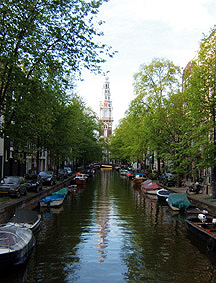 355 Lexington Ave, 19th floor
New York, NY 10017
Tel: (212) 557-3500 or (212) 370-7360
Fax: (212) 370-9507
E-mail: info@goholland.com
or information@holland.com
www.visitamsterdam.nl
www.holland.com
www2.holland.com/us/
Amsterdam Tourist Info (Central Station)
VVV Stationsplein Perron 2 b
Stationsplein Perron 2B 15
1012 AB Amsterdam, Netherlands
Tel.: (+31) (0) 20 201 88 00
Fax: (+31) (0) 20 201 88 50
E-mail: info@atcb.nl
www.visitamsterdam.nl
Netherlands Embassy (In Canada)
350 Albert, Suite 2020
Ottawa, ON K1R 1A4
Tel.: 613-237-5030 to 5035
Fax: 613-237-6471
Email: culture@netherlandsembassy.ca
www.netherlandsembassy.ca
KLM Royal Dutch Airlines / NWA Northwest Airlines (In Montreal)
Montréal Pierre Elliot Trudeau International Airport
Dorval, QC H4Y1H1
Toll-Free: 1-800-447-4747
E-mail: See Websites
www.klm.com
www.nwa.com