Sydney
Australia's Exciting Harbour City
Published in the February, 2004 Issue of Canadian World Traveller
Photos Courtesy of Australian Tourism Office www.Australia.com
The sparkling harbour is the jewel in Sydney's crown. Flanked by the instantly recognisable Sydney Opera House, golden beaches and bushland, it is bisected by one of the most famous bridges in the world, the Harbour Bridge. The harbour is dotted with islands and crisscrossed by water craft. Light, bright, cheerful and colourful, Sydney's exuberance is topped off by its climate and vibrant outdoor lifestyle. Voluptuous and gorgeous, this New South Wales capital dazzles with its personality.
City & Environs
The City of Sydney spans approximately 11.7 square kilometres. It includes the Central Business District (CBD), The Rocks, Millers Point, Dawes Point, Chippendale, Ultimo and Pyrmont, Glebe and Forest Lodge, Woolloomooloo, Kings Cross, Potts Point, Rushcutters Bay, Elizabeth Bay, Darlinghurst, the University of Sydney, Darling Harbour, the Royal Prince Alfred Hospital and parts of Surry Hills.
The Sydney Metropolitan Area reaches across over 4,000 square kilometres. Beyond this built-up area there are a further 8,000 square kilometres of largely natural parklands which make up the Sydney Statistical division.
Sydney is the most popular tourist destination in Australia, attracting some 4 million visitors annually. The best views of the city are from Sydney Tower, the Harbour Bridge, Mrs Macquarie's Point and from the ferries that ply Sydney Harbour.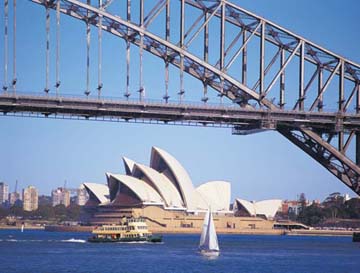 Location & Climate
Sydney is located on Australia's southeastern coast, 33 degrees south of the equator, with a similar latitude to Cape Town and Buenos Aires in the Southern Hemisphere, and Los Angeles, Casablanca and Beirut in the Northern Hemisphere.
Sydney's climate is very favourable — the warmest months of December to February have an average maximum temperature of 26º Celsius. Being close to the ocean, hot days are often tempered by cooling sea breezes and evening temperatures are balmy — perfect for relaxed outdoor dining. June to August are the coolest months, with daytime temperatures rarely falling below 7º Celsius. Even on mid-winter days, with their bright blue, wide-open skies, an overcoat is usually not necessary.
Population
Approximately 4 million of Australia's 20 million people live in the Greater Sydney Metropolitan area. The estimated residential population of the City of Sydney proper is just over 72,500.
People of European descent constitute about 91 percent of Australia's population. Although most claim British or Irish heritage, there are also Italian, Dutch, Greek, German, and other European groups. People of Asian descent or birth constitute about 7 percent of the population; their countries of origin include China, Vietnam, India, the Philippines, and Malaysia. People of Middle Eastern origin make up an estimated 1.9 percent of the population.
Aboriginal and Torres Strait Islander people constitute about 2.2 percent. Also known as Indigenous Australians, these two groups are the original inhabitants of the region. Torres Strait Islander people, who are a Melanesian people, are indigenous to the islands of the Torres Strait, which lies between the Cape York Peninsula of Queensland and the island of New Guinea.
Government, Language & Religion
The Commonwealth of Australia was created in 1901, when former British colonies — now the six Australian States — agreed to federate. Government is based on a popularly elected Parliament with two chambers, the House of Representatives and the Senate, seated in Australia's capital city of Canberra.
Although Australia is an independent nation, Queen Elizabeth II of Great Britain is also formally Queen of Australia. Sydney, the state capital of New South Wales (NSW), is one of the most multicultural and multilingual cities in the world, with people from more than 180 nations, speaking 140 languages. Nearly one-quarter of Sydney residents speak a language other than "Aussie English" at home. About 75% of Australians are nominally Christian, adhering to the Anglican (26.1%), other Protestant Churches (24.3%), and the Roman Catholic Church (26%). However, Australians are very tolerant of its minority religious denominations.
Indigenous People

The site of Sydney is a place valued by the oldest civilisation in the world. For at least 50,000 years its aboriginal people fished the waters of its sheltered harbour, speared the plentiful supply of animals that inhabited its heavily wooded shores and filled the clear air with the sounds of their ordinary and ceremonial lives. Then, in 1770, came the transient ships of the French explorer, La Perouse, and the English explorer James Cook, followed a few years later by the arrival of more English. This time they had come to stay.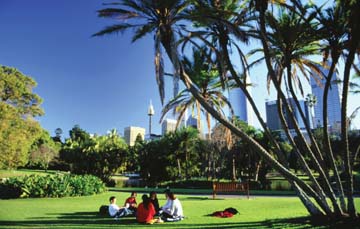 Arrival of Europeans
The settlement of Sydney began in January 1788, when the 11 ships of the "First Fleet" dropped anchor at Sydney Cove, one of the loveliest harbours in the world. Their mission was to establish a prison settlement for British convicts. The eastern, "official" side of the original settlement still contains government offices, the governor's residence and the houses of parliament.The western side of the town was altogether more unruly. Along the crooked streets of The Rocks, which mark the western extremity of the early settlement, convicts made a life as best they could, building basic cottages with hand-hewn rock. Sailors caroused in the numerous small public houses, drinking to forget the harsh realities of life in Sydneytown.
At the same time, Governor Macquarie wanted to build a real city, but was recalled to London and accused of spending too much money. Against all the odds, Sydney was becoming a city, as free settlers began to arrive and convicts began to be free. The economy grew, as the new and lucrative wool trade supplanted whaling and sealing. To the original jail buildings were added increasing numbers of schools, churches, markets, stores, theatres and a library.
Gold and Growth
By the time transportation of convicts ended in 1840, there were about 30,000 people living in the settlement. In 1842 the City of Sydney was established, with elections, offices and all the trappings of a free society. The city adopted its name from Sydney Cove, around which it was built. Sydney Cove was named in honour of Viscount Sydney, Thomas Townshend, who was British Home Secretary at the time.
When gold was discovered in 1851, people began pouring into the city from Europe, California, and China. In the prosperous decades that followed, great Victorian sandstone edifices were built and the city continued to grow.
By the end of the nineteenth century, Sydney was one of the largest cities in the Western world, with a population of half a million people. The twentieth century brought more immigration and the construction of the 1930s Sydney Harbour Bridge and the 1960s Opera House. Today, these structures have become shining symbols of Sydney's enterprise and cultural vitality.
Fusion Cuisine
Sydney offers a unique Australian cuisine known as fusion food. It combines a synthesis of cultural influences with fresh, high-quality ingredients. These gastronomic adventures can be experienced in an endless choice of eateries stretching from fine dining in the Central Business District (CBD), through to the multicultural delights of Cabramatta's Vietnamese precinct in the outer west. Even Sydney's inner-city suburbs are a mecca for wining and dining. For authentic Italian food, head to Leichhardt's Norton Street. Close by is Balmain's Darling Street strip with a plethora of excellent eateries, delis and pubs. Still in the inner-west, King Street in Newtown boasts culinary samples from all over the world.
Surry Hills has its own range of trendy spots — cafes, hip bars and pubs, and a gaggle of cheap and cheerful restaurants of all persuasions. Darlinghurst is teeming with bars, cafes, restaurants and pubs catering to wide tastes, from an amazing range of Asian to eastern European foods.
For food with a view, try the great waterfront precincts of Cockle Bay, East Circular Quay, Woolloomooloo Finger Wharf, Watson's Bay, Bondi, Balmoral, Manly and as far north as Palm Beach. And don't forget to sample Australia's legendary beers and award-winning wines.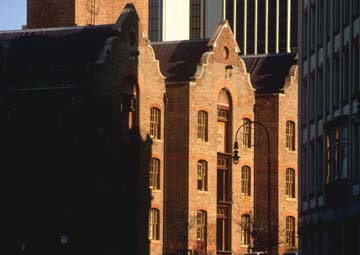 Historical Points of Interest
A tour of historic Sydney may start at Cadmans Cottage and Susannah Place in the heart of The Rocks district. Built in 1816, Cadmans Cottage is the oldest surviving residential building in Sydney, and Susannah Place, built in 1844, is a small terrace of four preserved brick houses including a corner grocer's shop.
Other interesting sites are St Andrews Anglican Cathedral, the oldest Cathedral in Australia, completed in 1868: St Marys Cathedral, the largest sandstone building and largest Cathedral in Australia; The Obelisk, which was constructed in 1818 by order of Governor Macquarie as a point from which all public roads and distances were to be measured; the State Library and Parliament of New South Wales located on historic Macquarie Street; the Sydney Town Hall, one of Sydney's best loved icons; and The University of Sydney, Australia's oldest University, founded in 1850.
In addition, Sydney offers a myriad of museums that reflect the history of the city and the country as a whole. From the Gavala Aboriginal Art and Cultural Education Centre to the Australian National Maritime Museum, which includes a visit on the destroyer HMAS Vampire. Visit the Powerhouse Museum, Sydney's largest and most popular museum, to get a comprehensive insight into this rich and diverse country.
The Arts
Sydney offers everything from the Sydney Opera House performances to street shows and theatres, making it one of the world's hot spots for visual and performing arts. Opera, dance, theatre are all catered for.
As for the art scene, the Art Gallery of New South Wales is the largest gallery in the city, and indeed in all of Australia. It is home to some of Australia's best loved works of art. And the Museum of Contemporary Art is Australia's leading contemporary art museum. For those interested in the rich indigenous art forms, the Aboriginal Art and Tribal Centre displays bark paintings, carvings, dot paintings and antique aboriginal artifacts.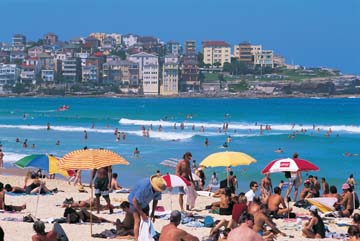 Water & Land Activities
More than 70 uncrowded beaches line the coast of Sydney and beyond its northern limits. Enjoy famous ocean beaches like Bondi and Manly, or relax on some of the Central Coast's many other stretches of golden sand. Try activities such as cruises, deep-sea fishing, diving, surfing, kayaking, horseback riding or just enjoying the many natural flora and fauna features.
Sydney offers a myriad of land and sea tours, including sailing on a luxury yacht on Sydney Harbour, guided tours of the city and the Australian Bush (the outback), a unique excursion on the amphibious Aussie Duck, golfing tours, wine-tasting tours, ecotours, surfing expeditions, whale-watching cruises and the once-in-a-lifetime experience of the Bridge Climb, which offers the ultimate celebration of the Sydney Harbour Bridge. The Bridge Climb enables you to enjoy a spectacular, 360-degree view from the dizzying heights of one of Australia's most identifiable icons.
Nightlife
They say that Sydney never sleeps. In daylight hours, the city buzzes with life, and it doesn't close down when workers leave their offices. All-night pubs, cutting-edge dance clubs, and gay reviews could keep you out until dawn. Fancy a late-night meal or a final coffee — that's not a problem. Be seen on trendy Oxford Street from Darlinghurst to Paddington or try the Woolloomooloo Finger Wharf, Surry Hills, the quay or the Rocks. It's too many choices, not too few, that make the decision hard!

Festivals and Events
Sydney has year-round events to suit every taste. In February and March, there's the Chinese New Year Haymarket Dance and the world-famous Gay and Lesbian Mardi Gras Festival and Parade. In April and May, the Bundanoon Is Brigadoon Scottish Highland Gathering; the Darling Harbour Hoopla Circus & Street Performance Festival; the Sydney Aboriginal and Oceanic Art Fair; and the Sydney Heritage Festival are held.
June and July bring the Sydney International Film Festival and the Darling Harbour Jazz Festival. In August, there's the Sydney International Boat Show and in September; the Manly Arts Festival; the Bondi Beach Music Festival of the Winds; the Sydney Marathon; and the Ballina Aquatic Festival.
In October, the Annual Manly International Jazz Festival and the Sydney Motor Show are held. And in December, at the height of the Australian summer, the Sydney-to-Hobart Yacht Race starts from Nielsen Park in Sydney Harbour for the 630 nautical-mile journey south to Hobart.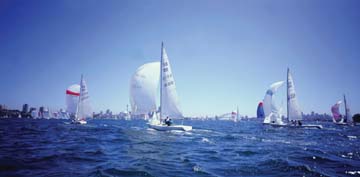 Sports & Recreation
The Sydney Cricket Ground, Aussie Stadium and Telstra Stadium are three of Australia's premier sporting and entertainment venues. Telstra Stadium, located in the heart of Sydney Olympic Park, was the centrepiece of the Sydney 2000 Olympic Game. It plays host to a vast array of major events such as rugby, Australian football, cricket and soccer matches, as well as outdoor concerts.
Sydney's gardens and parks are equally impressive. The Royal Botanic Gardens, an oasis of 30 hectares in the heart of the city, is wrapped around Farm Cove at the edge of Sydney Harbour and Centennial Park covers 220 hectares and draws more than 3.6 million visitors annually. A visit to Taronga Zoo is a Sydney experience not to be missed. From Australia's unique wildlife to exotic animals from around the world, Taronga has it all.
Getting Around
The SydneyPass offered by the State Transit Authority, is available for three, five or seven days, giving you the flexibility to go as you please for the duration of your ticket, planning your own itinerary for the sights you want to see.
Besides an extensive network of buses, there is also the Metro Light Rail, Sydney's newest transport system, and the Monorail, which provides a transport link between Darling Harbour and the heart of Sydney. The 6 automatic trains on the system, depart every three to five minutes, taking passengers from the main rail and bus systems in the City Centre to many of the city's attractions. A Supervoucher Day Pass gives users a full day of unlimited travel on the Monorail.
A unique way to get around is by water taxis, which have been an integral part of Sydney Harbour's marine history for over 20 years.
Australia is a vast continent full of amazing sights. If you're here on a short trip, and which to travel beyond Sydney, you may prefer to travel by air. Australia's domestic airlines provide extensive coverage allowing you to hop quickly between cities and sights.
If you prefer a more leisurely pace, travel by rail or road. Australia has a vast network of well-maintained roads and highways with some of the most beautiful road touring in the world. Vehicle hire is simple. And all cities, except Darwin and Hobart, are linked by a rail network.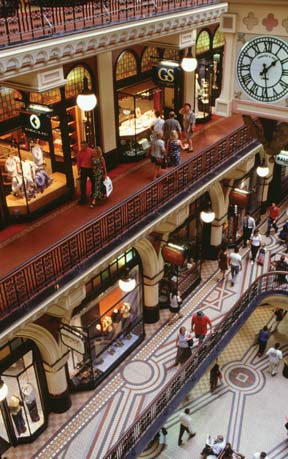 Shopping
Sydney is a shopper's paradise: from the fashionable trendy boutiques on King Street to the factory outlets of Market City, located in the heart of Chinatown. There are also markets galore, offering everything from fresh produce and fish to second-hand books and handicrafts. Lively pedestrian shopping areas like Martin Place and ultra-modern shopping centres like Australia Square offer an endless variety of goods at competitive prices. Many stores sell duty-free and tax-free products and services. Make sure you keep originals or copies of your passport and travel ticket with you, to take full advantage of these discounts.
Currency & Exchange
The Australian dollar ($A) is made up of 100 cents. There is no one-cent coin so prices are rounded to the nearest 5 cents.
Exchange facilities are available at international airports. Changing foreign currency or traveller's cheques can be done at most banks. On January 30, 2004, the Australian dollar was at par with the Canadian dollar
Banks and various locations have ATMs. Note: Credit cards may need to be enabled for international access, so it is advisable to contact your credit card provider before travelling.

Getting There
Air Canada and Quantas Airlines, Australia's national airline, offer regular flights to Sydney via Vancouver, L.A. or New York. Sydney is about 16,000 km from Montreal. Flying time, not including stopovers, is approximately 20 hours. Flying across the Pacific, you will cross the international date line. Both Air Canada and Quantas Airlines have websites with details of schedules and fares.
When to Go & What to Wear
The seasons in Australia are the reverse of the northern hemisphere. The summer months (December to February) are warm to hot. Bring lightweight clothes, but keep a jacket or sweater handy as nights may be cool. For the mild winter months (June to August), warmer clothes plus a jacket or light coat are advisable. For special occasions like business meetings, theatres and formal dining, men may need a jacket and tie or suit and women a more formal dress. For outdoor daytime activities, don't forget to pack sunhat, sunglasses and suntan lotion.
Visas & Vaccination
A valid passport or similar acceptable travel document is required. Everyone, except holders of Australian and New Zealand passports, requires a visa to enter Australia. New Zealand passport holders apply for a visa upon arrival in Australia. All other passport holders must hold a visa before travelling to Australia. There are no vaccination requirements for Canadian visitors.
Where to Stay
Accommodation in Australia is divided into categories based on facilities and location. Visitors can stay at everything from Budget Motels to 5-star international-style establishments or fully-equipped, self-contained apartments. A full listing of Sydney accommodations is available at www.Australia.com.
For More Info:
Australian Tourist Commission
6100 Center Drive, Suite 1150
Los Angeles CA 90045
Tel.: (310) 695-3200
Fax: (310) 695-3201
E-mail: See Websites
www.Australia.com
www.atc.net.au
Australian High Commissioner
50 O'Connor Street, Suite 710
Ottawa, ON K1P 6L2
Tel.: (613) 236-0841
Fax: (613) 236-4376
E-mail: See Website
www.ahc-ottawa.org
Qantas Airlines
Qantas Centre
203 Coward Street
Mascot, NSW 2020
Australia
Tel.: +61 (2) 9691 3636
Toll-Free (North America): 1-800-227-4585
E-mail: See Website
www.qantasusa.com