Tanzania
Wild Worlds: Manyara Serena Lodge
By Dave Taylor www.davetaylor.ca
Published in the November-December, 2004 Issue of Canadian World Traveller
Photos: Dave Taylor www.davetaylor.ca
The first safari hotel I take my clients to in Tanzania has always been this one. In 1997 when I first led a group to this East African country the drive from Arusha was paved for only about a third of the trip, once we turned off the main highway the drive was a long, slow dusty one through Maasai land. How well I remember that drive!
We'd left Nairobi early that morning by tour bus and arrived in Arusha in time for a late lunch. Then my group had bundled into our safari vehicles and off we went. Truth be told we were all tired and a little beat up. It was getting near dusk when we first saw the jagged tooth-like rooms on top of the Tanzania's Eastern Escarpment. Could those small huts really be our rooms?
I can honestly say that I have never been more pleased by a hotel. When we reached the Lake Manyara Serena Lodge there wasn't a one of us that wasn't impressed. Their friendly staff greeted us with a cold fruit drink and a warm smile. A garden surrounded the entrance complete with a man-made stream. Scores of weaverbirds chirped along the pathway.
Then we discovered our rooms. They were designed to look like African huts but they were in fact large and roomy. In 1997 the hotel was only a few years old and it was as modern as any I've visited. Two of my clients (and close personal friends) were bonafide world travelers and their assessment is as true today as it was then. "These rooms are four star by any standard", Al MacLean noted as he toasted his wife Marilyn.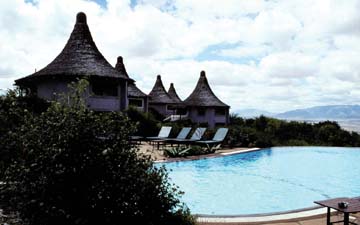 The rooms each had a balcony that opened up to reveal the landscape we'd just driven across. Dominating this view down the escarpment was Lake Manyara. In the evening light it was a lighter pinkish gray against the darkening land. This was truly Hemmingway's Africa. In fact he'd actually hunted down there on one of his two African safaris.
That was my first visit here. I've been back several times since. The road is now paved all the way to the escarpment and the drive time has been almost cut in half. Now there is time to visit Lake Manyara National Park for a game viewing drive before ascending the escarpment road to the lodge. But more about the park later.
Let me dispel a few myths about African lodges. When I first visited East Africa in the late 1980's visitors were cautioned about the water and eating fruit and generally being aware of what they ate.
Even then it was erring on the side of caution. Today, especially in Tanzania's newer lodges those concerns are a thing of the past. I was given a tour of the Serena's food and water facilities and they meet anyone's safety criteria: Canadian, North America or European. Dinner meals consisted of a soup, a salad you made up from the salad bar, a variety of meats and fishes accompanied by a selection of vegetables, dessert and tea or coffee. Very few visitors loose weight while on safari!
Rooms are modern and very comfortable. As to bugs I've seen far fewer than you would expect. You can probably find a few mosquitoes if you really look for them. In all my safari's I've encountered less than two dozen and I've have yet to be bitten. While it is true we sleep under mosquito netting in most lodges it is more for ambiance and a sense of "African adventure" than for genuine protection.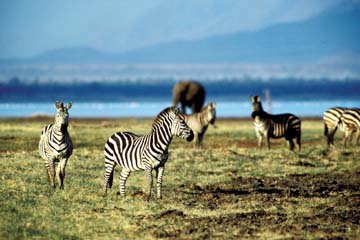 The lodge features an outside bar that overlooks the escarpment and it is one of the great pleasures of safari to enjoy a cold drink while looking over the scenery. The fact that the bar is located by a swimming pool that seems to end at the very edge of the cliff just adds to the beauty of the place.
Lake Manyara National Park is a small park and serves as a good introduction to the wildlife of Tanzania. It is the usually the first park safarists visit when they do the country's famed Northern Circuit. From here we push on to Ngorongoro Crater and then to the Serengeti where we encounter the huge herds of wildebeest and zebras made famous in nature films.
In Manyara itself it's the birds and the elephants that attract most of the attention. Oh, you will read about the "tree-climbing lions" but to be honest I've yet to see a lion in the park let alone one in a tree. From what I hear the lions just don't do that much anymore.
Birds abound. This is a great park for bird watching. Storks and pelicans nest by the entrance and line the banks of the lake. There are crested eagles, falcons, spur-fowl and scores of other species to see.
The largest mammal in the park is the African elephant. To watch them walk silently among the park's ancient baobab trees or feed on the foliage of the park's ground water fed forest is a moving experience. These animals gained famed when they featured in books and documentaries that told the story of Iain and Oria Douglas-Hamilton and their groundbreaking research about this species. Iain has since gone on to monitor elephant populations across Africa. The couple was instrumental in turning the tide of poaching that might have led to the extinction of this great beast.
Baboons are also very common and troops numbering over 100 are often seen. Other mammals seen typically in the park include buffalo, Masai giraffe, common zebra, hippos and smaller fare such as hyrax, dik dik and dwarf mongooses.
You will get remarkably close to many of these species. I suggest to my groups that they bring along a camera with at least a 200 mm lens (roughly a 5 times zoom) but many clients get frame-filling images of these animals with the simplest throwaway cameras.
Dramatic scenery surrounds you. On one side there is the lake and on the other the Eastern Rift escarpment. The escarpment dates back to a time when our ancestors first walked these plains 3 million years or more in the past. The rift wall is geologically active even now and there are hot springs and further north still active volcanoes to be seen.
The one plant that invariably gets attention is the baobab; Africa's fabled tree of life. It is a tree that has very soft wood. It may live to 1000 years old and it is known for holding water in a sometimes-parched land. Elephants love to tear into it but they are only of many species, including our own, that find use for this plant. The gourd-like fruits can be made into a variety of utensils and drinking vessels. The young leaves are edible and the wood can be made into ropes and woven material.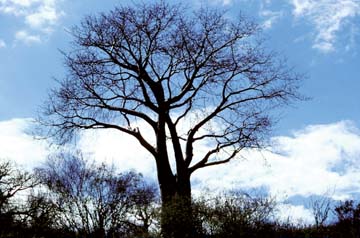 Once you head up the escarpment you leave the land of the baobab behind. You will not see it again until you return to the lower altitudes that it thrives in.
Often visible from the roadway is the Serena Lodge. It seems to wait patiently for its visitors to return. Somewhere up there somebody is toasting the view with a gin and tonic. I look forward to the next time that that someone will be me.
African Safaris
For free information on African safaris contact Wolfgang Bell (Safari Consultant) at 1-613-332-1001 or e-mail him at wolfgangbell@africansafaris.ca
About the Author
Dave Taylor is the author of over thirty books and numerous articles about wildlife, ecology and ecotourism. He also works as a freelance nature photographer and his work has appeared in numerous books, magazines and calendars. He can be reached through his website: www.davetaylor.ca.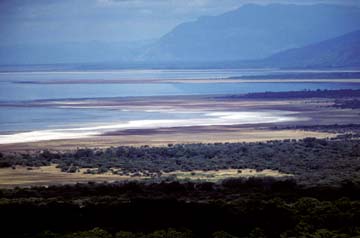 For More Info:
Tanzania Tourist Board (New York)
Tel.: 212-447-0027
www.tanzaniatouristboard.com
High Commission of Tanzania
50 Range Road
Ottawa, ON K1N 8J4
Tel: (613) 232-1500
E-mail: tzottawa@synapse.net
www.tanzania.go.tz