Tanzania
Hakuna Matata (No Problems)
Published in the Summer 2008 Issue of Canadian World Traveller
Text and photos: Michael Morcos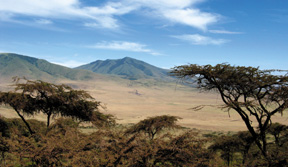 Kilimanjaro, Serengeti, and Zanzibar are words that conjure up mystery and intrigue. Safaris, game drives, Masai Warriors and the Rift Valley. These too bring thoughts of adventure in beautiful and wild places.
Dr. David Livingston, one of the first Europeans to venture into the African interior was there and so was Sir Henry Morton Stanley, the American journalist and explorer.
But these were no longer just words and thoughts. They now become a reality as I really am in Tanzania. My long awaited childhood dream trip has come true.
A Memorable Tour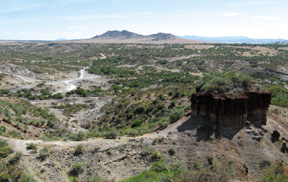 I would start my two-week tour in the town of Arusha and travel eastwards to visit beautiful Lake Manyara, the fascinating Ngorongoro Crater, the mighty Serengeti then start my quest back west to see the majestic Mount Kilimanjaro.
Arusha
Arusha is the unofficial capitol of northern Tanzania. It has an international airport, high-end hotels and, to my surprise, the United Nations building for the International Criminal Tribunal for Rwanda.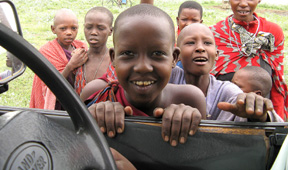 My time was well spent in Arusha. Here, I would first recover from jetlag and slowly familiarize myself with the quite unrushed and easy-going Tanzanian lifestyle.
"Hakuna Matata" was the new expression that I soon added to my everyday vocabulary and best described the two weeks that followed.
It truly was "no problem".
Unique African Art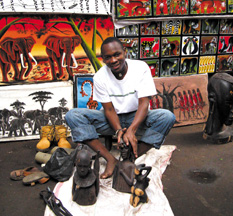 The Arusha artists' market was an African art lovers delight and mine as well. I found the perfect gifts and souvenirs here and the prices were right, as I later found out in the more touristy areas. This place was filled with bargains and best of all, the merchants were laid back and not aggressive as one expects in such markets.
Beautifully hand made items such as ebony woodcarvings, tribal masks, original oil paintings and even an etched ostrich egg became my new treasures. These pieces of African art now adorn my home and are a daily reminder of Tanzania.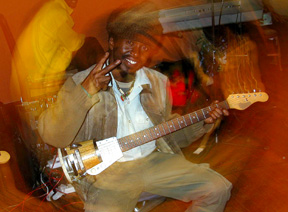 Jamaican Reggae Rules
"What a paradox?" I thought to myself. An African slave's descendant creates a style of music that is now popular in the land that his people once roamed.
Bob Marley's music was to be heard everywhere: in cafes, taxicabs, bars and clubs! Even street merchants played his music on boom boxes. I was served up these rhythms by a live band on my very first night in Arusha and enjoyed his world-renown style of music throughout my trip.
Tribal Dance Show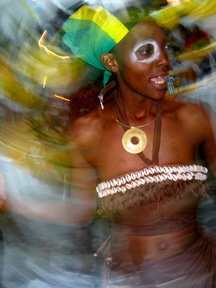 I could not stop my hips from moving. The beat was contagious and the dancers heightened my African experience.
Wonderful native costumes made of leopard and zebra skins; grass skirts accompanying spears and shields; masks and painted faces; arm, wrist and ankle bands; loud drums beats and chants – this was the way I saw Africa as a child. Fantastic!
This show and many more like it were some of my many joys while travelling through Tanzania.
No Capital Affair
This would be the first time I would visit a country and not set foot in its capital. Dar es Salaam, Tanzania's capital was not even on my touring itinerary. Unfortunately, visiting Dar is outweighed by the many other fantastic things one can do in Tanzania.
Zara Tours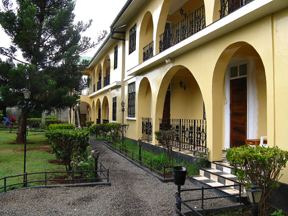 What a joy it was being in the company of my hosts from Zara Tours. I felt like a real VIP. They even called me 'Sir' until I asked to be called by my first name. I had a safe, warm, relaxed, comfortable feeling throughout my stay in their two properties and their tented camp.
Their staff, guides and drivers were very attentive and helpful to my needs and were instrumental in making my tour a great success. By the end of the trip I felt like I was leaving friends behind.
The Springlands Hotel in Moshi was in an enclosed site that had a beautiful garden with water fountains that reflected the lush tropical forest of Tanzania.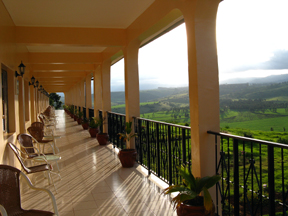 The Highview property, located halfway between Kili and the Serengeti near Ngorongoro and Lake Manyara, was on a hill overlooking the serene valley below.
My room was simple but very clean, quiet and comfortable and a good night's sleep there recharged the body before another day's adventure.
Mama Zainab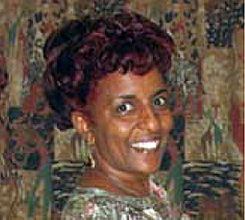 I had the pleasure of meeting the owner and founder of Zara Tours. She was introduced to me by one of the staff as Mama Zainab. She wasn't the staff member's mother, but in Tanzania this is a respectful form of address.
Mama Zainab was a very dynamic person. She explained the hard work it took to first start a travel agency and to then turn it into one of Tanzania's bigger tour companies. Like any business, there were always financial considerations and she would also have to overcome some old Tanzanian notions about women in the business world. She overcame these obstacles and as the saying goes, the rest is history.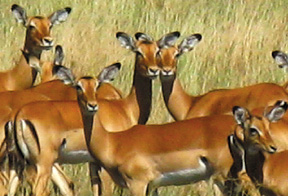 The Original Zoo
Think of all the animals you would see at your local zoo, such as lions, leopards, elephants, rhinos, cape buffalos, hippos, giraffes, zebras, wart hogs, wildebeest, alligators, vultures, gazelles, impalas and a few hundred other species of mammals, birds and reptiles and that is what I saw in the wild in Tanzania. This is the original zoo and the world's biggest one too.
Here's word of warning for animal lovers. If you are planning to visit the Tanzanian game parks for the first time, then it would be advisable to leave extra water and food in your cat's bowl at home, as you just might extend your trip by a week or two.
Arusha Park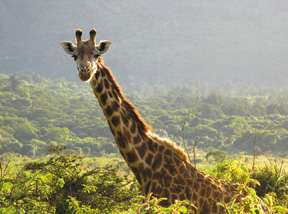 Small in size compared to the other well-known parks, Arusha National Park is located close to the city and hence is devoid of the big African predators.
Giraffes are the stars here, as we would see many of these peculiar animals, nibbling on fresh tree leaves in this largely wooded park.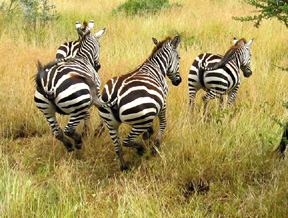 Lake Manyara
There were animals galore around the lake. That is what happens when there is a year-round body of fresh water. Lake Manyara was definitely worth the visit.
Our first welcome came from a Black Mamba snake that slithered across the dirt road in front of our 4×4 Jeep. "Very deadly," said my driver. That was a good thing to know, not that I was looking to bring one home. But just in case I get a sudden urge to buy a snake, this one will be on my 'do not buy' list.
Most memorable was the lunch on top of a hill with a spectacular view of the lake and the wildlife around it. In the quiet shade, I reflected on this perfect moment. Birds were singing, butterflies fluttered in the wind and the sun was shining through the puffy clouds. I am in Africa I thought, I made it to magnificent Tanzania. Nature is great and so is this day!
Ngorongoro Crater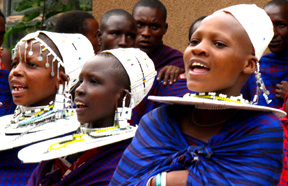 Simply put, the Ngorongoro Crater is an extinct volcano that over time has been fertilized by the ashes from neighbouring volcanoes and has a balanced ecosystem with animals trapped inside its crater.
However, it appeared to me as though a Hollywood movie company had thoughtfully designed this park. Everything seemed just right.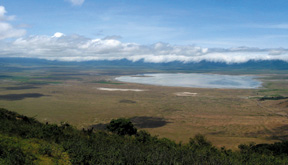 The only orchestrated part of my visit was the greeting by the native Masai people, who sang and danced for us at the park's gate.
This was a fantastic show on its own and now we were set to explore one nature's most spectacular sites.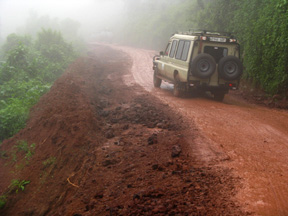 I found myself wondering who wrote this script. I mean where did the 'Jurassic Park' fog in a tropical setting come from and how did it mystically lift as we drove down to the crater floor.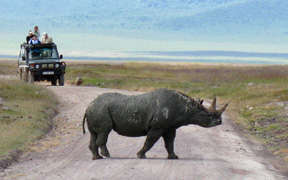 Who placed those zebras high on a plateau and showed them to pose in that graphic way?
How is it that an extremely rare Black Rhino all of a sudden appeared right in front of our Land Cruiser and how is it that the thousands of animals living in the crater became captive by the rim that is a natural barrier?
Nature sure has great writers, directors and actors. Who else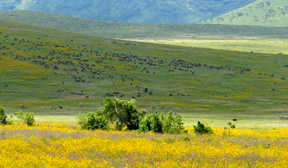 would have thought of a trilling ride at the edge of shear cliffs; the breathtaking scenery of the sun-drenched floor against the cotton candy clouds that clung to the volcano top.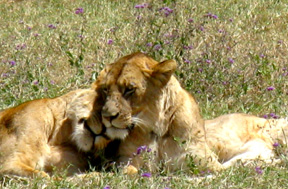 And what about the playful lions that waited for me to get my camera ready to embrace in a loving manner; the several hundred pink flamingos; the blue skies reflecting on the still waters of the lake; and the many grazing animals that dotted the wildflower-covered slope?
What a perfect show! It's a must-see for anyone visiting Tanzania!
The Great Serengeti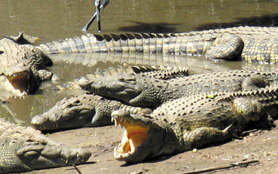 Driving to the Serengeti was the ultimate road trip. The eight-hour drive in our trusted 4×4 Land Rover would take us along bumpy, winding, hot and dusty roads.
Needless-to-say, it was a painful experience but it was all worth it. The scenery along the way was stunning.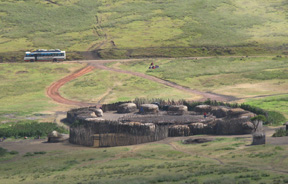 We drove through the Rift Valley Mountains and passed Masai villages and animals roaming about the landscape all the way to the Serengeti's main entrance.
This place looked familiar. I had seen it in National Geographic magazines on the Discovery Channel and on many travel shows, but these and all other travel media features combined could not match being there in person.
Incredible memories included the moment when even my guide,
who travels to the park weekly, said in amazement, "Oh my god, look!" As I looked up from peering into my camera, it hit me.
We were in a sea of zebras, big and small ones, in all directions. And as our driver slowly inched our vehicle forward and turned off the engine, we found ourselves surrounded on all sides. Some of the zebras were close enough to touch. I felt as if I had become part of the herd. What an incredible sight!
This was among the many, many other animal encounters we enjoyed throughout our wonderful stay in the Serengeti.
These included the incredible bi-annual mass migration, but we had to drive three hours from our campsite as the migration heading north had already started weeks ago.
With one million wildebeest and 400,000 zebras, antelopes and other herbivores on the move, this was a natural miracle. The whole African zoo was on the move!
Zara Tented Camp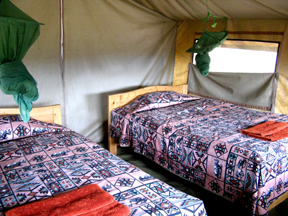 This is camping? The tents had beds on posts, lined floors, electricity, a sitting area in the front, an indoor shower and a toilet in the back.
We had a chef, porters and cleaners. I would hardly consider this roughing it out. This was going to be easy, Hakuna Matata as the locals would say! But the little voice inside said "Wait till night, Mr. Hakuna Matata."
Sleeping with Lions
The sound show started shortly after supper as the millions of stars were making their nightly appearance. First came the sounds of the Hyenas followed by that of the king of the jungle. This was the cue to go inside the tents, firmly zip up the windows and doorways and pray.
As the outside camp lights were turned off, the sounds came ever closer. Howls, grunts and the occasional lion's roar sent shivers down my spine. But the best thrill was still to come. After all, the night was young.
Except for a few happy-looking lost bugs, I was alone
for this part of the trip. Maybe my fuzzy little friends knew what was coming, but I didn't. After reading a bit in bed I turned out the lights and in total darkness I heard footsteps. What was it?
Through the process of elimination, I cancelled out an elephant or hippo – too heavy-footed. A rabbit or mouse? Too light-footed. A lion or hyena? Not sure.
This thing seemed lost. It circled the tent and left. It was a good thing that there was toilet in the tents, truly a necessity. Hey, Mr. little voice inside, these nights and the stay here was really Hakuna Matata!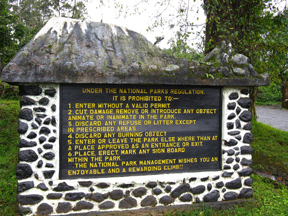 Ultimate African Climb
It would seem that anyone wanting to test the limit of their physical abilities should have a go at climbing Mt. Kilimanjaro, Africa's tallest mountain.
Climbing the snow-covered peak is a popular trek for expert mountaineers and novices alike. The climb to the top is an easy one except for one major difficulty, which is the altitude. At 9,300 feet above sea level, it is the highest point on the African continent.
There are several trails up the mountain, which take anywhere from three days to seven days. The longer the trip, the easier the incline. Longer treks provide more time for the body to acclimatize to the high altitude. But be forewarned, there have been deaths, two so far in the first five months of this year.
I did not have time to climb the Mountain. That is what I tol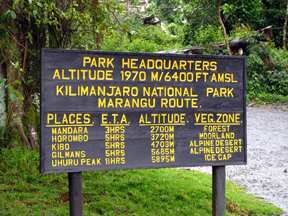 d people. I further explained that I had a charged schedule and would need at least four days to ascend and two to descend. With so much to see in Tanzania, I could not spend so much time in just one place. I wasn't scared, not one bit. Right? Well, maybe I was a little intimidated, not by the climb but by the altitude.
I had witnessed the effects of altitude sickness once in the Andes of Peru. Two people I was travelling with became short of breath, queasy, and disoriented and I can't seem to forget that experience. Besides, I'm not much of a mountain person.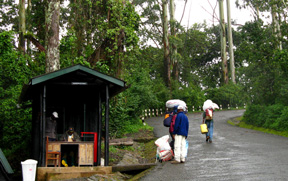 Alternative Routes
Several routes could be taken up to the top of Mountain Kilimanjaro. I visited two. At the main entrance to one of the routes, I would wish a happy journey to the Australians I had meet the night before at the Zara Springlands Hotel.
In the pouring rain, they bade me farewell. Local porters carried their heavy backpacks on the steeper side of the route, while the Aussies, carrying only small knapsacks and nervous smiles, bravely tackled the somewhat less inclined side. Better them then me I thought.
At the entrance to another more challenging trail, there occur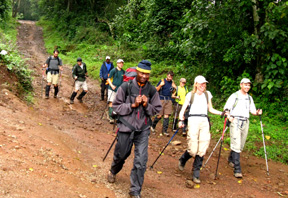 red a totally different scenario. Three young blond-haired kids stood in anxious anticipation.
Shortly thereafter, a group emerged from the forested mountainside. Waving hysterically, a Germen couple came running down to hug the kids. I did not need to know Germen to understand this touching family reunion.
Arounnd Kilimanjaro
In the area near Kili, we visited a large coffee plantation, known to grow exceptional coffee beans for the export market; a magnificent waterfalls in a secluded out-of-the-way location; and a small hilltop village; and the Masai Boma people, who still live like their past ancestors, wearing traditional clothing and living off the cattle they raise.
Armed with a bag of candy for the kids, I was a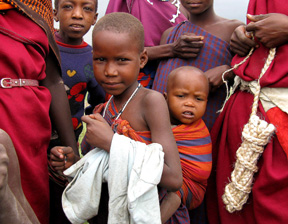 n instantly popular guest. Even the adults came running on hearing the news that a foreigner with gifts had arrived.
I was told the Masai do not like being photographed, but the sweet treats I brought changed all that.
Although we did not speak each other's language, our smiles became the bridge and our meeting ended with us having shared several happy moments.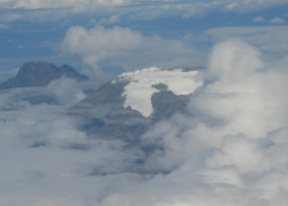 Waiting for Mount Kili
The three days in the town of Moshi were spent patiently waiting for a clear glimpse of majestic Mount Kili. Alas, this was not be. Even as I took my final steps to board my plane, clouds and rain denied me that pleasure.
The solution was a task for a man who could leap tall buildings in a single bound, but superman was not around. Instead, I asked our flight attendant which side of the plane would provide a view of Kili. "The right side," she explained and shortly after take-off a view of Kili's peak was at last exposed in all its majesty. My first word was an unsuppressed 'Wow'! I finally had this giant in my camera viewfinder and firmly etched in my mind.
Tanzania Under My Skin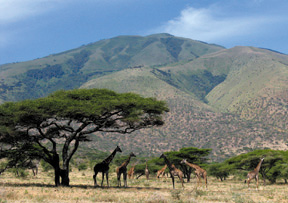 Unfortunately, I would not make it to the spice Island of Zanzibar, as time was limited. I did not climb Kili, not enough time (of course), nor did I make it to the capital city of Dar es Salaam, Lake Victoria and the less travelled southern part of the country.
This is the perfect reason to return again, this time bringing my family to share in experiencing this great land, its abundant wildlife and wonderful people. "Hakuna Matata" Tanzania!
For More Info:
Tanzania Tourist Board
c/o The Bradford Group
Tel.: 212-447-0027
Websites: www.tanzaniatouristboard.com
and www.tanzania-web.com
High Commission of Tanzania
Tel.: 613-232-1509
Website: www.tzrepottawa.ca
Zara Tours
Website: www.zaratours.com