The Beauty and Magic of
Kenya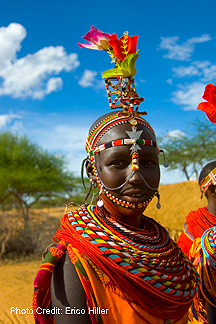 By Muna Abdullahi Omar
Photos: Courtesy of Kenya Tourist Board
Kenya is known as a land of smiles, hence the saying: Hakuna Matata! It means: "No worries!" Kenyans are by nature, delightful, polite and hardworking people.
Kenya has invested heavily in its tourism industry and the quality of service of its hotels and restaurants is very high.
But it's the astounding natural beauty of its parks and reserves that make Kenya the most popular safari destination in all of Africa!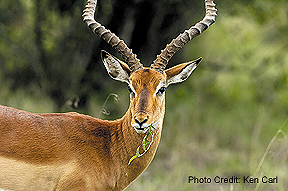 Parks Galore
Kenya is one of Africa's most popular destinations. It lies astride the equator on the eastern coast of Africa and is the strongest economy in East Africa.
It shares its borders with Sudan, Ethiopia, Somalia, Tanzania and Uganda and has coastlines running along the Indian Ocean and Lake Victoria.
The commitment of the Kenyan government to conservation in designated game and national parks has resulted in Kenya having a higher proportion of such land uses than any other country in East Africa.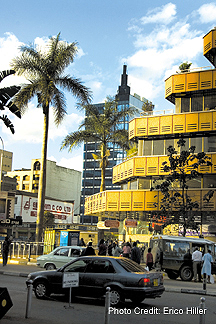 A Lively Capital
The capital, Nairobi, is lively city that offers something for everyone. Private rental cars and minibuses, widely known as daladalas, can be seen everywhere on the streets of the city.
Nairobi is a city that never sleeps. At almost anytime of day or night you can see shopkeepers and young professionals making their way to or from work.
For those who love shopping, chic boutiques are everywhere. At night, the city really comes to life in the popular bars and discothèques in centre of town; in the fashionable restaurants and nightclubs of its big hotels; and in the many typical Kenyan eateries serving Nyama-choma (barbecued meat).
However, there are more things to do, places to go and attractions to see in Kenya than those found in bustling Nairobi.
The top tourist attractions in the rest of Kenya include the Masai Mara Game Reserve, the resort town of Mombasa, the island of Malindi and much, much more.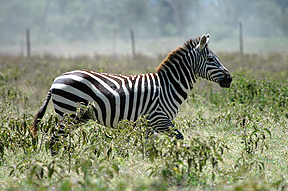 Wild Animals Abound
Kenya is adorned with over 50 national parks, game reserves and marine parks, and numerous safari and tour operators offer a wide variety of ways to visit them.
The migration of millions of zebra, wildebeest and other antelope is one of the most amazing natural spectacles that all visitors should experience. Game can be seen year round, but mass migrations take place in May to June, July to August and again in September to October.
It is estimated that each year, around one million wildebeest and 300,000 zebra and other antelope gather up their young and start their long trek from Tanzania's Serengeti Plains, in search of food and water. To this end, they cross the border to Masai Mara National Reserve in Kenya. On their journey the animals cover a distance of around 1,800 miles.
Witnessing thousands of animals on the plains of Serengeti and Masai Mara is a stunning experience, but the must-see spectacle is the river crossing as the herds gather to cross the Grumeti River (Tanzania) and the Mara River (Kenya).
Kenya's Coastline
Kenya's lovely coastline is an astonishing holiday destination with Mombasa, Kenya's second largest city with just over 700,000 people, leading the way in the development of a world-class resort area.
Mombasa really is a tropical paradise with exotic flowers, long stretches of white beaches and hideaway coves shaded by lofty palms. Mombasa is also the best place to try the delectable Swahili cuisine.
Located on the island bearing the same name, Mombasa is connected to the mainland by ferries and bridges. The island city has a large commercial harbour and is served by Moi International Airport, which offers flights to many cities around the world.
Mombasa, an Arabic name that means "to speak in public", reflects Mombassa's original role as an international trading and meeting centre. The Arab influence is still felt even today in the "Old Town", the heart of Mombasa.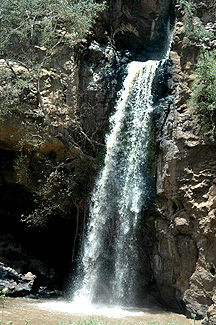 Flamingo Paradise
In the Rift Valley Province in Central Kenya, one finds Lake Nakuru, famous for its pink flamingos. An estimated one million-plus flamingoes literally turn the shores pink. This is pure joy for ornithologists, scientists, and wildlife filmmakers.
Located at a distance of 157 km from Nairobi, Lake Nakuru and the national park that surrounds it can be leisurely visited in just one day.
Kenya's People
Currently, there are more than 40 different ethnic groups living in Kenya. The main tribes are Kikuyu, Meru, Kalenjin, Luyha, Luo, Kisii, Kamba, Swahili, Kalenjin, Masai, and Turkana.
There are also some small minority groups living in the coastal regions consisting mainly of Muslims, Arabs, Arab-African mixes and Southeast Asians.
The Masai
Masai were originally nomadic people spread across Tanzania and Kenya. They are arguably the best-known and most recognizable people in Kenya. The Masai (Maasai), a pastoral people, traditionally bred humped zebu cattle. They herded their cattle freely across the highlands of Kenya and lived mainly on milk, blood and meat provided by them.
Cattle play a central role in the life of the Maasai. The more cattle a Maasai has, the richer he is and therefore the more power and influence he will have within his tribe. The Masai tend to live in kraals, small clusters of cow-dung huts constructed by the women.
Traditionally the Maasai have always been a proud and independent tribe. In the evenings, don't miss seeing the Masai dance. It may seem that they are cracking their bones, but they say its natural!
The beauty of the Masai is self-made. The ladies with attractive beads around their necks have no need for expensive jewellery. To them, cosmetics mean the red clay they paint on their faces, which looks so beautiful on their skin.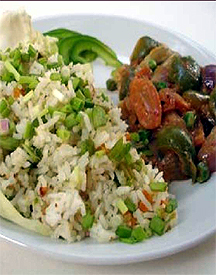 Swahili Fusion Cuisine
Swahili cuisine at the coast shows influences from both Arabia and India, with a particular African twist. Some typical dishes, as well as a few vegetarian recipes, are actually Hindu specialties adapted to the local ingredients.
There is no doubt that the most popular Swahili dish in Mombasa is Wali wa Nazi (wali, cooked rice; nazi, coconut). Wali wa nazi is a creamy, rich accompaniment to any meat, chicken, fish or curry dish.
Myriad of Languages
It is estimated that 62 languages are spoken in Kenya. Although Kenya is a multilingual country its official languages are Swahili and English, the latter being the language of big business, higher education and government.
However, Swahili is widely used in small-scale trade, the media and teaching in primary schools. Although Swahili is widely spoken in towns, most Kenyans have their own tribal language and view Swahili as a foreign language.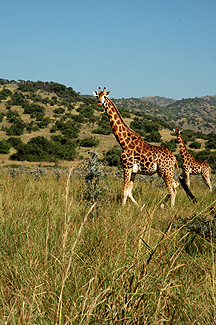 A Long, Rich History
Kenya's colonial and distant pasts are reflected in the national historic sites found across the country. Each historic site tells its own story.
The Gedi Ruins near Malindi consists of remains of palaces, houses and mosques of a 15th century Arab-African town.
Olorgesaille, a pre-historic site of the Middle Pleistocene Age, first discovered in 1942 by Mary Leakey, exhibits stone-age tools and fossils of extinct mammals dating from 1.2 million years ago.
Just north of Mombassa you can explore a 13th century Swahili settlement Jumba la Mtwana, which means "the mansion of the slave" in Swahili.
The Kariandusi Pre-Historic Site, discovered in the late 1920s by Louis Leakey on one of his first visits to the central Rift Valley, has been a rich source of prehistoric obsidian tools, made by early humans between 1.4 million and 200,000 years ago.
Koobi Fora, located on the east side of Lake Turkana, is a site of human evolution made famous by the discovery of a skull of Homo habilis, the first human species.
Finally, there is Thimlich Ohinga, which is the site of six stone structures constructed without the use of mortar. Materials found within the site go back to more than 500 years ago.
The Beauty and Magic of Kenya
Whether you want to go on the safari of your dreams, meet some of the most charming people in the world or do some time travelling back to the early beginnings of man, you will find it all in beautiful, magical Kenya!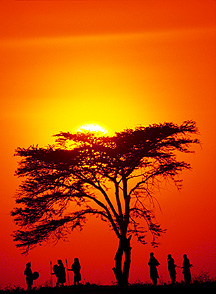 For More Info:
Kenya Tourist Board
6442 City West Parkway
Eden Prairie , MN 55344
Tel.: 952-914-6707 or 1-866-44 KENYA
Fax: 952-914-6946
Email: infousa@MagicalKenya.com
Official Website: www.magicalkenya.com
High Commission of Kenya
415 Laurier Avenue E
Ottawa, ON K1N 6R4
Tel.: 613-563-1773 Fax: 613-233-6599
Email: kenrep@on.aibn.com
Official Website: www.kenyahighcommission.ca