Kenya
Wild Worlds: Samburu Serena Lodge
Published in the Spring 2006 Issue of Canadian World Traveller
Text & Photos: By Dave Taylor (dave@davetaylor.ca)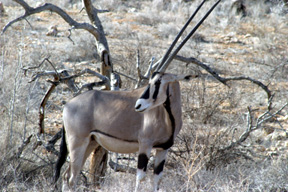 Drought changes everything!
That was the "discovery" I made on my last visit to Kenya. I've guided safaris there several times over the last twenty years but this was the first time I'd been there when drought dominated the landscape.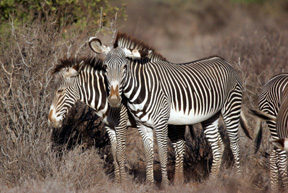 Two years ago the land was greener, richer looking even here in Buffalo Springs/ Samburu Game Reserves. This area is scrubland and dry at the best of times for most of the year. Life has adapted here to the coming and going of the rains but there had not been a drought this severe since the late 1960's and early 70's. It lasted seven years.
This latest drought was a mere three years old. I expected to find lots of animals but in fact found very few. Most had left for distant swamps and marshes where water was still available. I knew how rich these parks could be and I was disappointed. My group was not.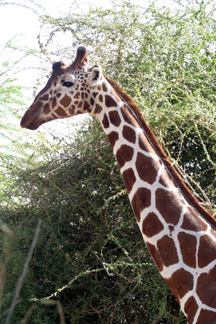 Unique Animal and Bird Species
You go to these parks to see unique species, animals that you won't see in other parks: reticulated giraffe with their large square spots-hence the name reticulated, long-necked giraffe-antelope called gerenuks, finely striped grevy's zebras and rapier horned besia oryx. And see them we did, not in huge numbers but enough of them to keep our cameras busy.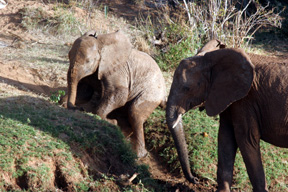 There were plenty of elephants, buffalo and lion too. Bird species were plentiful as well. For naturalists it was a great place to visit to see hard to come by animals.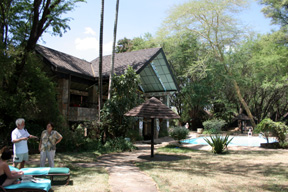 Samburu Serena Lodge
Our day began with an early morning game drive followed by breakfast at the Samburu Serena Lodge. The lodge, I knew, would be a hit with my group. The rooms are rustic but comfortable. The dining room was a well-designed open sided affair and the food wonderful.
At night you could look out across the dry riverbed and watch a leopard feed in a baited tree. In fact wildlife was almost always visible around the lodge. Troops of baboons moved through on their daily rounds as did vervet monkeys. Kudu (a type of large antelope) could sometimes be seen just over the low wall that kept the elephants out. Birds were everywhere.
Visiting a Real Village
After breakfast, if you weren't watching the resident wildlife around the lodge, you could go for swim, read a book or plan the afternoon's game drive. I did all four of these things. One morning several of us opted to visit the local Samburu village. It was about ten minutes away.
This was a real village with no pretense of being anything but that. Maasai villages that we visited were "real" too but often reflected a desire to be "historically" correct with the residents in the typical dress that tourists expected to see.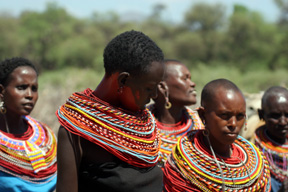 Certainly there was some of this "tourist" dress here but for the most part it was a "welcome to our home, pardon the mess" approach that greeted us. It was real and generally unaffected visit.
A Tough, But Happy People
It was here that the reality of the drought hit home. Men bathing in a hole dug in the sand river where water still seeped in.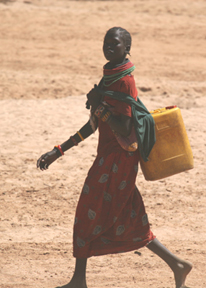 Women carrying water containers down to other holes and walking a good kilometer or so to get their daily ration for the family. The cattle were all 150 kilometers away at the base of Mount Kenya sharing water and grazing with the wealthier landowners (who opened their land to the semi-nomadic Samburu). 
This was a tough, unforgiving land. These were tough, but happy people.
We gave donations to the school and gladly paid the fee charged for the visit. It was the least we could do before we headed back for our swim and cold drinks. The disparity between our lives and theirs did not go unnoticed. We left feeling a mixture of guilt and thankfulness both oddly a reflection of the life we would soon return home to.
Drought, it changes everything.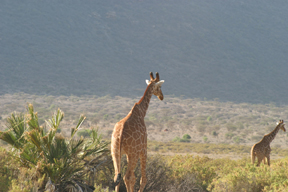 For More Info:
Kenya Tourist Board
Tel.: 763-212-4247 or 1-866-44 KENYA
Email: contact@kenyatourism.ca
Website: www.magicalkenya.com
High Commission of  Kenya (Ottawa)
Tel.: 613-563-1773
Email: kenrep@on.aibn.com
Website: www.kenyahighcommission.ca