The Beaches of Mexico
From the Caribbean to the Pacific
Published in the September, 2004 Issue of Canadian World Traveller
Text and Photos Courtesy of Mexican Tourism Board www.visitmexico.com
Mexico boasts some 440 beaches, many consistently ranked among the very best in the world. Add Mexico's well-earned reputation for hospitality and value, and it's easy to see why Mexico and its beaches are a favorite destination among North American tourists. And the increased number of travelers relaxing on a beach in Mexico has led to increased development of nearby facilities.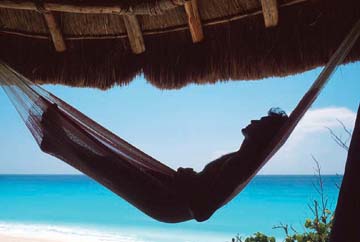 A Perfect Beach for Everyone
With 6,000 miles of its 9,000-mile coast as beaches, Mexico offers everything from bustling mega-resorts to tranquil ecological hideaways.
Cancun/Cozumel, Acapulco, Los Cabos, Mazatlan and Puerto Vallarta are the most popular beach destinations, perfect for those who are into world-class people watching.
And for those neither into watching, nor wanting to be watched, there are lesser known, secluded stretches of Mexican paradise, often relatively close to more popular beaches.
Acapulco
This fabled haunt of the Hollywood elite, equally famed for its daring young cliff divers, is reemerging as one of Mexico's premier beach destinations as a result of a recent city-wide development and improvement program. If you haven't been there in a while, visit now. Acapulco's magic is more potent than ever.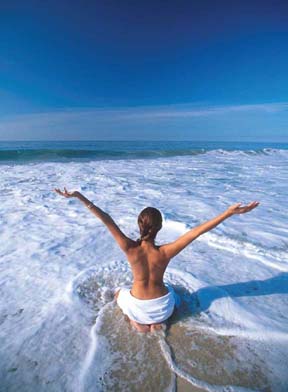 Cancun/Cozumel
Think of Las Vegas, but with beautiful beaches, bronzed bodies and water sports instead of casinos. Cancun is consistently rated among the world's best beaches. A short trip from the mainland, Isla Mujeres (Island of Women) stretches along five miles of pristine beach.
Nearby, Mexico's most popular archaeological site, Tulum, combines pre-hispanic ruins with sprawling beaches and sparkling waters. In addition, families can enjoy Xcaret, a hands-on ecological park.
Huatulco
If in search of the perfect place to unwind, visitors should look no further than the Bays of Huatulco, the newest ecotourism beach resort on Mexico's Pacific coast.
The nine bays are located at the base of the Sierra Madre Mountains in the state of Oaxaca. For a closer look at the bays, travelers should not miss a Tequila Catamaran tour. Stop at Maguey Bay for a dip in the cool water and dry off on the white sand beach while sipping fresh coconut milk served right in the shell.
Isla del Espiritu Santo
The Island of Espiritu Santo is located off the coast of Baja California, near the city of La Paz. With its red rock formations, white sand beaches and turquoise waters, Espiritu Santo is considered by many to be one of the most beautiful islands in the Sea of Cortez. Adventurous travelers can circle this jewel during week-long kayaking voyages with the opportunity to snorkel, swim with sea lion pups, hike volcanic arroyos, and set up camp on a different beach each night, allowing them to explore the beauty of this island paradise.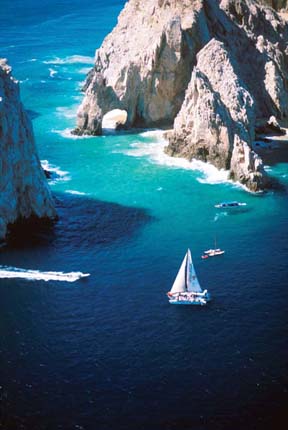 Los Cabos
With its other-worldly beauty and enviable location at the tip of Baja California, the world's longest peninsula, the beaches of Los Cabos are equally beautiful and dramatic. Despite its many world-class resorts, you can still enjoy a private stretch of beach.
Maroma Beach, Playa del Carmen
On Mexico's Turquoise Coast, Maroma feels like it's like a million miles away, but is actually just 35 miles south of Cancun on what has become known as the Mayan Riviera. Also rated one of the Travel Channel's "Best Beaches," its sand is the color of powdered sugar and its clear waters the temperature of a warm bath.
On the slight chance you'll want to do anything but just melt into the sand, you can visit nearby Mayan ruins, explore the Sian Ka'an Biosphere reserve or visit the Contoy Island bird sanctuary. The locale features a 36-unit, 500-acre luxury resort that was built without electrical or mechanical tools, and only one-tenth of the property will ever be developed in order to maintain the area's ecological balance.
Mazatlan
Spreading 15 miles along a thumb of land that extends into the Pacific just below the Tropic of Cancer, Mazatlan marks the beginning of the Mexican tropics. Beyond the "Golden Zone" hotel strip, its coast is sprinkled with beckoning islands and miles of golden bleaches and blue lagoons, aptly deserving its title as "Pearl of the Pacific."
Nayarit
Offering a broad range of vacation settings, the State of Nayarit is a major agricultural center as well as one of Mexico's most beautiful beach destinations. The coastal city of San Blas is the site of an annual international fishing tournament as well as the ruins of the 18th century temple of San Basilio. A popular spot in the area is La Tovara, a freshwater spring and swimming hole.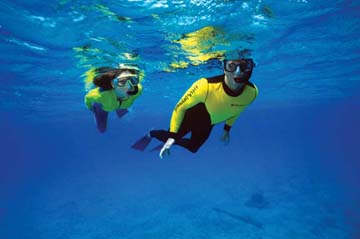 Puerto Vallarta
Puerto Vallarta lies on Bahia Banderas, the second-largest natural bay in North America with more than 100 miles of coastline. At the same latitude as Hawaii, it's a haven for anyone who enjoys beach activities, from whale-watching, para-sailing or bungee jumping over the Pacific to windsurfing, snorkeling, scuba diving, jet skiing and deep-sea fishing.
Punta Mita
If visitors to Mexico have their heart set on a relaxed beach vacation, the Pacific ocean-side town of Punta Mita is the ideal spot to unwind. A new luxury resort awaits those in need of pampering, and from December to March, the Yubartas whales migrate to the region, giving lucky travelers memories that will last a lifetime.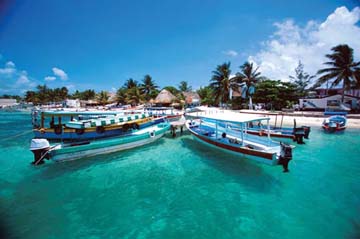 Tamaulipas
Nature travelers will be impressed by its many lagoons, estuaries and beaches. Saltwater marshes and mangroves make the shores of Tamaulipas especially interesting to naturalists and ecotourists.
Getting There
Air Canada, Mexico's national airlines Mexicana, and several charter airlines offer direct and nonstop service between Canadian cities and major Mexican destinations, with easy connections to the country's world-famous beaches. Contact the Mexican Tourism Board or your local travel agency for details.
For More Info:
Mexican Tourism Board
1 Place Ville Marie, Suite 1931
Montreal QC H3B 2C3
Tel. (514) 871-1052
Fax: (514) 871-3825
E-mail: montreal@visitmexico.com
www.visitmexico.com
Embassy of Mexico
45 O'Connor Street, Suite 1500
Ottawa, ON K1P 1A4
Tel.: 613-233-8988, -9272, -9917
Fax: 613-235-9123
Email: info@embamexcan.com
www.embamexcan.com
Mexicana Airlines
1010, rue Sherbrooke O, Bureau 1408
Montréal, QC H3A 2R7
Tel: (514) 487-0685
E-mail: See Website
www.mexicana.com