Canada
An Ode to Vimy Ridge & Canadian battlefields
Article & Photography by Ilona Kauremszky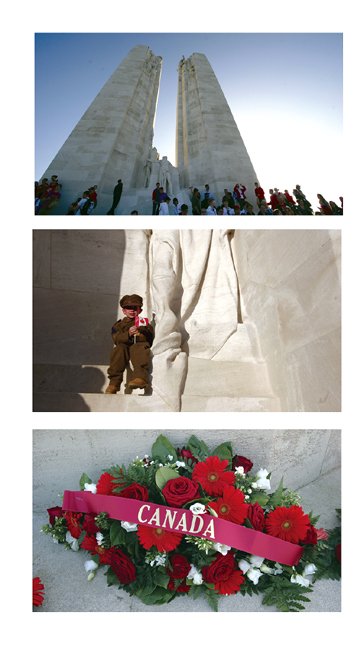 Vimy Ridge is one of those haunting places that look beautiful from the outset.
Surrounded by fields of green, the manicured lawn by the Douai Plain spreads over the rolling hillocks embraced by tall maple trees and at its epicentre stands the Canadian National Vimy Memorial, a jewel in the French countryside.
Brief Backgrounder
The memorial, an 11 years-in-the-making stone structure, was unveiled in 1936 by King Edward VIII to honour the Canadian fallen soldiers in a battle that has been described by historians as: "the Birth of a Nation."
Four divisions of the Canadian Corps that had never fought together came together here with the purpose to overtake the now infamous ridge. It was Easter. April 9, 1917. There was sleet, snow and muddy mounds mixed with blood and bones. The carnage was obscene, unimaginable. Out of 10,602 casualties, 3,598 Canadians gave their lives. Inscribed on the ramparts of the Vimy Memorial are the names of over 11,000 Canadian soldiers who were posted as "missing, presumed dead" in France.
For bravery and heroism, Canada was awarded four Victoria Crosses considered the highest medal for military valour for this blood-spattered battle that occurred over 3 days. They were: Private William Milne, Lance-Sergeant Ellis Sifton, Captain Thain MacDowell and Private John Pattison.
The Canadian Battlefields Tour
This spring I attended the centennial anniversary of the Battle of Vimy Ridge thanks to a special 11-day niche tour offered by Trafalgar Canada titled the Canadian Battlefields Tour. People ask me, "How did you get to see the ceremony?"
The premier tour operator made it possible for my group to be there.
With 70 years of touring experience under its belt Trafalgar is a pro on logistics handling the group transfers as it fulfilled the advanced booking procedures required by Veterans Affairs Canada. Every attendee was registered and the site was restricted and secured, meaning once you were inside the Vimy area you cannot leave.
The #Vimy100 Ceremony
I could not be prouder to be a Canadian. Among the 25,000 estimated Canadians in attendance, half of them were students. The atmosphere was electric. There was not a cloud in the sky, only plenty of sunshine with summer-like conditions. You heard chatter pre-ceremony, silence during the ceremony, and more chatter post-ceremony.
In our time-starved world it's difficult for most to put in time to create personal travel packages but this is where Trafalgar Canada comes in. Travellers can explore places many only could imagine in an engaging 3-country-in-1 European programme to England, France, and Belgium.
The focus of my recent guided vacation was to commemorate some of the key World War I and II Canadian battlefields of Western Europe. While the themes sound like heavy topics, Trafalgar Canada managed to complete the memorable trip featuring a post war celebratory theme of dance, champagne and dining in cities like Rheims and Paris, which went off with great success.
For this odyssey, Trafalgar has meshed a land and sea combination which began in the gateway city of London and smoothly transitioned to smaller hubs that held their own incredible discoveries.
On those travel days as the spacious Wi-Fi enabled motor coach drove the major thoroughfares, extra site visits not found on the itinerary dubbed as "Hidden Treasures" added that much more to the experiences.
England
One day our motor coach turned onto a roadway laden in a mash-up of modern boxy buildings and Georgian-style edifices. It was our first hidden treasure: the Southwick House Park outside Portsmouth, England.
Southwick House has been lauded as the headquarters for the D-Day invasion which was planned by the main Allied commanders: Eisenhower, Montgomery and Ramsay. A must-see of this WWII landmark is the large wall maps studded in original markings used in finalizing plans for D-Day's Operation Overlord. Mr. William Dick, a retired master at arms from Scotland, summarized the operations brilliantly for our group.
Afterwards we drove to the ancient port town of Portsmouth. Located on the edge of England, there's a rich mariner history as ships have departed England, crossing the English Channel dating back as early as King Henry VIII times.
Today, Portsmouth is a popular seaside town for the ferry crossing to France. For stellar harbour views and aerial shots head to the Emirates Spinnaker Tower. The 107-metre tower houses an observation level, a glass floor dubbed, SkyWalk, and the Clouds Café popular for high tea afternoons.
France
Once we reached Caen by ferry we dialed back the clock to World War 2 retracing some of the Canadian battlefields in Normandy and visited the significant Canadian landing sites at St Aubin-sur-Mer and Bernieres-sur-Mer.
Along Juno Beach we saw the weathered coastline of the infamous D-Day Landings. "La Maison des Canadiens," or Canada House is regarded by some as one of the most iconic buildings in Canadian military history. It was one of the first houses liberated by Canadian soldiers on D-Day, June 6, 1944 and was one of our stops. Some of us laid down a symbolic miniature wooden cross given by our tour operator as a memento on this journey of remembrance.
As we left Normandy we shifted gears, heading further back in history to explore the legacy of World War I. Trafalgar Canada has curated an itinerary to see several significant monuments which would have been otherwise impossible or difficult for the regular traveller to view. One day I calculated seven sites, a feat that I challenge any traveller to carry out on their own.
Belgium
Our two-night stay in Lille proved to be a good overnight hub in north eastern France. The city is near the France-Belgium border which made sightseeing possible to view the abundant World War I memorial sites in both countries.
By the green fields of Flanders in western Belgium lies the medieval town of Ypres (Ieper). One of the cities destroyed during WWI, the ancient town has been beautifully restored and remains a significant stop on any Canadian battlefields tour.
During the entire war period (1914-1918) Ypres was the scene of some of the most important battles in the First World War, later referred to as the Great War. The Ypres Salient is the area around Ypres in Belgium which was the scene of the war's heaviest battles.
The Last Post Ceremony
One of the most moving ceremonies I have ever witnessed takes place nightly at the Menin Gate in Ypres. The landmark is a sombre reminder on the tragedy of this Great War. Some 55,000 Allied soldiers who fought in the Ypres Salient have never been found. There is no resting place for them. No place to mourn until you reach this gate to see their names carved in stone.
It didn't take long for the crowd to grow by the Menin Gate. At one point the bulging size of six-row deep on either side as school children, families, and other groups lined beneath the historic gate in anticipation for the Last Post Ceremony.
This nightly memorial first began in 1928 as a daily act of remembrance to Ypres' missing Great War soldiers and for those who made the ultimate sacrifice. Volunteer buglers from the local fire brigade in Ypres start the moving ceremony. Traffic screeches to a halt. People bow their heads. Silence descends.
We silently give thanks in this commemorative ode to the fallen. Lest we forget.
www.trafalgar.com

Click on cover to view published article