Vancouver Island
Spring Spawn Spectacle
by Ryan Bowman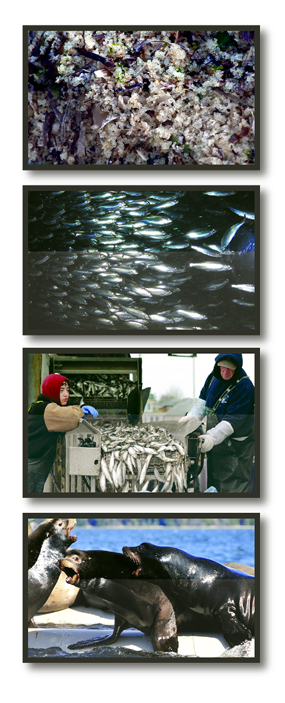 With their endless sand beaches and warm Pacific waters, the popular coastal communities of Parksville and Qualicum Beach have long been a summertime hotspot for locals and tourists alike. But thanks to an annual wildlife spectacle, the area's shores will be blooming with a different kind of visitor this March.
Every spring, between mid-March and early April, the coastline comes to life and plays host to the country's largest Pacific Herring spawn. In addition to tinting the area's waters a dazzling aquamarine blue – a result of the herring milt mingling with the tepid salt water – the spawn attracts an endless menagerie of marine life, from Brant Geese and surf scoters to seals and sea lions. 
"We have tens of thousands of migratory waterfowl that basically follow this pulse of productivity that starts down in California and moves northward as the water warms," says Brian Kingzett, Deep Bay Marine Field Station Manager. "I sort of liken it to the marine equivalent of the Japanese Cherry Blossom Festival, where every spring the bloom moves from southern Japan to northern Japan."
While its shallow waters, sheltered coves and abundance of eelgrass has long made the Parksville Qualicum Beach area a favoured breeding spot for the small silver fish on their annual migration north, there was a period from the 70s to the 90s when the stocks fell to critically low levels. 
But thanks to stricter fishing regulations and better environmental practices, Kingzett says herring numbers are on the rebound. And while the size of the stock can vary from year to year – depending on factors including water temperature and survival rates from the previous year – he hopes this year's numbers to exceed 2013's total of 93,000 tonnes. 
"That's small compared to some of the historic runs," he says. "We're talking millions of fish coming in to spawn."
In addition to providing a rare and authentic experience for locals and visitors alike, Kingzett says a healthy herring spawn is important to the ecosystem as a whole, as the eggs provide an important source of protein for salmon, birds, and other marine mammals.
"Herring are very important because they're what we call a feed fish," he says. "The health of the herring is really tied to the health of the entire food chain."
Known for its favourable climate and abundance of authentic outdoor activities, Vancouver Island is certainly used to its share of tourism – and the spawning season is no different. Over the years, the herring spawn has become a major component of the annual Brant Wildlife Festival, which celebrates the recent resurgence of the Brant geese population and draws nature enthusiasts from around the world.
After getting involved with the festival in 2013, Kingzett says the Deep Bay Marine Field Station will play a bigger role this year, providing the public with lectures as well as boat tours. 
"On a regional level, what we're trying to do here is illustrate these really large biological events that are happening in our waters," he says. "It's also a great opportunity to talk about conservation and the need to continue to promote the health of the marine environment here."
Kingzett, who looks forward to the spawning spectacle every spring – more as a nature lover than as a researcher – recommends anyone with an interest in nature visit Parksville Qualicum Beach in the coming weeks.
"For years, I've gone out to watch it from the shore, but last year was the first time I actually experienced it out in a boat," he says. "Either way, I think seeing something like this firsthand is definitely a privilege. It's a rare and impressive sight."
If You Go:·
www.visitparksvillequalicumbeach.com · www.viu.ca/deepbay  http://brantfestival.bc.ca/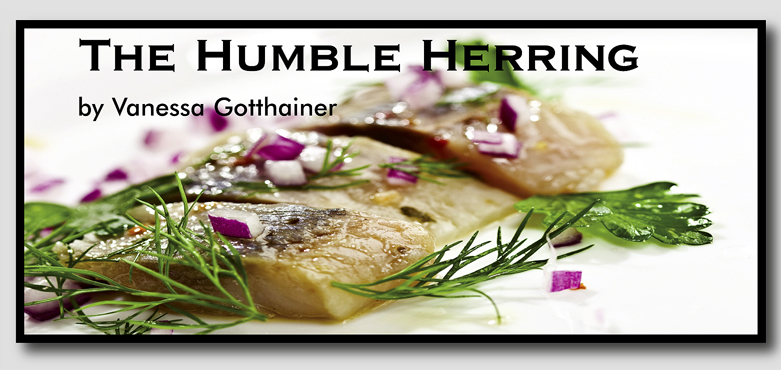 The Humble Herring
by Vanessa Gotthainer
Feeder fish no longer just a pickled side dish
 A natural phenomenon is about to happen along Parksville Qualicum Beach's 19 kilometre sandy shoreline – the annual Pacific Herring spawn from mid-March through mid-April. It is a true west coast spectacle and the signature event of the Brant Wildlife Festival (March 1 – April 21, 2014). As Canada's largest herring spawn, millions of silvery fish arrive at Parkville's shores, so rich and intense in numbers that the waters turn a glowing aquamarine blue.
It's a rare event to see the concentration and abundance of marine life at Parksville Qualicum Beach during the spawn. Sightings of California Sea Lions (Zalophus Californianus) and Stellar Sea Lions (Eumetopias Jubatu), Harbor Seals (Phoca Vitulina Richardsi), and Brant Geese (Branta Bernicla) are common, all feasting on the herring menagerie.
But the silvery fish is gaining attention from another species – humans.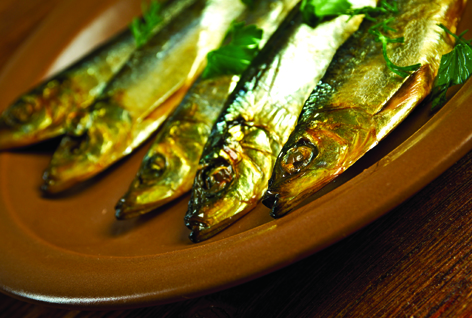 Historically, the First Nations feasted on the delicious fish, but herring as a delicacy is fairly new in the 21st Century. They were popular during the Gold Rush, and consumption peaked during World War I when they were canned. New immigrants fished them for subsistence until the 1950s, but after that the fish went largely ignored.
Today, herring is not just fish food nor another pickled side dish, it offers juicy filets, is easy to prepare and loaded with Omega-3. The unassuming herring is a great delicacy with all the gutsy flavours of fresh sardines that appeals to a discerning palate. The steaks work well with many fresh herbs, particularly basil. Herring can grow up to 40 cm (16in) in length, providing a substantial amount of flesh. It can be poached, fried or grilled, or pickled, soused, marinated, salted or smoked. 
Herring have a mild salty fish flavour and are oily in texture.
"Fresh herring tastes a bit like an anchovy or smelt, or trout with more texture," says Chef Debbie Shore of Vancouver Island University. "Fry them up in butter. Eat one half off the top then pull out the spine and other bones. Then eat up."
Pacific Herring are a type of forage fish, small schooling fish are really important components of the marine food chain feeding many other larger fish and marine mammals. 
"Many believe that we should be eating forage fish directly rather than converting them into other forms of animal protein," says Brian Kingzett, Manager Deep Bay Field Station, Vancouver Island University. "Rich in fatty acids these fish are highly nutritious and good for health and admired by many for their texture and taste."
"Globally, overfishing of forage fish can have devastating effects on marine food webs when not well regulated. In British Columbia, very conservative harvest levels for Pacific Herring are allowing this species to make a comeback after years of overfishing and stock collapse."
The humble herring – environmentally friendly, rich in Omega-3, inexpensive, delicious. Maybe worth consideration on your next seafood menu.