Bangkok
Thailand's Vibrant Capital
Published in the November, 2003 Issue of Canadian World Traveller
Photos: Courtesy of the Tourism Authority of Thailand www.tourismthailand.org
Thailand is often called the "land of smiles", and rightly so because you will see more smiling people here than anywhere else in the world. Thai people are friendly and tolerant, no more so than in its capital Bangkok. There is a wealth of things to do and see in Bangkok. The city is very urbanised but still manages to retain its oriental flavour. Street vendors abound, and the city has a much more vibrant feel than most western capitals.
Bangkok is divided into two parts by the Chao Phya River, with Bangkok proper on the east side and Thonburi on the west. Bangkok was once called the "Venice of the East", but many of the canals have disappeared to make way for more roads. Water transport, with a few exceptions, is a thing of the past.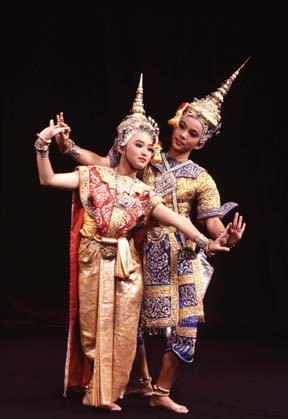 Location, Climate and Population
Bangkok is situated in Central Thailand. This South East Asian country is bounded by Myanmar (Burma) in the west, Laos in the north, Cambodia in the east, and Malaysia in the south. Its main coastline is the Gulf of Thailand.
Thailand's climate is tropical, high both in temperature and humidity, and dominated by monsoons. April and May are the hottest months of the year. The rainy season runs from June until the end of October. From November to the end of February the climate is much more pleasant with a cooling North East breeze and a reduction in the humidity level. This is also the main tourist season, and the best time to visit Thailand.
The country has a population of about 59 million, with some 6.7 million of these people living in the Bangkok area.
Approximately 75% of the citizenry are ethnic Thais, 14% are Chinese, and the remaining 11% are mostly Indian, Malay, Karen, Khmer, or Mon. The literacy rate is high at about 94%.
Language and Religion
The official language is Thai, but English is widely spoken in all major tourist locations. However, if you are travelling around Thailand it is a good idea to buy a phrase book.
About 95% of the Thai population are Buddhist, which is a religion based on the teachings of Buddha, "the enlightened one". Buddhism is ever present in Thai life from the myriad Buddha images to the saffron-robed monks and many wat (temples) at which local people worship. About 4% of the population, mainly living in the south of Thailand, are Muslim. The remaining 1% are Confucians, Taoists, Christians, and Hindus. Thai people are very tolerant of other faiths and treat all religions with respect.
History & Culture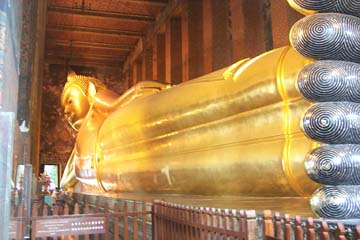 Archeological excavations indicate that there were people living in the Bangkok region for over 4000 years ago. By the 6th century AD, thriving agricultural communities were established. Buddhism was flourishing and probably entered the region around the 2nd or 3rd centuries BC, when it was introduced by Indian missionaries.
Throughout the centuries, Thailand has experienced its expansion into neighbouring states, the invasion of parts of the country by the Khmers and the Mons and later by the Burmese, the defeat and expulsion of the invaders, and the establishment and demise of several dynasties of Thai Kings.
The current dynasty of Chakri, beginning with King Rama I, developed trade with China, established diplomatic relations with European nations while avoiding colonisation, led the modernisation of the Thai legal and administrative systems, introduced compulsory universal education, and oversaw the construction of Thailand's extensive national railway network.
Monarchy & Government
Thailand is a constitutional monarchy. His Majesty King Bhumipol Adujdej (Rama IX) is currently on the throne and commands great respect. The democratic government is led by Prime Minister Thaksin Shinawarta. Many changes are expected over the next few years now that a new constitution has been introduced.
Getting There
Bangkok is a hub for many destinations in South-East Asia and, as a result, there are a large number of airlines flying directly to Bangkok from Europe, USA, Australia and Asia. Thai Airways operates flights from Montreal to Bangkok via London or Frankfurt. If you plan to travel around the Christmas and New Year period, book well in advance since this can be a busy time of year.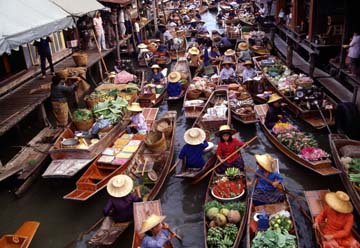 Getting Around
Bangkok can be a confusing city to navigate so get yourself a good map, preferably one marked with bus routes and the new "Sky Train" mass transit railway. By April 2004 Bangkok will have a brand new underground railway system.
Air-conditioned buses and taxis abound. Three-wheeled taxis called Tuk Tuks, are a familiar site on Bangkok streets. The ride can be a little hair raising but is generally safe. Be prepared to bargain for the fare.
Car rental companies offer modern, well-maintained vehicles with full insurance cover. Motorcycles are also available for rent, but may only include third party insurance. Driving in Thailand is on the left. You need an International Driving Permit.
What to Wear
For the Western visitor there is no such thing as "cool". Just cooler than "hot" and "drier than humid", so light cotton clothing is the order of the day. Don't bring too much clothing with you, as almost everything can be purchased locally, at bargain prices. Do remember that the tropical sun can be quite fierce so a hat is useful, and don't forget to use a good sun screen.
Where to Stay
Hotels and guest houses are abundant, varied, and reasonably priced in Bangkok. You can choose a simple room with a fan, or a luxurious suite at an international hotel chain, and just about anything in between. You should always be able to find clean, comfortable accommodation, but if you are travelling to Thailand during the Christmas and New Year period it pays to book in advance.
Shopping
Shopping is one of Bangkok's major attractions. Favourite purchases include Thai silk and cottons, modern and traditional gold jewellry featuring precious gemstones, semi-precious gemstones, silverware, nielloware, pewterware, ceramics, celadon, wood carvings, paintings, and clothing. Bangkok is one of the most competitively priced cities in Asia. Friendly bargaining in most stores and markets is customary.
Department stores open around 10 am and do not close until 9 pm. Markets vary in their operating hours, with produce markets opening before dawn, more general markets open during daylight hours and Night Markets where you can sit and eat in the open before browsing in the stalls.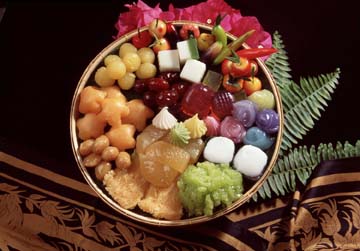 Thai Cuisine
A proper Thai meal should consist of a soup, a curry dish with condiments, a dip with accompanying fish and vegetables. A spiced salad may replace the curry dish. The soup can also be spicy, but the curry should be replaced by non-spiced items. There must be a harmony of tastes and textures within individual dishes and the entire meal.
Around Bangkok
Central Thailand has an abundance of attractions for the visitor who wants a break from the busy traffic and crowded streets of the city itself. Ayuthaya, located just 86 Km north of Bangkok, offers an insight into Thailand of the past with many fine temples and two museums.
The Eastern Seaboard in Chonburi province has coral islands, beautiful beaches, excellent sports facilities, and a wealth of tourist attractions, most of which are located at Pattaya or Rayong. Further along the coast are the towns of Chantaburi and Trat with secluded beaches with white sands and clear waters. For the more adventuresome it is possible to take a side trip into Cambodia.
To the west of Bangkok is Kanchanaburi the site of the infamous Death Railway of WW II. The Erawan National Park is within easy reach of Kanchanaburi, or the more adventurous may prefer a rafting trip on the nearby Mae Khlong River. If sun and sand is on your itinerary then the beach resorts of Cha Am and Hua Hin are located to the south-west of Bangkok.
Nightlife
Bangkok has a reputation for wild nightlife. In fact, 'sanook' or 'fun' would be a better description. The city's nightlife is relaxed, safe and very enjoyable. You don't need to dress up, and you won't break the bank. The city's nightlife goes way beyond its Vietnam-days naughty image and it really does go on around the clock
Sporting Activities
Thailand is fast becoming one of the best venues for golf in South-East Asia with many courses designed by top international golfers. There are also excellent diving sites around Thailand. Pattaya and Phuket have dive schools with qualified instructors.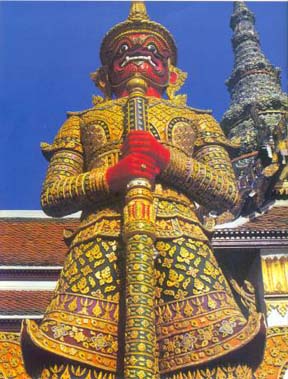 Visas & Vaccination
Visitors from most countries who arrive in Thailand without a visa will be granted a 30-day stay if they have proof of onward or return ticket and adequate funds. At the current time there is no compulsory immunisation required for Thailand. For details, contact the Thai embassy.
Dos and Don'ts
Public displays of affection between men and women are frowned upon. Thais consider the head as the highest part of the body, both literally and figuratively. As a result they don't approve of touching anyone on the head, even as a friendly gesture. It is considered rude to point the sole of your foot at another person, so try to avoid doing so when sitting opposite someone.
Buddhist monks are forbidden to touch or be touched by a woman, or to accept anything from the hand of one. If a woman wants to give anything to a monk, the monk will spread out a piece of saffron robe, and the woman will lay down the gift on the material.
It is alright to wear shoes whilst walking around the grounds of a Buddhist temple, but not inside the chapel where the Buddha image is kept. Women should ensure that their legs and shoulders are covered before entering a Buddhist temple.
Currency & Exchange
The local Currency is the Thailand Baht. Banks adjust their exchange rates on a daily basis, in line with international money markets, and usually offer the best rates.
For More Info:
Tourism Authority of Thailand (New York)
61 Broadway, Suite 2805
New York, N.Y.10222
Tel.: (212) 231-0433
Toll-Free: 1-800-Thailand
E-mail: info@tatny.com
www.tourismthailand.org
Royal Thai Embassy
180 Island Park Drive
Ottawa, ON K1Y OA2
Tel.: (613) 722-4444
E-mail: thaiott@magma.ca
www.magma.ca/~thaiott/mainpage.htm
Thai Airways International
The Atrium on Bay
20 Dundas St. West, Suite 1133
Toronto, ON M5G 2C2
Tel.: (416) 971-5181
E-mail: See Website
www.thaiair.com