Colombia
Get to Know Cartagena
Adapted from Moon Colombia by Andrew Dier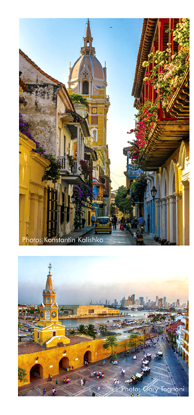 Cartagena is a major port of call for cruise ships from across the globe, bringing around 350,000 visitors each year. Entry into the Bahía de Cartagena is a dramatic one, as the ships pass through ruins of old Spanish forts. The city is a living museum, and no matter how you get here, the best way to get to know Cartagena is by walking its narrow streets, getting lost, and finding your way again. Be sure to bring some sun protection and water—the sticky midday heat can be sizzling.
The crown jewel of Colombian tourism, Cartagena is quite safe to visit. Be mindful as you would in any new city. It's easy to be distracted while strolling the streets, so keep your valuables close to your body. For more info on travel safety and ways to avoid the occasional dishonest vendor, refer to my book Moon Colombia.
The city's tourist focus is a relatively small area: The Old City, the original Spanish settlement that was once completely enclosed by massive stone walls. The Old City comprises two main districts: the Centro, with its magnificent walls, narrow streets, colorful bougainvillea dangling from balconies, activity-packed plazas, and myriad churches and palaces; and Getsemaní, an old colonial neighborhood that was also enclosed by its own wall and fortifications. Today it is the hot new address for lodging, restaurant, and nightlife options.
Centro
The Centro (from centro histórico; also called the Old City or the Walled City) is the historic core of Cartagena; it's surrounded by the most impressive sections of the city walls. This is where most of Cartagena's sights are located, including its most famous churches and museums. Today, the Centro is where many upscale hotels, restaurants, shops, and nightclubs are found.
The northeastern half of the Centro is known as San Diego. Here the architecture is more modest. There are a few attractions in San Diego, notably the Iglesia de Santo Toribio de Mogrovejo and Las Bóvedas, a shopping arcade located in a section of the walls. The charm of San Diego lies in its quiet streets and pleasant bars and restaurants, particularly around the Plaza de San Diego. The Centro is organized in a general grid with numerous plazas. Even many residents don't know or use official street names, as they change from block to block. Orient yourself by identifying the main squares—Torre de los Coches, Plaza de la Aduana, Plaza de Santo Domingo, Parque de Bolívar, and Plaza Fernández de Madrid—and making your way from one to the other. Walking these charming streets (and even getting lost on occasion) is a pleasure.
Getsemaní
The neighborhood of Getsemaní lies to the southeast of the Centro. The architecture here is much more modest than in the Centro. The epicenter of the neighborhood today is the Plaza de la Trinidad, in front of Iglesia de la Santísima Trinidad, where backpackers, street performers, and longtime residents congregate in the evenings.
Bocagrande
South of the Old City is flashy Bocagrande, a skinny peninsula with many high-rise hotels, malls, and residential buildings. The main attractions here are the beaches, which get packed on weekends with Colombian families, vendors, and masseuses. These gray-sand beaches are just a 10-minute cab ride from the Old City and offer water that's good for swimming and splashing around—but don't expect the turquoise colors often associated with the Caribbean. For postcard-perfect white-sand beaches and palm trees, book a day tour or multiday excursion to Barú or the Islas del Rosario.
Sightseeing Tours of Cartagena
Bursting with insider tips on the city and its environs, This Is Cartagena (www.ticartagena.com) offers unconventional tours of the city. In addition to a top-notch walking tour of the Old City, the company also offers a tour devoted to the art scene, a bizarre-foods tour, a day of luxurious island-hopping on a yacht, and a drinking tour.
A fund-raising project for the nonprofit FEM (www.femcolombia.org), Cartagena Insider (www.insider.com.co) takes visitors beyond the boutique hotels and fancy restaurants of the Old City to experience the "real" Cartagena and its people. Tour options include a night of salsa, a day trip to La Boquilla fishing community, a walking tour of the Mercado de Bazurto, and a tour focusing on the Champeta music culture unique to Cartagena. Proceeds go directly to the nonprofit's social programs in and around the city. Tours can also be arranged to communities such as Tuchín, Córdoba, Leticia (a town on Barú), Palmerito, and San Bacile de Palenque.
Side note: If you take an organized walking tour, you will likely be hounded by hawkers selling Colombian souvenirs. Saying "No, gracias," may or may not help ward off these nuisances. Don't allow them to get under your skin.
With an extensive array of interesting tours, Alternative Travel Cartagena (www.alternativetravelcartagena.com) aims to take visitors to lesser-known areas in and around Cartagena for a unique experience. They are based in the fishing village of La Boquilla and offer horseback rides on the beach, cooking classes, and canoe rides through mangroves.
Photographer Joaquin Saramiento offers various tours of the city with Fototour (www.cartagenaconnections.com), during which amateur photographers can hone their skills, learn about Cartagena's history and culture, and explore the city.
Adapted from Moon Colombia by Andrew Dier. Copyright © 2017. Available from Avalon Travel, an imprint of Perseus Books, LLC, a subsidiary of Hachette Book Group, Inc.
www.moon.com
Click on cover to view published article