La Forfaiterie
Leisure Getaways
Published in the November, 2003 Issue of Canadian World Traveller
Photos of shopping centre kiosk courtesy of La Forfaiterie Boutique www.laforfaiterie.com
La Forfaiterie Boutique is an innovative and unique concept in the ever-growing travel and leisure sector. It offers the public over 750 getaway packages presented in attractive CD gift boxes, available for reviewing and purchase at its conveniently-located outlets.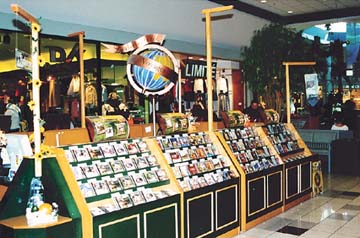 The Packages
The packages, offering a selection from over 200 establishments located across Quebec and Ontario, are ideal for thoughtful gift-giving or as a special getaway treat.
They cover everything from fine dining establishments to choice accommodations; from seasonal sporting activities to cultural events; from romantic escape cruises to health and beauty spas.
The surprisingly wide price range and diversity of the packages make it easy to find something that matches every budget and taste. An added bonus is that each establishment is accessed by La Forfaiterie's management team before being added to its roster.
La Forfaiterie includes a CD-Rom of its multimedia catalogue in each of its gift packages. The professionally-produced visual and audio descriptions of each package renders the intangible gift certificate more tangible and attractive and it becomes a lasting and treasured memento of the gift, long after it has been enjoyed by the recipient.
An Idea is Born
It all began in 1995, when André Sabourin (co-owner of La Forfaiterie along with Dominique Tremblay) wanted to purchase a round of golf as a Christmas present for his father. Unfortunately, no golf courses were open in December to allow him to purchase his gift certificate for the following season.
A few months later, the idea of a boutique concept for leisure packages came to mind! The first La Forfaiterie boutique opened in Place Laurier in Quebec City, on November 24th, 1997. The rest, as they say, is history.
The Boutiques
There are now eight boutiques operating successfully in various key shopping centres across the province, the latest in the Ottawa area, under the name The Getaway Boutique.
Outlets in Montreal include Fairview Pointe-Claire and Galeries d'Anjou. The boutique's website,www.laforfaiterie.com, also offers its visitors all-inclusive packages for resorts and hotels all over the world.
For More Info:
La Forfaiterie/The Getaway Boutique
Fairview Pointe-Claire Shopping Centre
Montreal, QC
Tel.: (514) 694-3939
La Forfaiterie/The Getaway Boutique
Galeries d'Anjou Shopping Centre
Montreal, QC
Tel.: (514) 355-9990
For these and other locations in Quebec & Ontario:
E-mail: commentaires@laforfaiterie.com
www.laforfaiterie.com
www.laforfaiterie.com/client/en/accueil/accueil.asp