Grand Bahamas
Savouring the Grand Bahamas
by Jennifer Merrick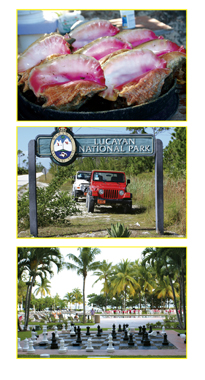 "You can hear the ocean," my Grandmother said as she held the beautiful conch shell up to my ear. My amazement at the waves ringing in my ears is one of my earliest childhood memories. I had never seen the ocean, and to me, that large white shell with its smooth pink inside, was the ocean.
Never once did I think about the creature that might have lived inside it until I met Purple at Taino Beach on Grand Bahama Island.
Over 700 islands make up the Bahamas, and the Grand Bahama Island, also known as Freeport, is the second most visited locale in the country after Nassau, the nation's capital. The island is 96 miles long from east to west, and is located only 55 miles from Florida's coast, making it easily accessible to tourists who come for its relaxed vibe, uncrowded white-sand beaches, friendly people (population 50,000), nature activities, and straight-from the-ocean seafood, especially the Queen Conch.
This brings us back to Purple (yes, that's his name) who's holding up one of these magnificent shells. My first surprise is that conch is pronounced with a 'k' sound at the end, not a 'ch', rhyming with honk. And the second is that the shells are carelessly discarded in a pile, and nobody is the least bit interested in how pretty they look. Here conch is first and foremost, food, and has been a staple of the Bahamian diet since it was inhabited by the Lucayans.
Expertly, Purple starts to pound and poke the shell, while bantering with the crowd that has gathered around his stall. Seconds later, he pulls out a palm-sized rubbery-like mass, which he presents to the gathering like a grand prize. We oooh and ahhh appreciatively. He proceeds to tell his audience far more than we ever expected to know about the mollusk, including its reproductive biology and its supposed aphrodisiac properties.
"This part here is the conch pistol," he explains. "And if you eat that along with the salad, then… BAM!"
Then the preparation begins, and Purple's hands fly as he dices the conch, adding chopped peppers, onion and tomatoes, squeezing lemon and tasting the 'conch-cotion' before adding a little something else.
The end result, sometimes referred to as Conch Sushi, is as delicious as it is fresh. Thanks to Purple I can now appreciate the inside of a conch just as much as the outside.
Conch Cooking Class
Fresh conch salad is just one of the ways this sea snail is prepared and we get a chance to learn more methods first–hand at a cooking class run by Yolanda also on Taino Beach. On the menu are island classics, including rice and peas, fried conch fritters and cracked conch. Though this may sound labour intensive, with Yolanda's guidance and the Gulley Wash they serve while we 'work', it's all pleasure. In case you're curious, Gulley Wash is a Bahamian drink made with gin, coconut water, and condensed milk. It's now my favourite Bahamian cocktail beating out the Bahama Mama and Goombay Smash.
But back to cooking, where Yolanda is walking us through each step.
"I can help just about anybody," says Yolanda. "Even people who don't know how to boil water." In her capable hands we add, stir, marinate, coat, and deep-fry cuisine worthy of any Bahamian household. And while we do, Yolanda shares tidbits of her childhood, telling us how her grandmother would prepare coconuts and how much work she did.
"Grandma did everything in a day," she reminisces.
Finally, after being tortured by the smell of all these dishes, we eat. It's good food if I do say so myself. Yolanda smiles at her 'graduated' class.
"I like the way guests leave here," she says. "Accomplished."
Let the Flavours Align
One of the nuggets of food wisdom Yolanda doles out is that, "all food needs a foundation, but afterwards you can play with it." You'd be hard pressed to find a more modern way to play with food than at the Flying Fish Restaurant with Chef Tim Tibbitts.
"When we create dishes here, I break them down to their molecular structure," says Tibbitts. Though it may sound futuristic, the result is classic island dishes with a scintillating, modern twist. Take the grilled calamari. The perfectly cooked seafood is exactly what you expect from a ocean-side fine dining restaurant, but the butter is in powder form.
"When you put it in your mouth it will revert back to its original liquid state," says Tibitts. And amazingly, it does. The olives on the plate look like olives, but inside they're pure liquid. Both the powdered butter and 'sneaky olives' complement the calamari perfectly. And this is just one course from the tasting menu which delights both the palate and the imagination.
Culinary Fusion
For those who want to experience all of the Grand Bahamas Island's cuisine under one roof, time your visit to coincide with the Culinary Food Expo. 2014 is the second year of this new annual festival, and judging by its success, it'll be running for a long time. Locals and tourists alike (it's easy to spot the locals because they are much better dressed) sip and sample tastes from food vendors which include restaurant, hotels, caterers, bakeries, chocolatiers, breweries and even a rum distillery. Not being able to try everything is our only disappointment. But there's always next year when the event will be held at the Grand Lucayan.
Working up an appetite
The Nature Jeep Tour is not your typical tour. To start with I'm the one in the driver's seat of this classic open jeep, feeling excited, but also a little nervous about driving on the left side of the road. Luckily, we're following Tony Noewbold who's leading the convoy, and we're in constant communication via radio – 'over and out!'.
Traffic is coming to the right," he advises at every turn. At the roundabout, a traffic circle not very common in Canada, he tells us, "Keep going, whatever you do, don't stop." But for the most part it's easy driving, and we enjoy the running commentary about the island.
"Now we're going into the ocean," Noewbold announces as we turn into a little rougher ground, which the jeep easily handles. The ocean? Is the jeep amphibious? It's not, but it's easy to imagine we are as we drive down a narrow peninsula not much wider than the jeep and gaze at the ocean surrounding us on three sides.
"Everybody likes this part," says Noewbold. Like seems somewhat of an understatement.
The next stop, Gold Rock Beach, was the movie set for Pirates of the Caribbean, and if it's good enough for Johnny Depp, it's good enough for us. The white sand is endless, and we wade in the turquoise water. All of us would be content to spend the rest of the afternoon in this secluded paradise, but the tour must go on and the jeeps are waiting.
Our final stop is Lucayan National Park, where we find one of world's longest underwater cave systems in the world, with over six miles of charted caves, caverns and tunnels charted. Ben's cave is as accessible as it is impressive and we simply have to climb down the stairs to be greeted by this natural phenomena. Though it is looks empty of wildlife, it's home to migratory bats and a rare type of crustacean called the blind Remipedia. The next cave we explore is the Burial Mound Cave.
"We're in burial grounds, so if you see something in the corner of your eye it just may be a spirit," says Noewbold. We don't see any other worldly apparitions, but there's enough out-of-this-world sights for anyone on this fascinating tour.
Resort Pleasures
We're staying at the Grand Lucayan, a 519-room resort about a ten-minute drive from the Freeport Airport. This ocean-front property has a 7.5-acre white sand beach, which means plenty of eye-candy when we're relaxing on the balcony. And, of course, the water is too inviting not to go in. The sand is warm, even if water is bit chilly, but being Canadian I don't complain. After all, it's 27 degrees here and minus 1 back home. (In summer: May through September temperatures hover about 30 ºC, and Winter: October through April they average between 20-23 ºC.) What I most appreciate about the beach besides its obvious beauty is that it's not crowded, and nobody hassles you, making it a very relaxing experience. Muscle knots I didn't even know I had begin to loosen.
The resort also has an 18-hole golf course, casino, spa, a large infinity pool and outdoor bar area, and a life-size outdoor chess board. The restaurants range from upscale dining at Churchills and Asian- themed China Beach to island comfort food at Iries. Conch anyone?
For more information:
www.grandlucayan.com
www.grandbahamavacations.com
www.bahamas.com
www.junkanoobeachfreeport.com
www.grandbahamanaturetours.com
www.flyingfishbahamas.com