Swiss Spas
Replenish Your Body and Soul
Published in the May-June, 2004 Issue of Canadian World Traveller
Photos Courtesy of Switzerland Tourism/Suisse Tourisme www.MySwitzerland.com
Bid farewell to the daily routine for a while. Feel how tension makes way for comforting relaxation. Head-to-toe rejuvenation. When was the last time you experienced that? Whether wellness, spa or health resort – Switzerland is brimming with possibilities. Recharge your batteries, and find yourself. The scenery is varied, ranging from majestic mountains that crown the horizon to delightful, wide open spaces and picturesque lakes and rivers.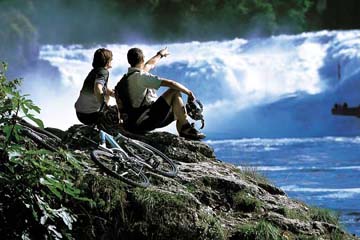 Well-being in the Swiss Alps
Allow yourself to be pampered in the Alps. With its crystal-clear air and unspoiled countryside, the Alpine ambience really does offer the ideal environment for you to allow yourself to be pampered, to stay (or become) fit and healthy, and to refresh your body and soul far away from the daily grind.
Alpine Wellness
More often than not, we spare neither cost nor effort travelling far and wide in search of new concepts and solutions that are intended to turn us into outwardly healthier and better persons. Yet more and more people are recognising the limitations of such ambitions, recalling the fundamental truth that there is undreamed of potential waiting to be discovered just around the corner. The Alps, for instance.
The birthplace of Alpine Wellness, which represents a new milestone in the history of wellness tourism and is well on the way to becoming a pioneering trend, lies at the heart of this paradisiacal Alpine landscape, within grasp of the power of the mountains. Alpine Wellness signifies a different kind of holiday, for it places the emphasis on your individual needs. Regardless of whether you would rather spend your time in the open air, letting your soul fly free in gentle harmony with nature, or simply wish to let yourself be pampered – the offerings of Alpine Wellness are as multifarious as the Alpine scenery itself.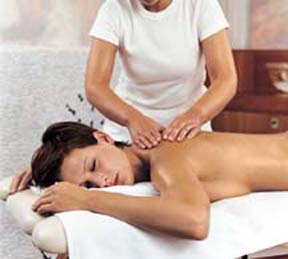 Three Themes
With its three themes – Alpine Pampering, Alpine Fitness and Alpine Health. Alpine Wellness offers precisely the right product for everyone, be it a hiking holiday, a mineral-oil massage or an Alpine picnic. Alpine Pampering satisfies the classical wellness demand for relaxation and rejuvenation.
Saunas affording views of the Alps, whey baths, and sunrise walks are just some examples of the diversity on offer. In contrast, Alpine Fitness stands for supervised activities in the open air, ranging from mountain-biking and cycling to hiking, snowshoeing, cross-country skiing and unforgettable mountain ascents.
Wellness Resort Regions
Places and regions that will enchant you in a paradise of wellness. More and more people are finding that wellness is all the holiday they need. The resorts of Adelboden, Appenzellerland, Engadine/ Scuol and Valais/Leukerbad all have a stated wellness philosophy and everything you could ever need for a rejuvenating time-out. Enjoy, relax and be happy.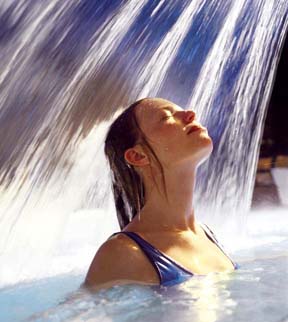 Adelboden
The alpenglow bathes the world in a different light. At Adelboden, the emphasis is on the simple and the natural. A place full of energy. And full of sporting challenges in step with the rhythm of nature. Unique feel-good factors.
Unique Alpine feel-good factors leave their mark on the wellness destination of Adelboden. These include the medicinally optimum altitude of 1,350 m above sea level, the mild, invigorating climate, mountain freshness, mist-free autumns and winters, pure and healthy spring water, the Bernese Oberland way of life and the gentle scenery set against a glacier-white mountain backdrop.
Embedded within it, is the excellent wellness hotel, the four-star Parkhotel Bellevue & Spa, with its 1,300 m2 "aqua vitalis" wellness oasis. A rich contrast of Alpine culture and scenery enriched by personal encounters in the chalet village.
Surrounded by towering rock faces, you feel very small by the thunderous Engstligen waterfall. The air is so saturated with water that the transition from water to air literally is a fluid one. The power released by the waterfall makes this place a veritable energy bath. Benches, meadow areas and boulders beckon you to stay awhile. And the seemingly enchanted forest, with its firs and secluded spots among the boulders, appears to be teeming with invisible life.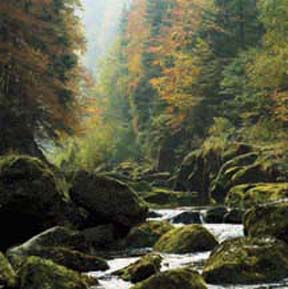 Appenzellerland
Natural elixirs: water, air and milk in abundance. Everything is in flux. Visitors from all over the world have been bathing here for over a century. Springs have existed here for as long as anyone can remember. And a fresh wind blows here every day. Appenzellerland was and is a fountain of youth for body and mind.
Appenzellerland is one of the birthplaces of well-being. Long before wellness became fashionable, visitors from all over the world came here to recuperate by thunderous waterfalls, in moor baths, and at lofty heights.
The tourism officials in the Swissest of all the Swiss cantons were trendsetters. Whey cures, for instance, were already a hit in the 19th and 20th centuries and popular society events. What is often considered a useless by-product of cheese-making is now undergoing a remarkable renaissance.
To this day you will find original sources of rejuvenation in Appenzellerland, although time hasn't stood still here either. And so modern-day visitors to its spas experience a rich contrast of oriental and Appenzell culture; traditional moor baths and whey or Kneipp cures along with Ayurveda, Tai Chi and Qi Gong beauty weeks.
Probably the most natural "remedy", though, is the pure fresh Appenzell air.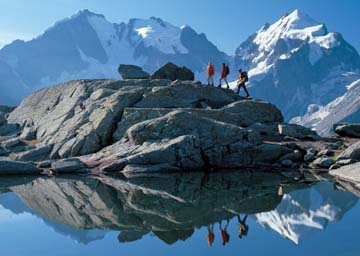 Engadine/Scuol
A fascinating aspect of the Engadine valley greets you with a smile. Mineral springs as wells of health, a mild sunny climate and beautiful mountain scenery, backed by an attractive tourism infrastructure. In Engadine/Scuol you'll find the ideal environment for the total rejuvenation of body, mind and soul.
Wherever you come into contact with water at the Bogn Engiadina spa, it will almost always be mineral spring water. Because the village is surrounded by more than 20 springs, of which nine have been developed. A splendid walk takes you past the various village wells from which the prized mineral water flows.
The bathing amenities offer relaxation and rejuvenation and include six indoor and outdoor pools, a steam bath, a brine pool, solariums and a lounger room. The sauna complex features indoor and outdoor saunas for people interested in a "good sweat".
Bogn Engiadina has an excellent medical reputation. The acclaimed therapy centre offers classical medical rehabilitation applications. Complementary and alternative treatments complete the therapeutic offering. Water-based physiotherapy, various massages, baths and drinking cures form the focus. At the wellness centre the emphasis is on health on the basis of a holistic health concept. The combination of the components water, rejuvenation, exercise, nutrition and Alpine climate forms an ideal synthesis of beneficial health promotion and prevention.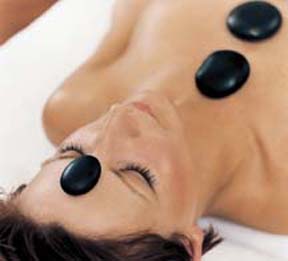 Valais/Leukerbad
Whether Valaisan water takes the form of cotton-wool snowflakes, eternal glacier ice or bubbling thermal springs, it is and remains one of the foundations of our holiday treasure trove.
The Valaisan thermal spa resorts are veritable oases of regeneration that soon make us forget the stresses and strains of our ever more hectic lives.
Even the Romans understood the power of the healing waters from deep within the mountains, long before the era of wellness and beauty. Because people were unable to provide a coherent explanation for the manifold effects of the thermal water, it was long said to have mystical powers.
Today, thanks to progress, we can deliver scientific proof of the wide-ranging effectiveness of thermal spring water. Yet it remains mysterious and unfathomable. Do you sometimes catch yourself yearning to discover all this? To drop out for a few days, slow down, and take a few deep breaths? To simply lie back in the soothingly warm thermal water and cast your gaze over the formidable mountain scenery against the backdrop of the steel-blue Valaisan sky?
Leukerbad is now the biggest thermal spa and ''wellness'' resort in Switzerland. Here, wellness is not simply a new-age fashion trend. Besides the thermal spring water, more than 130 additional wellness applications are waiting to be discovered.
After a walk through the imposing mountains around Leukerbad, a game of golf or an active day of winter sport, can there be anything more relaxing than a comforting thermal bath in the open air?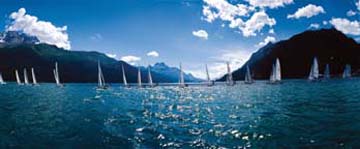 Active Deceleration
Wellness and exercise go hand in hand. The appealing contrast between activities in the fresh air and the relaxed enjoyment of the wellness offering is the most recuperative thing the active holiday destination of Switzerland, with its mountains and valleys, has to offer.
You can take advantage of dreamlike hike trails, cycle routes, skating and bike tours along picturesque lakes and rivers. In between: enjoy days in unlimited well-being.
Wellness Hotels
Wellness is a genuine term of our time. It has to do with well-being, with the harmony of body, mind and soul. But wellness is not strictly defined and can emanate from many sources – ranging from a healthy diet to contemplation and physical activity. Wellness therefore means something slightly different to all of us. Individual well-being, in other words.
However you define wellness, one thing is certain: uncompromising quality in all services is absolutely essential. Swiss wellness providers must therefore satisfy stringent, detailed requirements that are subject to review by the relevant bodies. All of the wellness hotels, resorts and spas listed at www.MySwitzerland.com have been inspected and approved by the Swiss Hotel Association (SHV), Swiss Health Resorts (VSK) or Swiss Spas (VSH).
For More Info:
Switzerland Tourism/Suisse Tourisme
926 The East Mall,
Toronto ON M9B 6K1
Toll-Free: 1-800-794-7795
E-mail: info@switzerland.com
www.MySwitzerland.com
Embassy of Switzerland
5 Marlborough Avenue
Ottawa, ON K1N 8E6
Tel.: 613-235-1837
Fax: 613-563 1394
Email: vertretung@ott.rep.admin.ch
www.eda.admin.ch/canada
Swiss International Air Lines
1555, rue Peel, Bureau 800
Montréal, QC H3A 3L8
Tel.: (514) 954-5600
Toll-Free: 1-877-359-7947
Fax: (514) 954-5619
E-mail: See Website
www.swiss.com