Zimbabwe
Land of Many Wonders
Published in the Winter 2006-07 Issue of Canadian World Traveller
Text & Photos by Michael Morcos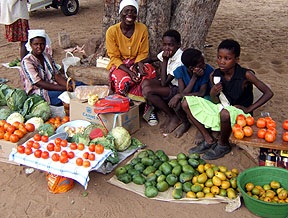 Psst! Are you looking for an adventure in Africa? I mean Sub-Sahara Africa. A country safe for travellers, with friendly, smiling people and a climate that would delight any northern soul? A place with breathtaking landscapes and incredible historical monuments? A land teaming with wildlife, including Africa's Big Five, and boasting one of the World's Seven Natural Wonders? Well, Zimbabwe is just that country!
At first, I wasn't sure of what to expect. Unduly influenced by others I had spoken with before my departure, I had some misgivings about taking this trip. However, on this my first foray into Southern Africa, Zimbabwe turned out to be a truly amazing experience.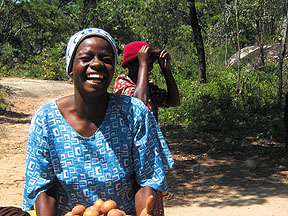 A Nighttime Flight
Our touring party of ten Canadians from across the country met in London. There, we boarded an Air Zimbabwe plane for our southbound trip across the African continent. The ten-hour nighttime flight had a carnival feeling, much like the school trips I took many years ago.
It turned out to be the most animated flight I have ever taken. The plane was filled with excited Zimbabweans either returning after a trip to the UK or ex-pats going home early for the Christmas holiday season. It wasn't until well past the end of our in-flight meal that any of us got any sleep at all!
Harare Arrival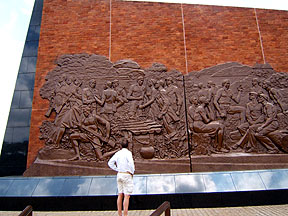 Our seven-day, six-city sojourn started and ended in Zimbabwe's capital city, Harare. To my amazement, this bustling capital had the same infrastructure as most modern cities. I mostly found it clean and well organized, while still having a distinctive third-world feeling.
Our five-star hotel The Meikles was centrally located. It was built and decorated in grand Victorian style and gave me a taste of the country's British colonial past. A quick nap helped combat some of my lingering jet lag.
In Harare, we visited the National Heroes Acre Shrine, where many of Zimbabwe's heroes are buried. The monument is quite imposing and the site includes viewing stands for the annual commemoration of the country's bloody struggle for independence, which it attained from Britain in 1980.
I was struck by the contrast in the city's housing. Some affluent areas consisted of castle-like homes while others had innovative government housing projects where people were given brand new modest homes. As small as these houses were by Canadian standards, it was a heart-warming to see the residents' pride of ownership, as evidenced by the effort they made in keeping them in top condition.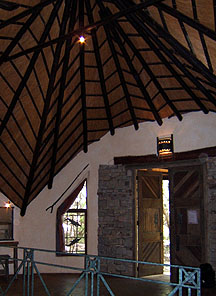 A Touch of the Wild
We left Harare the next day to start our whirlwind tour of Zimbabwe. Our first stop was the town of Masvingo. Along the way, I witnessed something that apparently is very common in Africa. It was my first sighting of wild animals, which was nothing less than a family of baboons crossing the road, baboons being as common here as squirrels are at home.
We arrived at the Lodge of the Ancient City, which is one of the "Touch the Wild" lodges that are found in different parts of Zimbabwe. They are all based on the "Adventure in Africa" theme.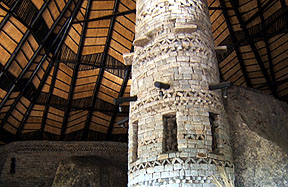 I was amazed by the architecture of the Lodge's main buildings and the separate individual huts assigned to us. The huts were definitely African in style, with their thatched grass roofs and African ceremonial masks and spears. I would soon learn that the style of the Lodge was adapted from the buildings located at the site of next visit: The Great Zimbabwe.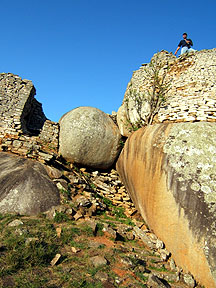 The Great Zimbabwe
This is the site where one discovers the origins of the country's present-day name. In colonial times, it was called Rhodesia. On its independence, it was renamed Zimbabwe, which in the local Shona language means "houses of stone". And that is exactly what we saw.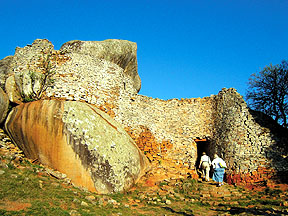 The whole complex that was once inhabited by some 2,500 people is located on top of a hill. It was constructed from tens of thousands individual grey stones. The stones, which were also used as steps, were layered to make walls on both the flat surfaces of the hill as well as on top of the site's many large indigenous boulders and rocks.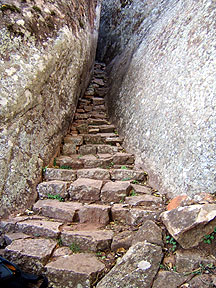 We were lucky enough to share our visit not only with the local monkeys, but yes, with a baboon! Unfortunately, our time was short, but before leaving, we witnessed an amazing fiery sunset over the African landscape. On the way down I couldn't help but think, "This unique historical monument is one of the world's best kept secrets."
That evening turned out to be yet another new experience. At dusk, it seemed that every jungle creature, including the frogs, the insects and (of course) the baboons, began the haunting song of the African night. Luckily, the lodge compound was fenced off from the wilderness.
The following morning we drove around the beautiful lake area to see caveman drawings. They were very well preserved, considering the hundreds of years of exposure.
We were now on our way to the City of Gweru. Since our vans were not air-conditioned, the 35C hot air flowed through the open windows. It was still a very enjoyable ride, as we surveyed the parched countryside and the few local people who were walking along the hot shimmering roadside.
A Visit to Antelope Park
The three-hour drive brought us to Antelope Park, a misleading name since its main attraction was its 42 lions that were destined for the repopulation of game parks across Africa.
First things first, we had lunch. I ate antelope meat, hence the name of the Park. It tasted like dry beef. Next we took an elephant ride around the large gated compound of the park. It was an uncomfortable ride that had me spread-eagled and bouncing around from left to right, except when we went up and down hills. That's when I went bouncing left and right and forwards and backwards. Following the elephant ride, we watched the huge animals enjoying one of their greatest daily events, a swim in the lake. It was a spectacular sight!
It was now time to visit the lions. We started with the cubs. We petted the three sibling cubs and had turns taking pictures with them. I had a chance to lift one up in my arms. They were only three-months-old but each weighed more than my dog Brandy, an Irish setter. Nevertheless, I wanted to take one home and wondered what Brandy would think.
That evening, we took a ride in an old-fashioned wagon pulled by mules. We went to the far end of the Park to see the big cats. This time we did not pet them and I certainly did not lift up any of them. These were adult lions. I had shivers up my spine when they roared to assert their presence. As part of the program, the lions are be taken out at night to stalk, kill and eat some of the many wild animals found at Antelope Park.
A Walk on the Wild Side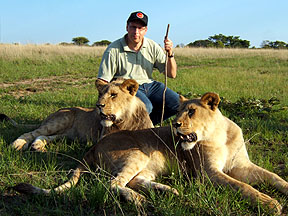 The next morning would be an absolute delight as we were going on a lion walk. Soon enough my roommates awakened me. At five in the morning, the sun was still down, but we had to make a move to see our 18-month-old teenage lions. A short walk brought us to an open field. There they were, three sibling lions sitting with a few trainers. But these were no teenagers! They looked big, much bigger than Brandy.
This exercise was all part of getting the lions ready for the wild and was their introduction to the game available for stalking. The lions would treat us as part of the clan as long as we stood upright. It seams a person under 5 feet would be looked on as prey. However, I did squat down briefly to get a picture with these beautiful adolescent animals.
We later met the owner of the Park, which is part of the "African Encounter" lodges located across Zimbabwe. He told us that this Park is a unique project that is very expensive to operate and is run with the help of volunteers from around the world. He also mentioned that the experience of working here changes a person forever. I know, considering the short time I was there, it did open up many new horizons for me.
City of Bulawayo
We were on the road again, this time to Zimbabwe's second largest city, Bulawayo. I was told there were two things that we must do while in this laid-back easy-going city. The first was to visit the city's Natural History Museum and the other was to climb the nearby astounding Hills of Matobos.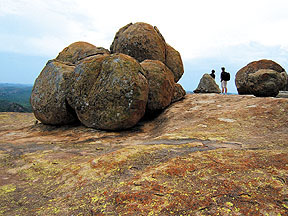 We spent a short but enlightening time at the museum, which displayed an incredible variety of stuffed and mounted native animals, as well as samples of the many valuable minerals found in Zimbabwe. Exhibits also covered the history of its native peoples and the European settlers who made their home in the former colony.
The Matobos Hills
After being treated to a great lunch at the Churchill Pub we were well fuelled for to ascent of the Matobos Hills. This is an incredibly beautiful place. The rock formations are unlike anything I have ever seen. The only similar formations are found in the American Southwest and in some barren deserts. The formations are quite puzzling. The 3,100 square kilometres of the Hills are strewn with individual piles of huge, bare, gravity-defying boulders with nothing else but the local vegetation around them.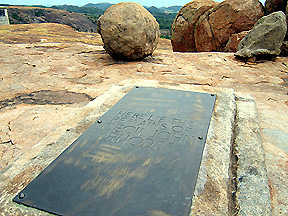 At the top of one of the hills we climbed was the grave of Cecil John Rhodes. He found these hills so inspiring that he requested that he be buried here. Rhodes was a British-born South African businessman, mining magnate, and politician.
He was the founder of the diamond company De Beers and he had aspirations of building a continent-long railway that would connect Cape Town, South Africa with Cairo, Egypt, but this ambitious plan did not come to pass.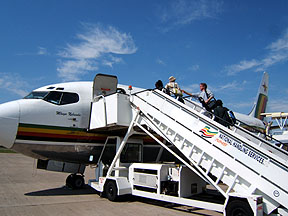 Victoria Falls
The next part of our journey would take us via Air Zimbabwe to the magnificent Victoria Falls. The falls are 1.7 km long and 128 meters high and are named after Queen Victoria although they were known locally as Mosi-oa-Tunya, "the smoke that thunders".
I could only guess at how David Livingstone reacted when he first saw the falls. I think he would have found Mosi-oa-Tunya a much more appropriate name.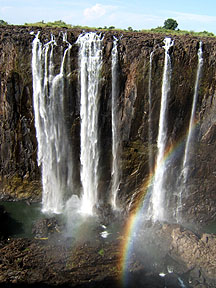 We were at the end of the dry season and still found the falls incredible. I could not even imagine what the sight would be like at the height of the rainy season in March. I am told that at that time of the year, you would barely see the falls because of the rising mist.
Our stay in Victoria Falls was like a blur. However, it was an unforgettable blur as we had so many interesting things to do in the very short time we spent there.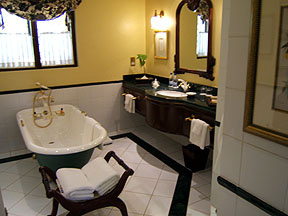 We stayed at the Stanley and Livingstone a five-star lodge in the Victoria Falls Game Park. From my well-appointed, quite posh room, I could see the wild animals coming to the watering hole.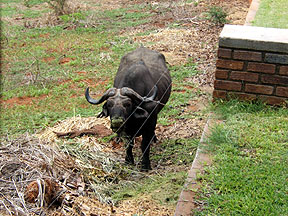 The only barrier between the lodge's buildings and the animals was a row of electrified wires. Such being the case, as I snuck up behind a Cape buffalo to get a close-up picture.
I was less than two meters from him when the surprise on him became a surprise on me. He turned and huffed and snorted while kicking up dust as if he was being attacked.
After a minute or two, we both found a way of happy coexistence. He went on with his routine of eating and drinking while I got my perfect shot.
The region surrounding Victoria Falls has many things going for it and it seemed we did it all, including a leisurely sunset boat cruise on the famous Zambezi River to view the crocodiles and hippos. Next on our itinerary was a presentation of traditional native dances.
Rhythms of Africa
We were treated to performances by three different dance groups: the Makishi, Nyau and Shangaan Dancers, who also sang and played various musical instruments. The predominant sound was the universally recognizable African drumbeat. After this spectacular show, I really felt attuned to the rhythms of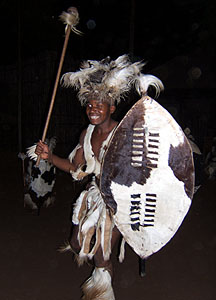 Africa.
That evening, we had a very late supper but it was well worth the wait. The table was set as if royalty were in town and I was the king. I believe everyone else sitting at the table felt the same way.
It had been a long day and evening, but at the end I couldn't resist sitting out in the clear moonlit African night to watch and listen to the animals of the wild.
The following day was already our last day at  Victoria Falls. Some in our group took a helicopter ride over the falls while others went bungee jumping off the Victoria Falls Bridge. The rest of us went shopping.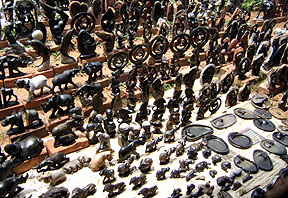 After three hours of the expected haggling at the local arts and crafts market, everyone was happy and I walked away with quite a catch of local Zimbabwean arts and crafts, including African wooden masks, necklaces, solid rock sculptures, bracelets and many more treasured souvenirs of my trip.It's too bad I didn't bring an empty suitcase with me. There was so much more that I would have bought!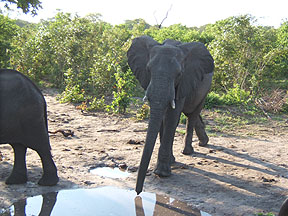 An African Safari
The afternoon saw us on the road to one of the things I had on my all-time "To Do List": An African safari! Since the age of four I had wanted to see African animals in roaming free in their natural habitat. I would not be disappointed!
We made our way to Hwange National Park. This is Zimbabwe's biggest park and covers just over 14,600 square kilometres. The park counts 105 species of mammals among its denizens and is renowned for its approximately 33,000 elephants, the highest concentration anywhere in Africa.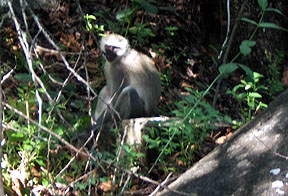 On arriving, we immediately boarded our open-top Land Cruisers for a nighttime drive. I lost count of the number of animals we saw but the best was the one that landed in the lap of one of the women in our group. It was pitch dark when her shrill cry rang out. The other two women also began shouting. Our driver pulled over and flashed his spotlight on the vehicle floor to find a Rhino Beetle the size of my palm. "This would make a nice snack," he said smiling, as he threw it out into the bush.
Our accommodations at the Hwange Park Lodge were surrounded by wilderness. That night, we would sleep in elevated cabins with unglazed windows. The three female members of our group opted to sleep in the same cabin. The last thing our porters said to us was "Please do not come out at night". I obeyed him to the letter. Anyway, I was just too tired to even get out of bed.
A New Day Dawns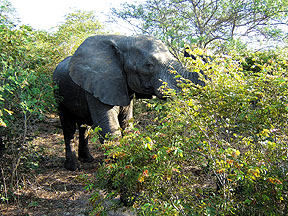 As the new day dawned, we found ourselves back in our Land Cruiser for another exciting game drive. It was a bit chilly, as the sun was not yet up. During the three-hour ride, we saw a variety of very interesting animals, but the ones that stood out in my mind were the elephants.
Dozens could be seen at one time and many of these magnificent creatures came so close to us that I could almost touch them. Now at last I could place another check mark on my life-long "To Do List". Go on an African safari: Done!
The last leg of our journey brought us back to Harare and soon we found ourselves winging our way back home via London. Friendly Zimbabwe sure had a lot to see and do and there are definitely more natural wonders to discover than time permitted. Now it seems that there are so many unexplored things for me to do there that I should begin to plan my return visit. I will definitely put that on my "To Do List"!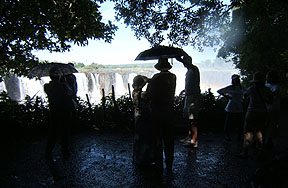 If you plan to go:
Zimbabwe Embassy (Ottawa)
Tel.: 613-237-4388
www.zimbabwetourism.co.zw or
www.zimbabweembassy.ca

Air Zimbabwe
www.airzimbabwe.com
Cresta Lodges
www.cresta-hospitality.com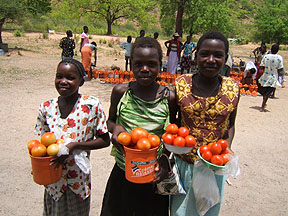 Meikles Hotel
www.meikles.com
Lodge at the Ancient City
www.rtg.co.zw/ttw
Antelope Park
www.africanencounter.org
The Stanley and Livingstone
www.stanleyandlivingstone.com
ilala Lodge
www.ilalalodge.com