Going local on the Dalmatian Coast
by Ruth Atherley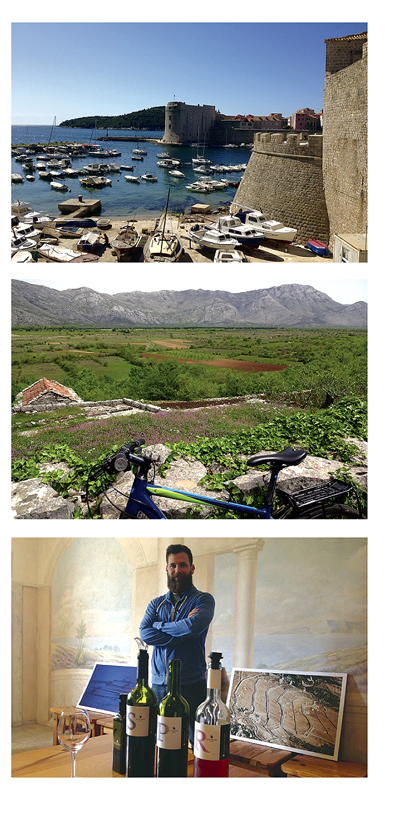 I am obsessed with travel. I read the magazines, watch the TV shows, follow the bloggers, and click on all of the top 10 lists that I see on social media. I am always in the process of planning, going on or coming home from some type of trip. And when I go, I want to make the most of it. One of my favourite ways to travel is to go local and really learn about the place, the people and the culture – hands on, up close, feet on the ground.
My husband and I have taken several trips with BikeHike Adventures, an active travel company based in Vancouver, B.C. They offer tours all over the world. Their adventures take you off the beaten path and into the local way of life, all while keeping you active – hiking, biking, kayaking, river rafting and more. I like that they have small groups, local guides and that they take you on the road less travelled. We're just not sit-on-the-bus-and-watch-the-sights-go-by types of travellers. We like to get out there, move our bodies, and interact with the locals.
Our most recent trip with BikeHike was their Croatia & Montenegro: Cycle, Hike & Kayak the Dalmatian Coast. I admit that I didn't know much about this region of the world before we went, but I fell in love with it.
We started off in Dubrovnik, where we had some time to check out the Old City – which is spectacular. Then, we headed off the beaten path to bike through some more remote areas of Croatia. After biking for about 15 km and stopping to look at the majestic scenery of rolling hills, dappled with old, stone houses, we went for lunch. Kameni Dvori is a unique speciality restaurant in the countryside near the small village of Lovorno. This restaurant is located on a lonely road – it isn't always open and you need to make a reservation to eat there. They have a set menu and the meal is served family style, which makes sense since it's run by a large, friendly Croatian family. "Mama" (our nickname for the head of the family), her two sons, their wives and all of their children lend a hand. They run a cooking class, along with the restaurant, and we worked with the family to make our meal. We picked our own vegetables from their organic garden and chopped them for the salad. We learned to make bread with Mama, while hearing about their lives in Croatia and telling them about ours in Canada. As courses were served – and there were many of them (antipasto and cheese, then the bread we made with olive oil and balsamic vinegar, then a salad, then a soup, then meat and potatoes and finally, dessert) – the wine and laughter flowed freely around the table. When it was time to leave, we all felt sad, like we were leaving the home of a favourite aunt who we wouldn't see for a long time.
That day, we also stopped for wine, olive oil and tea tastings. There were only four of us in the group with our local guide, and that meant we had the opportunity to chat with the people who run the vineyards, the olive groves and who grow the plants for the tea – which, interestingly enough, are grown around the vineyards to protect the grapes.
Each day of our trip had an activity. On our first BikeHike trip, I was worried about whether I would be fit enough, but they offer a range of trips to meet every fitness level – from easy, moderate, challenging, to strenuous. Our trip was "moderate" – and while there were days where I had to push myself a bit on a hike up a mountainside, to kayak across a bay in the sea, or on a 42 km bike ride, it was never too difficult and I was always grateful for that cold beer at the end of the day – not to mention that I was quite proud of myself. And by propelling ourselves out of the crowded tourist areas, we had some truly incredible, once-in-a-lifetime experiences that will live on in our memories forever.
Those unique experiences included taking a small boat to a private island, where we – the only visitors on the island – dined on fresh mussels and oysters that had just been pulled from the sea. We crossed the border from Croatia into Bosnia and Herzegovina, and did a long bike ride through abandoned villages with bombed out houses from the war in the early 90s. These homes still showed ghostly reminders of the lives of the people who fled two decades ago – old, dust-covered shoes in the corner, the remnants of a dining room table in the middle of a room, a broken cup tossed aside… It was like history books had come to life.
Our guide, Tomi, was a child in Croatia during this war, and it was interesting to hear what his life was like during this time. He had a very different childhood than we did. It reminded me of how fortunate we are just by virtue of being born in Canada.
In Bosnia and Herzegovina, we stayed at a converted railway terminal in Zavala, a small town of 15 people. Sitting outside on their patio with a cold drink, it felt like the entire town stopped by to say hi or wave at us as they drove by.
As a part of this tour, we also spent a few days in Montenegro. It was the place I knew the least about and loved the most. It is very Mediterranean in style and culture. We stayed in Herceg Novi, the Bay of Kotor's youngest city, which was established in the 13th century. It has an old town centre that is full of history. The area offers a spectacular waterfront on the Adriatic Sea and the prices made me start to think about early retirement there. We kayaked across the bay and explored Cold War-era submarine tunnels. We stopped at a small fishing village and had a drink and played with a bar owner's dog. We visited a farmers' market – where the farmers, knowing that I couldn't buy much to take home, provided me with samples of big, fat, juicy strawberries, spoons of sweet local honey, and pieces of homemade bread with jam.
While I love visiting well-known places and seeing iconic landmarks, getting off the beaten track and going local is a travel approach that always exceeds my expectations and gives me special memories that will last a lifetime.
www.bikehike.com
Click on cover to view published article