Perfect Moments in
Jordan
Published in the Summer 2009 Issue of Canadian World Traveller
By Michael Morcos
I cannot remember ever having so many perfect moments in such a short time. Choosing the best would be nearly impossible!
Was it on that starry night in Petra when a Bedouin played his flute while his fellow musician played on his stringed instrument and sang in a soft voice in front of one of the world's greatest monuments?
Or was it when I sat peacefully all by myself on a cliff's edge at the 'top of the world', an area devoid of any tourists, as gusts of wind swept across that remote and awe-inspiring landscape?
Perfect Moments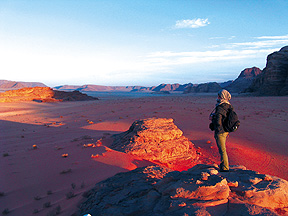 Could that perfect moment in Jordan be me floating on the Dead Sea where I had a profound feeling of tranquility and calmness?
Or did it happen in the desert of Wadi Rum, whilst I gazed into the flames of the Bedouin campfire with the only sound being that of the swirling desert sands?
Perhaps that was it, for at that moment, I had no doubt that there must be a higher being in the universe who was giving me a chance to have this once-in-a-lifetime experience.
Yes, my perfect moments in Jordan were not planned but arose in the most unexpected of places and circumstances.
Star of Seven Hills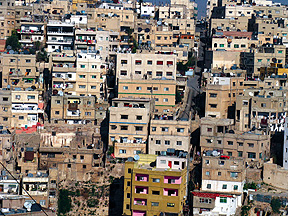 I arrived in the late afternoon on my direct flight from Montreal's Trudeau Airport to Amman.
This city of over two and a half million inhabitants is the capital and largest city of the Hashemite Kingdom of Jordan, the formal name of this fascinating Middle Eastern country.
Amman sits on seven hills, which are represented by the seven-pointed star on the Jordanian flag.
Shisha with Locals
During my first stroll along the wide boulevards and through the narrow side streets of this modern yet ancient metropolis, I stopped to have a smoke on a Shisha water pipe, also called a hookah or hubble-bubble pipe, with some of the locals who invited me to join them in this intriguing communal activity.
Unlike other forms of smoking, the Shisha is considered to be a highly social pastime in many Middle Eastern countries and the colourful water pipes and their elaborately decorated 'hoses' are thought by many to be fine works of art.
Touring Amman's Sights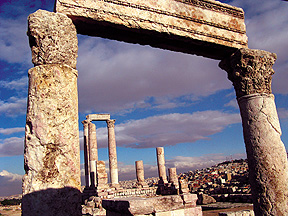 Our first stop on our city tour was Amman's Citadel, which overlooks the central part of the bustling city from its serene hilltop location.
This hill is the ancient site of the Amman's earliest fortifications. Excavations have revealed artefacts that date back to the Middle Bronze Age!
The ruins of an early Roman temple and a small Byzantine basilica dominate the Citadel site, but the panoramic view of the surrounding city is its main attraction.
Next on our daylong tour was Amman's remarkable Roman Amphitheatre. It was carved out of the side of a hill around 190 A.D.
Its 33 rows once seated 5,000 spectators. The remarkable thing is that it is now located at the very centre of the modern city, which grew around it over the years.
Going to Market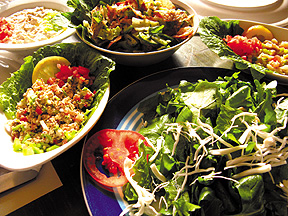 Every Middle Eastern city has an open-air market (a suq or souk) and Amman is no exception. We walked through the city's crowded downtown suq where one can buy almost anything from jewellery to fresh fruits and vegetables.
One could also choose from an astounding selection of aromatic spices or imbibe in glasses of piping-hot sweetened mint tea.
This was just a little hint of the fine Middle Eastern and international cuisine that I would enjoy every time I lunched or dined in one of Jordan's many wonderful restaurants.
Touching Encounter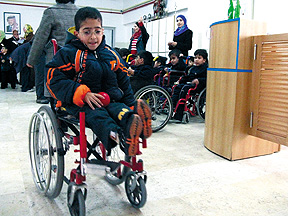 I visited The Al-Hussein Society for the Habilitation/Rehabilitation of the Physically Challenged, located in Amman, and became a volunteer for a short while at this truly noble centre.
Most of the young recipients of this invaluable service seemed remarkably happy and well on their way to overcoming their various handicaps.
The Society has a wonderful informative website at www.ahsrehab.org on which they invite well-wishers to contribute to the continuation and expansion of their invaluable work.
A Holy Mountain
On the following day, we headed for Mount Nebo. It was from this vantage point that Moses watched his followers, who had been freed from bondage in Egypt, as they finally crossed the River Jordan into what is now Israel.
Mount Nebo is said to be the burial place of Moses and a 4th-Century basilica church was built to honour him. We visited this historic church to view its magnificent mosaic floors. We then walked over to the very spot where the late Pope John Paul II stood during his visit here in 2000.
From this vantage point we had an impressive panoramic view of much of the Holy Land and the River Jordan Valley, as far as the eye could see.
Petra by Night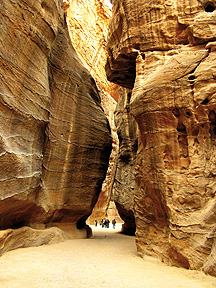 We began our magical after-dusk tour of Petra by walking through the narrow, winding Siq, a one-kilometre-long chasm leading into the heart of the fabled ancient city.
For those who may not be aware or it, Petra was chosen by over 100 million worldwide votes to become one of the New Seven Wonders of the World.
The Siq, which is flanked by 80-metre-high cliffs, was illuminated by the light of over 1,800 candles placed in paper bags all along the route.
When we arrived at the Treasury, Petra's most-famous structure that is carved out of a steep rock-faced cliff, the area in front of the age-old monument had been transformed into a sea of glowing candles.
Starlight Serenade
We sat in awe among the candles under Petra's star-studded night sky, as two Bedouin musicians started to play their traditional instruments and one softly sang his plaintive song. And what a stage they had! In the background, the façade of Petra's glorious Treasury towered over them.
Rose-Coloured City
Jordan has many archaeological riches, but few can rival the Nabataean city of Petra, which was carved out of one of the ancient city's rose-red rock cliffs more than 2,000 years ago.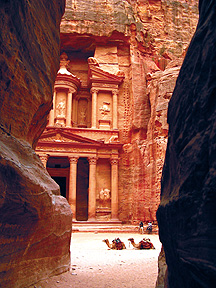 Today, a few Bedouin clans make their home in the many ancient tombs that perforate Petra's steep cliff-sides.
However, this fabled site remained lost to the Western world for several centuries until 1812 when it was 'rediscovered' by Swiss explorer Johann Ludwig Burckhardt.
Located about 262 km south of Amman, the extensive Petra basin is said to contain over 800 individual monuments, including its time-worn buildings, tombs, baths, funerary halls, temples, arched gateways and colonnaded streets.
To see them all would take a lot more time and a great deal more energy than we had, but what we did see was stupendous!
Treasured Monument
Petra's most famous monument, the so-called Treasury, was originally carved out of the cliff face as a royal tomb, probably between 100 BC and 200 AD and remains remarkably intact. But beyond that, there is a wealth of other equally accessible monuments and well-preserved ruins to visit.
For the more adventurous, there are challenging hiking trails that lead up the to very tops of some of the surrounding high cliffs where one finds other interesting ruins. And needless-to-say, the views from these summits are spectacular!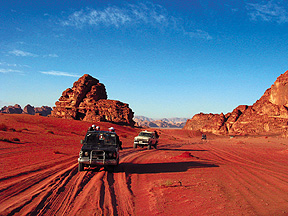 Spellbinding Wadi Rum
The amazing huge expanse of desert called Wadi Rum is the largest wadi (valley or dry riverbed) in all of Jordan. It boasts soaring mounds of sandstone and granite rock rising out of its seemingly endless sea of the desert's sand dunes.
This now-protected arid area of the country has been inhabited by many civilizations since prehistoric times. Some left their mark in the form of rock paintings, graffiti and temples, traces of which are still visible.
Lawrence's Desert
For most Westerners, Wadi Rum is best known for its connection to British army officer T. E. Lawrence, known as Lawrence of Arabia, who led his Arab allies across Wadi Rum to Aqaba during the Arab Revolt of 1917-1918 against the then occupying Ottoman Turks.
Today, several Bedouin tribes call Wadi Rum and the surrounding area home. But on our tour by four-wheel-drive Jeep along its faintly marked trails, I really felt that we all alone with just the wind and sands as our companions.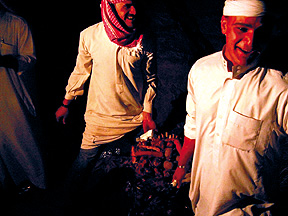 Enchanting Evening
That night, we had the amazing experience of sleeping in a tent in a Bedouin camp in the middle of the desert.
Our hosts cooked a traditional Bedouin meal for us while we sat around a huge campfire and marvelled at the star-filled sky. Without the intrusion of city lights, the stars shone out brilliantly from the pitch-black sky.
During the night, there was a mild sandstorm in the desert and I awoke with sand in my camp cot the next morning. This was indeed a very small price to pay for an experience of a lifetime.
Four Countries: One View
After our exciting desert experience it was time to head south to Jordan's only seaport Aqaba. The town's history as an inhabited settlement goes back to 4000 BC due to its enviable location at the crossroads of the then crucial trading routes between Asia, Africa, and Europe.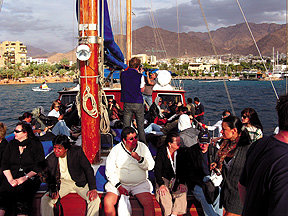 Aqaba is located at the southernmost tip of Jordan on the shores of the Gulf of Aqaba, an arm of the fabled Red Sea. Lying on Jordan's short coastline between Israel and Egypt to the west and Saudi Arabia to the east, Ababa truly is an international port city.
Aqaba is also a very popular holiday resort area with both locals and foreign visitors and its gulf is recognised as a world-class diving site because of the bounty of aquatic life that inhabits its beautiful protected coral reefs.
We took a relaxing boat ride on the crystal-clear waters of the gulf and sailed by the coasts of Israel, Egypt and Saudi Arabia and naturally that of Jordan. At one point on our boat ride, we could all see all four coasts at the same time!
Healing Waters and Mud
Heading back to the northern regions of the country, we drove along the Jordan shore of the Dead Sea, which is the lowest place on earth. Because of constant evaporation and lack of enough new sources of fresh water, 30 percent of the sea's water is pure salt. The result is that, try as you might, you cannot sink in the sea's ultra-saline, buoyant waters!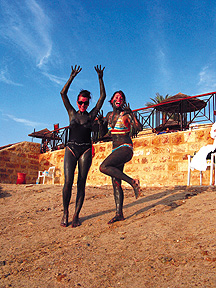 Taking advantage of the health-giving qualities of the Dead Sea's tranquil waters and the prized black shiny mud that is dredged up from the sea's depths, several luxury spa hotels, including the one I stayed at, grace the Jordan side of its shores.
Floating Away
As instructed by faithful Dead Sea spa aficionados that I met on the shore, I coated myself with the healing mud then let it dry in the brilliant sunshine.
After washing it off at one of the conveniently placed shoreline showers, I ventured into the buoyant, tepid waters of the sea, making sure not to get any of the salty water into my eyes or mouth.
In theory, I could have read a book while floating languidly on my back. I had heard about this phenomenon before but now I had living proof. What a truly unique experience!
Dramatic Finale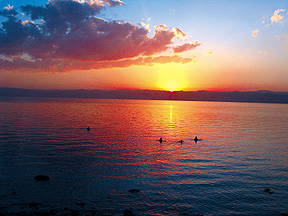 On my last day in Jordan, I climbed up Wadi Mujib, the spectacular gorge overlooking the Dead Sea. The Wadi's spring-fed streams flow all the way down the rocky landscape to the shores of the sea, which lies at 400 metres below sea level.
An incredible 220 square kilometres of Wadi Mujib was declared a protected nature reserve in 1987. This mountainous, sparsely vegetated desert reserve rises in some places to 900 metres above sea level, an astounding 1,300 metres of difference in their elevation from the depressed level of the Dead Sea.
After my rigorous climb to the top of the gorge in the hot blazing Jordan sun, I turned around to see the view and was rewarded with the last of so many perfect moments I had experienced in Jordan.
There below me lay the placid waters of the Dead Sea and both of its eastern and western gradually receding salt-fringed shores! 
Getting There
Royal Jordanian Airlines
Tel: 514-842-3300
Toll-free: 1-800-363-0711
Website: www.rj.com
For More Info on Jordan:
Jordan Tourism Board North America
Tel: 703-243-7404/5
Toll-free: 1-877-seejordan (733-5673)
Email: info@seejordan.org
Website: www.visitjordan.com